Jeremy Corbyn: If Theresa May wants an early election, Labour will vote for it
Exclusive: In an interview with The Independent the Labour leader also reveals he will be holding a series of nationwide 'economic policy conferences' in the New Year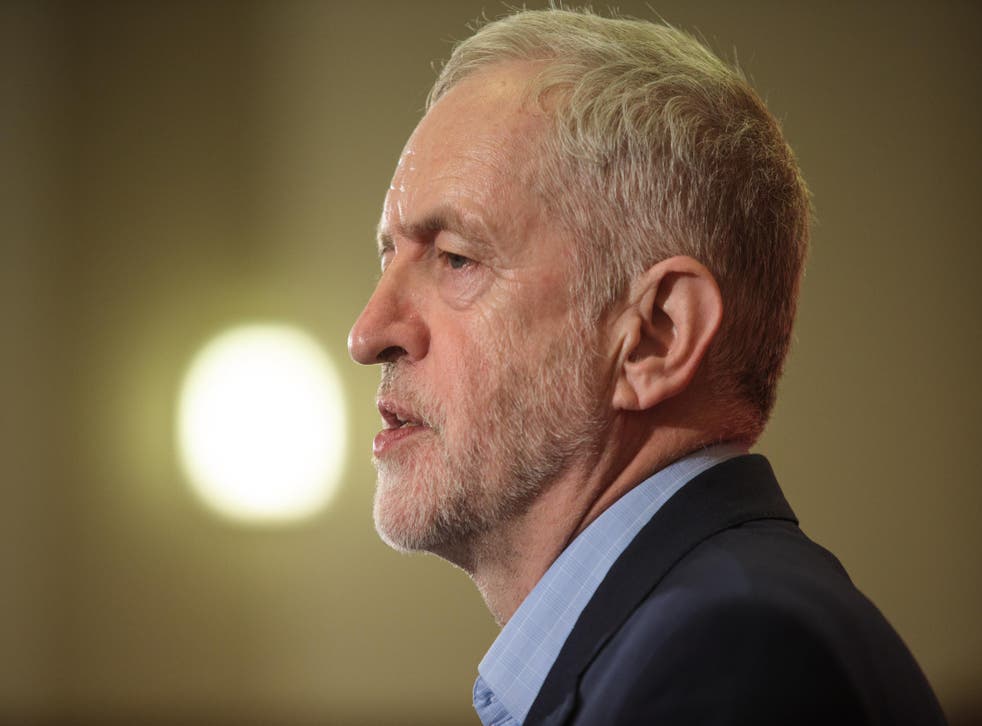 Jeremy Corbyn has explicitly disclosed for the first time that he will instruct his MPs to back an early general election if the Prime Minister wants to call one.
In an exclusive interview with The Independent, the Labour leader said his party will give Theresa May the parliamentary numbers she would need to bring about an election before 2020.
The move comes as Ms May attempts to push through Brexit, one of the most difficult constitutional changes the country has ever seen, without having ever won a personal mandate at the ballot box. It also has echoes of the gutsy 2007 "bring it on" challenge that David Cameron made to Gordon Brown, another premier who had never won an election.
Mr Corbyn said he was positive about improving his party's poll ratings and its performance at the ballot box, but also risked disappointing some senior Labour MPs by dismissing the radical idea of a "progressive alliance" with the Liberal Democrats.
The Labour leader said he is well aware Labour could face the prospect of a general election earlier than 2020 – despite the Prime Minister's insistence that will not be the case.
"If she [Ms May] calls an election, she calls an election," Mr Corbyn said.
"We're ready for it. We've got more members than we've ever had before, we've paid off all our debts to the party, we don't have any mortgages, we are in a very strong, organised position."
Under the Fixed-Term Parliaments Act rules dictate that general elections are held every five years, meaning there can be no election before 2020. But there has been speculation that some MPs on Conservative benches believe a snap election following the referendum could be desirable – especially to assert the authority of a new leader.
Conservatives win Sleaford by-election
In order to unpick the legislation and call for a snap election, the Conservatives would need the support of around two-thirds of MPs in the Commons.
Asked whether he would instruct his MPs to overturn the Fixed-Term Parliaments Act, he replied: "I personally am slightly sceptical about the Fixed-Term Parliaments Acts anyway… she has not said she's going to do that but that is what I'm saying is one possibility.
"If there's a vote to dissolve Parliament then obviously we will vote with it."
In 2007, David Cameron rattled Gordon Brown in Downing Street by telling him to call an election if he wanted one. The move exposed Mr Brown's indecision and marked a slow decline to his loss in 2010.
The comparison is not watertight given Ms May has said she does not want an election. But many believe she may be forced to call one as political pressure mounts while she tries to make controversial changes to the country without ever having won a personal mandate at the ballot box.
However, it is now clear that Mr Corbyn will face some sort of evaluation of his own earlier than he had previously expected. Just hours before the interview Jamie Reed, a persistent critic of the Corbyn project and the Labour MP for Copeland, announced his resignation from Parliament triggering a crucial by-election early in 2017.
"I heard about it a little bit ahead of time," said Mr Corbyn of his colleague who had accepted a job to work for the nuclear processing site Sellafield.
"I thanked him for his service – he has worked very hard improving infrastructure in Cumbria, very hard on drawing attention to rural communities … I had a very agreeable conversation with him about that issue some months ago.
"Does he agree with me on many other issues? No, he doesn't and he's made that very clear".
On 12 September 2015 at 11.43am – a minute after Mr Corbyn's victory in his first leadership contest was announced – Mr Reed had, in a single tweet, congratulated the new leader and announced his resignation from the frontbench as shadow health minister.
But Mr Corbyn described this as a "slight misnomer". He added: "That resignation on the day I was elected was kind of an unresignation because he didn't hold any position at that point – nobody did".
The Labour leader went on to set out his views on a "progressive alliance" with the Liberal Democrats, stating that it is not a "credible" path for Labour after the smaller party's six-year record in coalition, including its support for welfare cuts.
Jeremy Corbyn confronts Theresa May on how much social care budget has been cut
Going further, he said the "world should be reminded" that the Lib Dems partnered up with the Conservatives in 2010.
"What's progressive about alliances with a party that spent six years slashing welfare spending in Britain, reorganised the health service and wasted £3bn in doing it – forgive me, what is the progressive bit with the Liberal Democrats?"
He added: "So when people say to me you should form a progressive alliance with the Liberal Democrats, I just ask, what is progressive about them?
"I will work with opposition parties in Parliament to try and defeat this Government, but the idea that the Labour party should throw in its lot with the parties that support austerity Britain I think is not really credible."
His comments are likely to disappoint some of his colleagues on the frontbench, who have previously called for such electoral pacts. During the Richmond by-election last month Clive Lewis, the shadow Business Secretary, had urged his party not to field a candidate in order to give the Lib Dems a clear path to victory.
Jonathan Reynolds, who is also on the frontbench, and Lisa Nandy, a former Shadow Cabinet minister, joined him in his call for the experiment with the radical concept. It was a call rejected by Labour's high command.
In the interview the party leader, who was re-elected to his position three months' ago with an even greater mandate from the members, also agreed with Diane Abbott's recent prediction that Labour will close the gap with the Tories in the next 12 months.
Since the summer the party has been languishing in the polls reaching near historic lows. Rarely have the Conservatives been fewer than 10 points ahead of Mr Corbyn's Labour in this period.
But the shadow Home Secretary, a loyal ally of the Labour leader, indicated the party would soon regain ground now that the rebellion in the party's ranks has failed.
Mr Corbyn, too, is optimistic, saying: "We had an improvement in the polls recently.
"While the results in Richmond and Sleaford and North Hykeham weren't that good, what wasn't reported on the same day was that we gained overall control of the Telford and Wrekin council by winning a ward that has never, ever been Labour before. We also had an excellent result in Lancaster in a council by-election there.
"While I'm not pleased with the results in Richmond or in Sleaford, I just point out that there are other areas where we've had some very good results."
Despite early predictions in the marginal constituency that had been held by Mr Reed, of an apocalypse for Labour – the bookies already have the Conservatives as favourite – Mr Corbyn remains confident.
Asked whether he could predict the party increasing its margin at the by-election, which is likely to be scheduled for February 2017, he replied: "We'll see what happens". If he loses the seat, however, it will be the first time a governing party has won a by-election since 1982.
Speaking in his constituency office in Islington North – an area he has represented since 1983 – Mr Corbyn revealed one of the ways he would attempt to turn around the polls in 2017 would be to focus on the economy.
In the New Year the party will launch a series of nationwide "economic policy conferences", led by his long-time ally and shadow Chancellor John McDonnell. They "will be sort of a grassroots upwards economic thinking", which will also be online. "It's going to be very exciting… we'll get a lot of people involved".
"We're going to be out there campaigning on economic justice issues and we will take the fight to the Tories because there is a choice to be made: do we want to live in a society based on individualism and private provision, or do we want to defend the principles of the national health service and properly fund social care?"
It is clear that part of Corbyn and his team's strategy over the coming months and years is to attempt to exploit the anti-establishment sentiment that contributed to the delivery of Brexit and the election of Donald Trump as the next American president.
On 9 November, just hours after the US result became clear, his team sent out a press release condemning the divisive rhetoric used by team Trump and added his solutions are "clearly wrong".
But, they added: "Trump's election is an unmistakable rejection of a political establishment and an economic system that simply isn't working for most people. It is one that has delivered escalating inequality and stagnating or falling living standards for the majority, both in the US and Britain.
"This is a rejection of a failed economic consensus and a governing elite that has been seen not to have listened. And the public anger that has propelled Donald Trump to office has been reflected in political upheavals across the world."
Corbyn: Donald Trump should 'grow up' over immigration
Emily Thornberry, the shadow Foreign Secretary, then went on to claim that while the two leaders had very different values there were "similarities" between them. Mr Corbyn himself describes it in a slightly different way.
"The similarities are hard to find," he said. "The differences are easier to identify.
"I look around the Shadow Cabinet we have and I don't see any trillionaires, or millionaires, I see hard-working people trying to present politics in a good way".
"Donald Trump for all his populism of being anti-establishment in reality is a product of frontier capitalism by the USA and others."
"Trump ran a campaign claiming to an outsider and claiming to be a populist for ordinary Americans as he termed it. In reality, he blamed Muslims and Mexicans and women for the problems in society. He didn't actually make any specific economic proposals other than one of essentially an isolation into the USA and endlessly blaming minorities for the problems of the USA.
Jeremy Corbyn: Sharpening up his style

Show all 6
Jokingly, he added: "I was running past Trump towers in New York last year, and I stopped my run in order to take in the full spectacular presence of Trump towers and then continued on my way."
But he ends the interview on a positive note. On Brexit, he believes Labour is there "for the 100 per cent" not for the 48 per cent or 52 per cent who voted to Remain and Leave at the EU referendum. "Politics is about people's lives," he added. "About their confidence that things can change and improve and their confidence in the political system. There are several million people who don't vote in elections. A lot of young people don't bother… so we do a number of things.
"One is we obviously appeal to natural Labour supporters to recognise the importance of NHS, housing and employment issues. But we also appeal to those people who feel very marginalised and left behind that we are serious about reaching out to every part of the country."
Join our new commenting forum
Join thought-provoking conversations, follow other Independent readers and see their replies