Jeremy Corbyn interview: 'A good result? Winning the election'
Exclusive: The Labour leader talks to The Independent on Labour's battlebus about the general election, tuition fees, Donald Trump's state visit and his cat El Gato's 'socialist tendencies'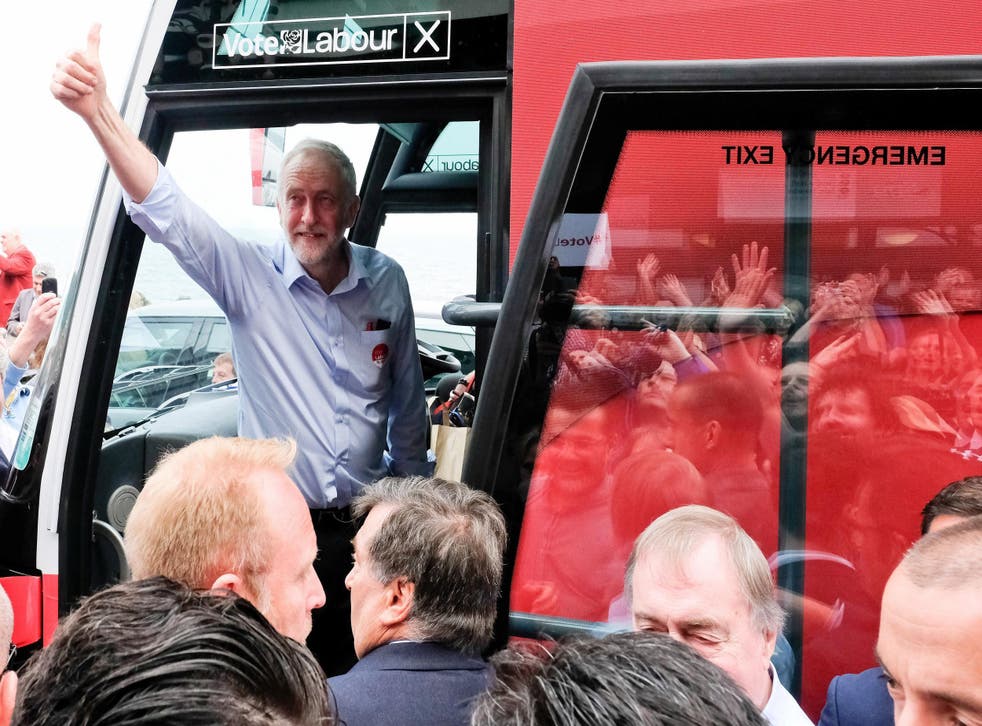 Jeremy Corbyn has insisted only "winning the election" will be a good result for Labour, as polls show his party closing the gap on Theresa May's stuttering campaign.
In an exclusive interview with The Independent, the Labour leader brushed aside claims he is ready to merely settle for an increased vote share or even defeat as long as Labour retains most of its MPs.
Instead the more confident Labour leader told how increasing numbers of people were coming out to campaign for his party, which he said is also receiving a growing number of donations.
In the interview, Mr Corbyn also indicated he may delay a state visit from Donald Trump as one of his first acts in office if he wins and help students who have already taken on huge debts as well as scrapping tuition fees in the future.
His intervention comes as the Conservatives attempt to re-ignite their campaign, with Ms May under pressure over a series of embarrassing U-turns and for refusing to debate other leaders. The Prime Minister was even asked if she would resign if the Tories lose seats on 8 June.
The incredible turnaround from what appeared to be a certain victory for the Tories a month ago has been mapped out in polls showing a dwindling Tory lead, with one seat projection this week indicating Britain is heading for a hung parliament
In the last fortnight Unite General Secretary Len McCluskey said if Labour wins as few as 200 seats – a loss of 29 – it would be a "successful campaign", while allies have suggested the party is heading in the right direction if Mr Corbyn matches or increases the 30.4 per cent vote share won by Ed Miliband in 2015.
But asked what would mark a "good result" next week, Mr Corbyn replied unequivocally: "Winning the election".
"I had a conversation with Len… on the phone and thanked him for the support Unite members are giving to our election campaign and he assured me that he not only strongly supports us but believes we can win the election. That's what he told me."
He said he believed the broadcast election rules are helping his party get a fair hearing as it gains traction in the polls. While Ms May is still in possession of a commanding lead, Mr Corbyn is adamant he can win the election.
"Look, our support is building. The small donations are growing and that's a sign of something," he said.
"Look at the enthusiasm. Look at the numbers of people who are now campaigning for Labour and what we're inviting people to do in the last two weeks of this campaign [is] to have conversations about the kind of society and world we want to live in. Look at what we're offering and saying."
In the short period between the Prime Minister calling the election and now, Labour has been surging in the polls from its low-point of 26 per cent of the vote share.
The rise led to a YouGov seat-by-seat projection published in The Times which signalled the UK is now heading for a hung parliament – a result which would represent a catastrophe for Ms May after she took her party into the campaign with a historic lead.
UK General Election 2017

Show all 47
While Mr Corbyn said he "doesn't comment on polls" he said the election broadcasting rules have been important to his campaign, alongside his "absolute refusal" to engage in any form of personal abuse. It's clear he wants the next 13 days to concentrate on party policy and the manifesto released last week, which went viral on social media.
"We've had two years since I became leader of the party and an almost obdurate refusal to engage in policy debate by a lot of our media. They are now, because of broadcasting rules on elections, forced to give some degree of balance. That is helping. At last we're getting some coverage for policies rather than stuff that is said about individuals, which I just don't engage with." An ally of Mr Corbyn adds that the public are finally seeing that he is not the person he has been portrayed as in some sections of the right-wing press.
Others suggest he appears reinvigorated, which the Labour leader himself credits to the "fresh air" he is breathing on the campaign trail.
General Election polls and projections: May 31
"I'm constantly excited and meeting people," he added. "Hearing their life stories, their views, their problems, their joys, their success, and that's where I think politically you have to be.
"You have to be representing people and what they're trying to achieve in their lives. If you cut yourself off you're not very good at what you're doing. I enjoy it."
If successful next Thursday, Mr Corbyn would also be responsible for facilitating the state visit of Mr Trump – an invitation extended by Ms May just seven days after he took office. But Mr Corbyn said he was "very concerned" about the speed in which the invitation occurred. The President's predecessor Barack Obama was extended the honour over 800 days into his administration.
He added: "Obviously there have to be relations with the USA. My views on Donald Trump's statements and utterances during the Presidential election are extremely well known. There has to be a relationship with the US government, you have to tell them what you believe.
Jeremy Corbyn confronts Amber Rudd: 'Have you ever been to a foodbank?'
Mr Corbyn also pointed out that the former US President Mr Obama had to wait three years into his administration for his first state visit. He continued: "George Bush, second term. Reagan, second term. I think they were all second term."
Asked whether he believed the former television celebrity should have to wait until a potential second term in office, the Labour leader replied: "Well, it's not up to me as the invitation has already been issued." Pressed again on whether Mr Trump would be welcome here in October – the date believed to have been pencilled in by officials – he added: "Well, let's find out on 9 June."
The Labour leader also revealed he was "sympathetic" towards students who are already saddled with debt.
Under his plans, new students will be freed from paying in excess of £9,000 in tuition fees as early as the start of the new term in September. But this would leave a generation of students and recent graduates with eye-watering debts due to the higher fees introduced during the coalition government.
"I appreciate that and we will look into that effect," said Mr Corbyn.
"We've not got a policy or proposal on it. There wasn't time between the announcement of the election and the publication of the manifesto but I do understand that point and I'm entirely sympathetic to it."
But if Labour loses the election the policies – often popular with the public – are likely to be disregarded. His own position as Labour leader will be in the spotlight once more.
"Listen, all I've said to everybody is I'm proud to lead this party, I'm proud to lead this party on this election and we're campaigning to win it," he said. "That is the only story."
While there is no obligation to stand down, the last time the leader of either of the main parties lost a general election and continued to lead was in 1987. When Neil Kinnock eventually resigned, after a second defeat in 1992, he was succeeded by his Shadow Chancellor, John Smith. However, it would be unusual for a party leader to promise to stand down ahead of a contest, as they would be openly admitting they might lose. In 2010, Gordon Brown told reporters he would stay on at the helm of the Labour party should he lose the election. He resigned from his duties five days after losing the vote and coalition talks with the Liberal Democrats fell through.
Pressed again on his position, he repeated: "That is the only story. That is the only story."
If he does defy the pollsters and psephologists' forecasts on election day, Mr Corbyn will have to navigate through one of the most difficult and complex constitutional hurdles in modern British history in negotiating Britain's exit from the European Union.
Unlike the incumbent Prime Minister, who has had 10 months to get to grips with the civil service, the Labour leader will have just 10 days before his team, which is yet to be assembled, enter the first day of an arduous 15-month negotiation. But Mr Corbyn seems unfazed by this. "We are having an election for the people of this country to chose Members of Parliament," he added.
"I think we should have more respect for democracy than that and say that's the decision of the British people. I will then negotiate. I will negotiate what I've already said: tariff-free access to the European market, protection of workers', consumer and environmental rights that we've achieved through the EU and the protection of EU nationals living here."
His government would also hold a strategic defence review, he adds, "which will obviously include the rule of nuclear but will also concentrate very heavily on what is a serious threat and that is cyber attacks and cyber security and whether or not we're spending our money in the right direction."
Asked whether Trident – Britain's nuclear deterrent – will be up for discussion in the review, he replied: "Trident has been voted on by the party conference. I want a nuclear-free world, everybody knows that. I made it very clear I wish to carry out the nuclear proliferation treaty and that means I will be active on all of this.
"You'll have an active minister for defence, an active junior minister responsible for disarmament and peace issues.
"We have a world where there is a ban on chemical weapons, a world where there is a ban on landmines. Obviously, difficulty enforcing those things on many occasion. I think the reduction in nuclear warheads has already happened around the world. I think we have to be serious about reducing nuclear tensions."
Mr Corbyn, however, is confident his cat, El Gato, will not have any problems bonding with the felines already residing in Whitehall and the ongoing turf-war between them. "El Gato is like all cats, fairly individual," he said.
"But he's also formed a great friendship with a stray cat so there are socialist tendencies in Gato's character.
"He's allowing a stray cat to share his food."
Register for free to continue reading
Registration is a free and easy way to support our truly independent journalism
By registering, you will also enjoy limited access to Premium articles, exclusive newsletters, commenting, and virtual events with our leading journalists
Already have an account? sign in
Register for free to continue reading
Registration is a free and easy way to support our truly independent journalism
By registering, you will also enjoy limited access to Premium articles, exclusive newsletters, commenting, and virtual events with our leading journalists
Already have an account? sign in
Join our new commenting forum
Join thought-provoking conversations, follow other Independent readers and see their replies