Jeremy Corbyn backs Momentum calls for 'changes' that could make it easier to deselect Labour MPs
Labour leader says he wants 'more democratic accountability' as party prepares for major row over potential rules changes
Benjamin Kentish
Political Correspondent
Monday 03 September 2018 10:06 Comments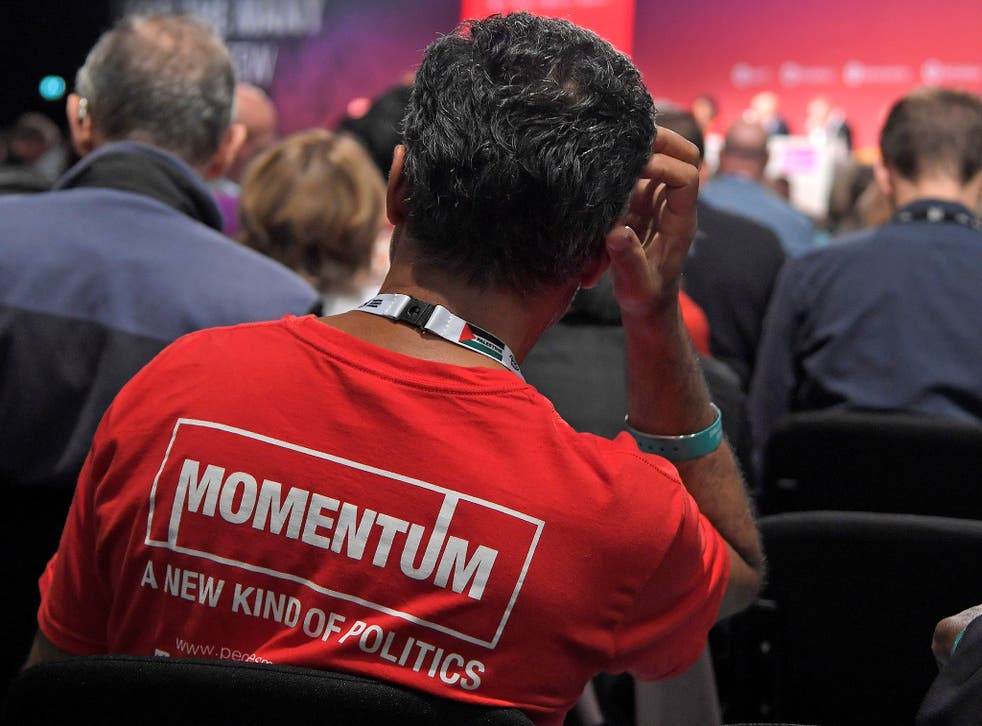 Jeremy Corbyn has endorsed calls for changes to the way Labour parliamentary candidates are chosen, in a move that could make it easier for sitting MPs to be deselected.
The Labour leader said he agreed with the Momentum campaign group over the need for "more democratic accountability" during selections.
His comments are likely to fuel fears among Labour MPs that the party leadership and its allies want to oust them before the next election.
The issue is set to spark a major row at the party's annual conference later this month, where rule changes on parliamentary selections are likely to be put to a vote.
Mr Corbyn was speaking after Momentum said it wanted to see "a new generation of MPs" elected through an "open, inclusive" selection process.

It called the current process, under which sitting MPs are automatically reselected unless local members vote for an open contest, "outdated" and said it "holds back" new members.
Asked about the demands for change, Mr Corbyn told ITV News: "We're a party whose membership has grown to half a million from less than 200,000 three years ago, and clearly there have to be some changes and more democratic accountability of everyone within the party.
"I'm happy that there should be greater democratic accountability."
Momentum will use Labour's annual conference in Liverpool to push for rule changes to make it easier for sitting MPs to be removed and replaced by new candidates chosen by members.
It highlighted the example of Alexandria Ocasio-Cortez, the left-wing New Yorker who beat the frontrunner in an open selection process to become a Democratic congressional candidate.
The group said the 28 year old would have been "shut out" had she "been subject to Labour's restrictive, outdated rules".
UK news in pictures

Show all 50
In a statement, Momentum expressed its "commitment to the creation of a more open, inclusive selection process which would open the door to a new generation of Labour MPs".
It said: "Labour has to nurture the talent of its half a million members, and we cannot let an outdated rulebook hold back a new generation of MPs.
"Labour's selection procedure should be democratic, give a fair chance to all candidates and encourage positive campaigning. This means ending the divisive practise of forcing activists to campaign against sitting MPs and replacing it with a process that is open from the start."
The group said it would push for changes to ensure "new candidates are free to campaign from the start".
It said: "Opening up the selection process will create a more level playing field between candidates and, as we saw with Ocasio-Cortez, enable them to run a positive, vibrant campaign and talk about the issues voters actually care about. Labour is once again a campaigning party, and this is something we should encourage at every level."
Momentum's founder Jon Lansman: 'We are the new mainstream'
Emphasising the need for MPs to "stay close to their communities", the group added: "Opening up the selection process and bringing MPs closer to their members is the only way to make this happen, and an essential reform if we are going to transform Britain for the many, not the few.
"Momentum will work with NEC members, the trade union movement, and [Constituency Labour Party] delegates in order to ensure the best possible rule change is passed at this year's party conference to achieve this end."
It comes after the group decided not to consult members on whether to back calls for the public to be given a final say on Brexit.
Momentum's executive met last weekend to consider a members' petition calling for a referendum on any deal Theresa May negotiates with the EU.
Anti-Brexit campaigners hope to use the Labour conference to force a vote challenging Labour's current opposition to a second vote.
The Momentum leadership has come under grassroots pressure to support the calls, but has decided to instead launch a wider consultation on the issue of Brexit as a whole.
Register for free to continue reading
Registration is a free and easy way to support our truly independent journalism
By registering, you will also enjoy limited access to Premium articles, exclusive newsletters, commenting, and virtual events with our leading journalists
Already have an account? sign in
Register for free to continue reading
Registration is a free and easy way to support our truly independent journalism
By registering, you will also enjoy limited access to Premium articles, exclusive newsletters, commenting, and virtual events with our leading journalists
Already have an account? sign in
Join our new commenting forum
Join thought-provoking conversations, follow other Independent readers and see their replies