Jeremy Corbyn gives 'no reaction' in face of devastating vote of no confidence by Labour MPs
Momentum group insists he has the support to be re-elected as rivals plan leadership bids
Andy McSmith
Tuesday 28 June 2016 22:36 Comments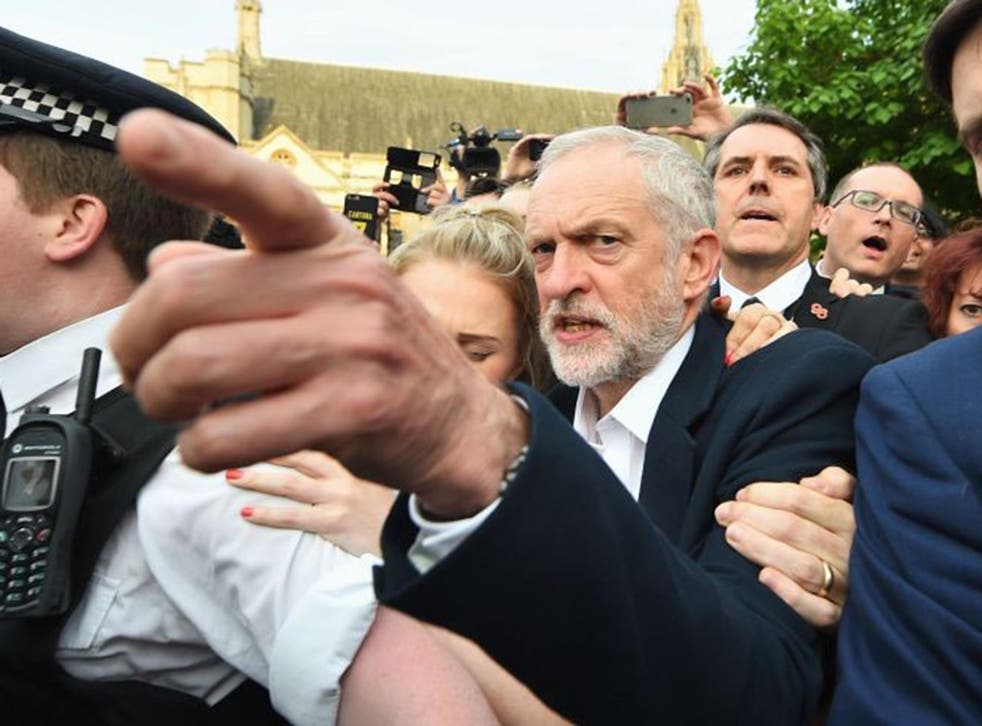 Jeremy Corbyn has shrugged off a blistering defeat in a vote of no confidence, with the embattled Labour Party leader refusing to resign and promising "not to betray" the party members who voted him into office last year.
Labour MPs passed a vote of no confidence in their leader by a margin of 172 votes to 40, triggering a crisis that could threaten Labour's continued existence as a potential party of government. However, Mr Corbyn was nonplussed by the enormity of the threat to his leadership, with one witness saying "the reaction was absolutely nil".
The source added: "He [Mr Corbyn] really has got the hide of a rhino. You've got to admire him in a way."
After the vote, Mr Corbyn's closest supporters went into a long meeting to plan how they will fight a leadership contest in the increasingly likely event that there will be a challenge in the next few days.
A spokesman for Momentum, the grass roots campaigning organisation set up to support Mr Corbyn's leadership, said: "Jeremy Corbyn will win. We are confident that he has the support of the party, who want him to build a movement, and we are confident that he'll win if there is a challenge."
Mr Corbyn believes he owes it to the people who elected him to office last year to fight on despite knowing that at least three quarters of his MPs no longer think he is fit to lead them.
He said in a statement: "I was democratically elected leader of our party for a new kind of politics by 60 per cent of Labour members and supporters, and I will not betray them by resigning. Today's vote by MPs has no constitutional legitimacy.
"We are a democratic party, with a clear constitution. Our people need Labour Party members, trade unionists and MPs to unite behind my leadership at a critical time for our country."
One MP remarked: "He has got himself convinced that we're completely irrelevant, and that the only reality is the people he speaks to at meetings. They are the kind of people he speaks to all the time, none of whom move an inch towards getting us any extra votes."
The scale of Mr Corbyn's defeat set off yet more resignations from his badly depleted front bench team. At least 57 out of approximately 100 shadow ministers and ministerial aides have gone, including more than two thirds of his shadow Cabinet. He is struggling to appoint replacements.
Liz McInnes, a frontbench Labour MP who was one of the 40 MPs to back Mr Corbyn in the vote, resigned within hours of it taking place.
She said: "While I voted in support of Jeremy against today's motion, the result makes it clear that he has lost the confidence of a vast majority of our MPs and so we are unable to be as united and as effective as we need to be for the sake of the nation.
"With regret, I have therefore resigned from my shadow ministerial position with immediate effect. I hope that as soon as possible we are able to be united again and get on with our job of holding the Conservatives to account."
With the prospect of a leadership challenge becoming increasingly likely, Labour MPs were discussing amongst themselves who the challenger should be. The names most often heard were that of deputy leader, Tom Watson, and the former shadow commons leader Angela Eagle. The former shadow Home Secretary Yvette Cooper, who was defeated by Mr Corbyn in last year's leadership election, is also considering whether to run.
Hilary Benn, the former shadow Foreign Secretary whose sacking early on Sunday morning set off the long sequence of resignations, has been asked by fellow MPs to put his name forward but has refused – partly because he does not want his family to go through the experiences he endured as the son of a politician who became a household name.
Hilary Benn says he had lost confidence in Jeremy Corbyn as a Labour leader
To add to the complexity of Labour's crisis, there is the prospect of a legal battle over how to interpret party rules. The rule book says that anyone challenging an incumbent leader must secure the backing of at least one fifth of all Labour MPs and MEPs, which means he or she must collect at least 50 nominations.
Labour has had two conflicting sets of legal advice on whether the incumbent leader would also have to secure at least 50 nominations. Mr Corbyn's backers are adamant that he is automatically entitled to be on the ballot paper, regardless of how few backers he has in Parliament, but some of his opponents claim that unless he can collect 50 nominations, he cannot be a candidate. The vote suggests that the figure of 50 may be out of his reach.
One Labour MP, Siobhain McDonagh, forecast: "This problem is going to end up in court."
Register for free to continue reading
Registration is a free and easy way to support our truly independent journalism
By registering, you will also enjoy limited access to Premium articles, exclusive newsletters, commenting, and virtual events with our leading journalists
Already have an account? sign in
Join our new commenting forum
Join thought-provoking conversations, follow other Independent readers and see their replies