Majority of Labour voters want Corbyn to quit immediately if he loses general election, poll reveals
Exclusive: The survey found 57 per cent of Labour voters think a defeat should mean the end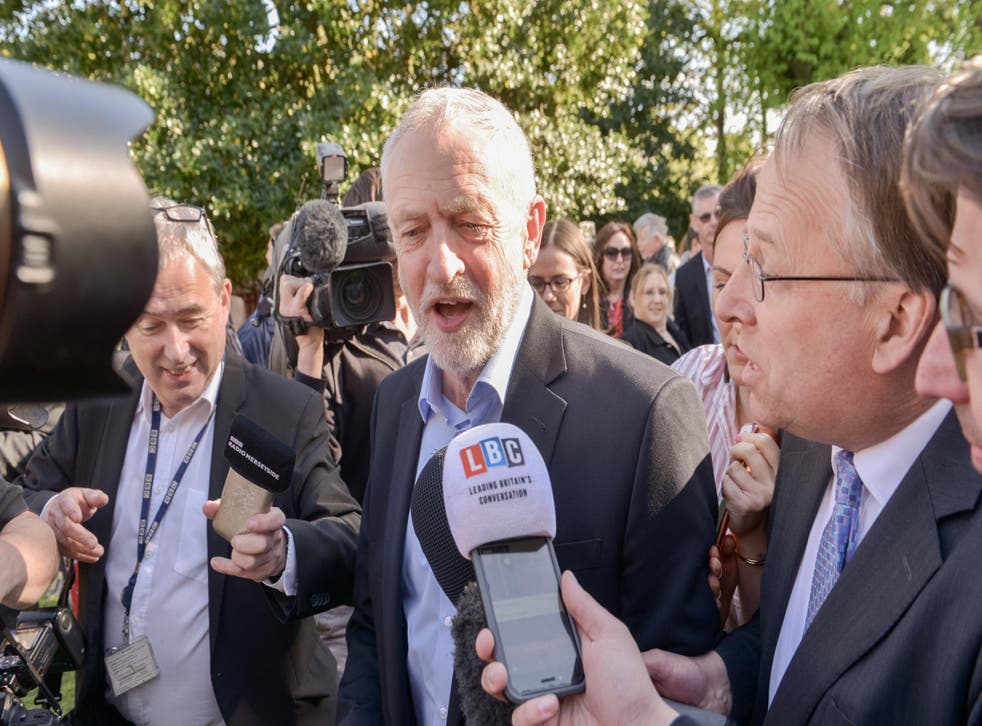 A majority of Labour supporters want Jeremy Corbyn to quit immediately if he loses the general election, an exclusive poll for The Independent has revealed.
The survey from ORB sealed a devastating 24 hours for Mr Corbyn after his party was battered in local elections, losing hundreds of seats and the control of stronghold councils defended by Labour for decades.
The leader's allies desperately tried to explain the mauling, but it marks a horrendous opening to a general election campaign which will see voters go to the polls in just over a month.
Casualties included the loss of Glasgow, held for 40 years, Derbyshire, where the Tories overturned a 22-seat majority, and a mayoral defeat in its Tees Valley North East heartlands.
The Tories' success was aided by the total collapse of Ukip, which lost all but one seat held as voting began, while the Liberal Democrats also lost a handful of seats, failing to make a hoped for breakthrough ahead of 8 June.
Labour's results, described by shadow Chancellor John McDonnell as "tough" but not a "wipeout", threw the spotlight back on to Mr Corbyn's leadership.
Of the 2,006 adults interviewed by ORB, almost six in 10, or 59 per cent, said Mr Corbyn should stand down immediately if he loses the general election.
Digging deeper into the views of the Labour supporting respondents, some 57 per cent of voters who backed the party in 2015 also said Mr Corbyn should quit if the party crashes to defeat at the hands of Ms May on 8 June.
UK General Election 2017

Show all 47
The Independent exclusively revealed last month how Mr Corbyn is expected to try and stay on as leader even if he loses the election in just over four weeks.
Varying estimates off the back of Friday's local elections results, suggest Ms May is heading for a parliamentary majority of anything between 50 and 100 Commons seats, which at the lower end is not as high as many Tories are hoping for.
Nonetheless, as the council election results poured in, a figure at the top of the Labour party told The Independent: "What has happened today is not good. People are just trying to focus on their seats and making sure they win on their own turf.
"Of course, if this leads to a general election defeat, Jeremy is going to have to take responsibility for it. After an election defeat every leader has to take responsibility for what has happened."
There were 4,851 council seats up for grabs in the local vote and by 7pm on Friday the Tories had gained 562 seats, bringing their total to 1,896, while Labour had lost 382, reducing their number of seats to 1,151.
The last time Labour was not in control of Glasgow was in 1980, after it had briefly lost control. The council was Mr Corbyn's largest remaining power base north of the border
Straws drawn to decide local election seat in dead heat between Tories and Lib Dems
Nicola Sturgeon's SNP also toppled Labour to become the biggest party in Edinburgh, with Mr Corbyn's group falling to third.
In Derbyshire Labour's 22-seat majority was demolished, with the Tories ending the night 10 seats clear of the other parties.
Former group leader Dave Wilcox directly blamed Mr Corbyn, who he said Labour voters had raised as a problem on the door step.
The Conservatives also scored a stunning success in Labour's north-east heartlands, winning the race for Tees Valley mayor, which the victorious candidate branded a "political earthquake".
Both there and in Derbyshire, voters had heavily backed Leave in last year's referendum on EU membership.
The Tories also won mayoral contests in the West of England and the West Midlands, where former John Lewis boss Andy Street defeated former Labour MP Sion Simon.
Mr Corbyn could fall back on victories in the mayoral elections in Liverpool and Manchester, where his former aide Steve Rotheram and former Health Secretary Andy Burnham were put into office respectively.
A BBC projection of the overall national vote share put Conservatives on 38 per cent, up 13 points since 2013, Labour on 27 per cent, down two, Liberal Democrats on 18 per cent, up four, and Ukip at 5 per cent, down 18.
Dianne Abbott contradicts herself on Labour net losses on local elections
In a statement, Mr Corbyn said: "We know this is no small task – it is a challenge on an historic scale. But we, the whole Labour movement and the British people, can't afford not to seize our moment."
He added: "The results were mixed. We lost seats but we are closing the gap on the Conservatives.
"I am disappointed at every Labour defeat in the local elections. Too many fantastic councillors, who work tirelessly for their communities, lost their seats."
For her part, Theresa May sought to fight any complacency in Tory ranks by insisting she was "taking nothing for granted" ahead of a general election which she hopes will strengthen her hand in Brexit negotiations.
Speaking during a visit to a factory in Brentford, west London, Ms May said: "I will not take anything for granted and neither will the team I lead, because there is too much at stake."
Ukip suffered a catastrophic loss of 145 seats, retaining just one that it held at the start of the night, with the party's ex-MP Douglas Carswell stating that it is "over".
The Lib Dems put a brave face on results which showed they have not yet convinced all the 48 per cent of the population who voted Remain, to switch political allegiance to their party.
Tim Farron lost 41 seats, ending the night with 439, but failed to win in Somerset where they actually ended up losing seats.
The party's leader pointed to an increased vote share and claimed strong performances in target areas like St Albans – where he addressed activists – the Lib Dems are on track to more than double their presence of nine MPs at Westminster.
Register for free to continue reading
Registration is a free and easy way to support our truly independent journalism
By registering, you will also enjoy limited access to Premium articles, exclusive newsletters, commenting, and virtual events with our leading journalists
Already have an account? sign in
Join our new commenting forum
Join thought-provoking conversations, follow other Independent readers and see their replies