Jeremy Corbyn pressure group Momentum could 'destroy' Labour party, says senior MP Caroline Flint
Former minister calls for Labour leader to stop a group she compares to the Militant tendency in the 1980s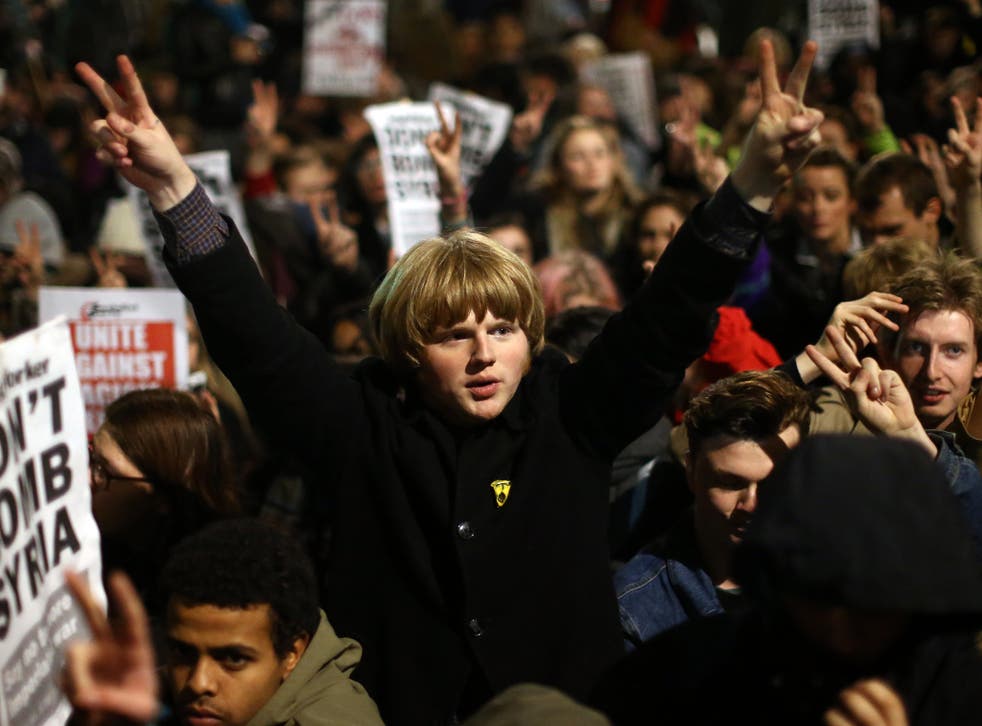 Momentum, the pressure group that emerged from Jeremy Corbyn's leadership campaign, could "destroy" the Labour party, a senior MP has said, warning that the group has become a vehicle for far-left groups seeking to bring down MPs and councillors seen to be on the right of the party.
In one of the starkest criticism of the group yet, Caroline Flint, a former minister who served under Tony Blair and Gordon Brown, compared its strategy to the Militant tendency in the 1980s.
It comes as details emerged of a Momentum meeting in Lambeth earlier this week, at which Socialist Party literature was distributed calling for the de-selection of Streatham MP and former leadership candidate Chuka Umunna.
The meeting was addressed by Labour's Shadow Chancellor, who told the attendees there were "a small number" of Labour MPs "who can't come to terms with Jeremy's election, or a mass membership".
Ms Flint told The Independent: "I haven't got a problem with party members being involved with pressure groups or discussion groups. But Momentum clearly has far-left parties, outside of the Labour party involved in it.
"They seem to be focussed on interfering in the organisation of the Labour Party. That is exactly what far-left groups like Militant did in the 1980s. They act as a separate party operating within the Labour Party but with no real loyalty to the party.
"Jeremy has to stop Momentum becoming that kind of group or it will destroy our party and undermine him as well, and I don't want that."
The activities of Momentum, which was established to build upon the grassroots movement that galvanised Mr Corbyn's leadership bid, have come under fresh scrutiny this week as the group was accused of responsibility for threatening emails and messages sent to Labour MPs who voted for airstrikes in Syria.
Old Southwark and Bermondsey MP Neil Coyle, who voted in favour of bombing, has revealed that he feared for his pregnant wife's safety after his home address was posted online by anti-war activists. Mr Coyle earlier this week reported a Twitter user to the police for an apparent death threat for which he later received an apology. Mr Coyle has not accused Momentum of responsibility for the incidents, but said the group now had "pop-up organisations…across London who are making threats to councils about de-selection and things and pretending to do this in Jeremy's name".
Labour's deputy leader Tom Watson, who branded Momentum a "bit of a rabble", and Mr Corbyn have written to all Labour members warning that bullying and threats will not be tolerated.
However, Ms Flint said that further action was needed, particularly to counter what she said was a misogynist undertone to some of the abuse levelled at MPs including herself, Stella Creasy and others.
"It is not exclusively male, but some of this is very domineering, very bullying," she said. "The language that is being used is demeaning to myself as a woman, being called bitch and other things worse than that."
She said she was reviewing messages she had received to determine whether there were grounds for referring them to the Labour party's National Executive Committee, which conducts disciplinary proceedings against party members. However, many of the messages received by MPs have been sent by non-party members.
Momentum's organisers have said it "strongly disapproves" of threatening, bullying or abusive behaviour and has said local groups will not be allowed to campaign for de-selections of sitting MPs.
However, Mr Corbyn has faced calls from some MPs to disband the group, amid growing unrest among the Parliamentary party. Wayne David, the MP for Caerphilly, said Momentum had become a "party within a party" and should be wound up.
Socialist Party flyers were distributed outside and left on all seats at a Lambeth Momentum meeting earlier this week, according to an account by Mark Wallace, executive editor of the ConservativeHome blog.
Mr McDonnell told the meeting that Momentum was "not a sectarian group…it's not about deselecting people or targeting people", but later told attendees they would "eventually be able to ensure that the people selected represent you."
Referring to Simon Danczuk, an outspoken critic of Mr Corbyn, he said: "Simon is Simon…you just have to work with him. Eventually we'll resolve the matter…I'm not saying how…I'm not trying to set a hare running…in an amicable way I will convince him to my way of thinking."
A Labour Party spokesperson said: "Jeremy has repeatedly condemned threats and talk of deselection.
"All Labour members and representatives are expected to uphold the highest standard of conduct at all times."
Join our new commenting forum
Join thought-provoking conversations, follow other Independent readers and see their replies