Jeremy Corbyn raises human rights record with Chinese president Xi Jinping
The Labour leader also brought up steel prices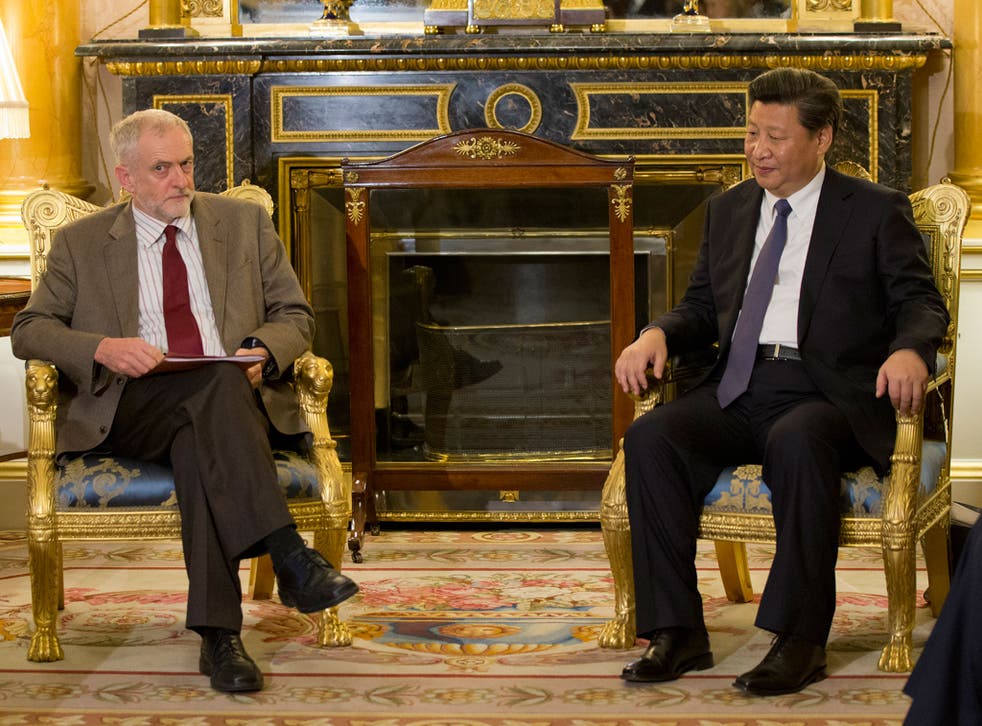 Labour leader Jeremy Corbyn has raised China's controversial human rights record in a meeting with President Xi Jinping.
The pair met for 30 minutes in room 1844 of Buckingham Palace, where Mr Corbyn introduced his delegation - including shadow foreign secretary Hilary Benn and shadow business secretary Angela Eagle - to Mr Xi.
During what the Labour party described as "cordial and constructive" discussions with Mr Xi, the opposition leader also brought up the impact of cheap Chinese steel imports on Britain.
He raised the issue hours after Tata steel, a UK steel manufacturer, announced it would cut 1,200 jobs across the UK. The job losses come days after steel manufacturer SSI closed another plant at Redcar.
The Chinese President congratulated the Labour leader, who was elected by a landslide in September, and told him "we stand ready to work together with Britain" on financial matters and on friendship.
The meeting followed concerns that Mr Corbyn would bring up contentious issues at a royal banquet at Buckingham Palace, which has been organised in honour of the Communist leader.
A Labour spokesman confirmed that Mr Corbyn "raised the issues of human rights and the impact of Chinese imports on the UK steel industry."
The two leaders also spoke about the historic links between the UK, the Labour Party and China; and the "huge contribution and sacrifice of the Chinese people in the struggle against fascism during the Second World War".
Chinese successes - including how 600 million people have been lifted out of poverty - "the lessons for the world agenda on human development", the "New Silk Road strategy", major threats to world security such as climate change, persistent economic inequality and international terrorism and "upgrading cultural and people-to people exchanges between China and the UK" were also discussed.
The men agreed that futher talks on co-operation over climate change were needed, as well as cultural exchanges, at a meeting between Mr Corbyn, shadow cabinet colleagues and Vice Minister Wang Chao later in the week, the statement concluded.
Mr Corbyn's decision to bring human rights to the discussion table comes after Prime Minister David Cameron's decision to meet with the Dalai Lama in 2012 sparked protest from China.
Additional reporting by Press Association
Join our new commenting forum
Join thought-provoking conversations, follow other Independent readers and see their replies