Jeremy Corbyn's Momentum activist network announces mass voter registration campaign
If successful the drive could soften the blow of the boundary review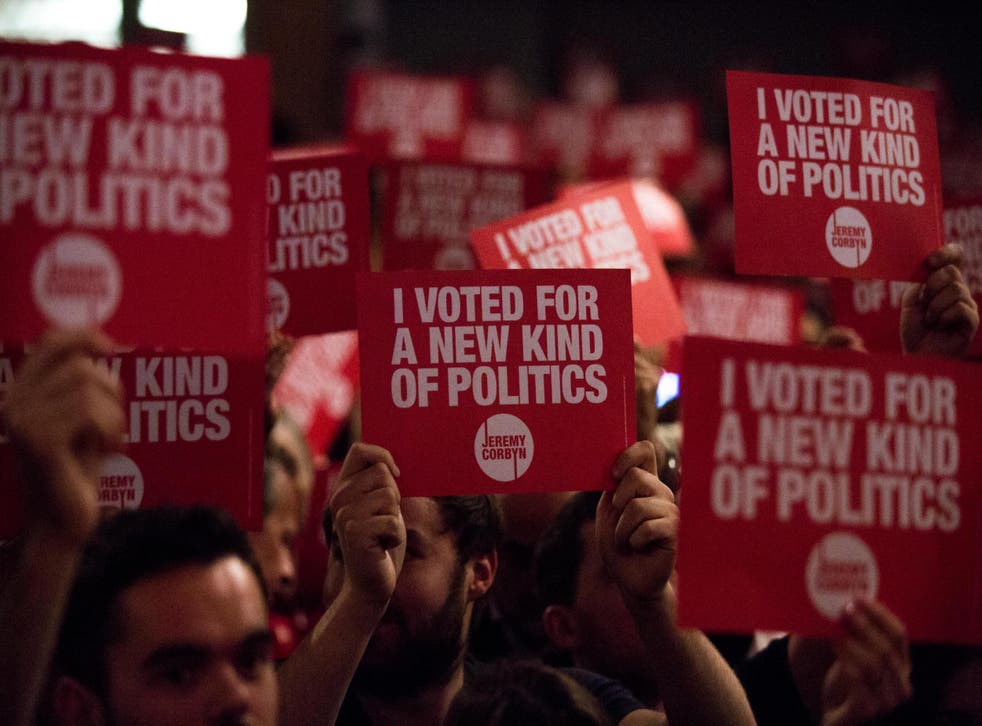 The grassroots network formed out of Jeremy Corbyn's leadership campaign infrastructure is launching a mass voter registration drive, it has announced.
Activists from Momentum will stage a national day of action on 24 October to sign up as many people as possible into the electoral register – the beginning of a campaign it calls Democracy SOS.
The group is targeting eight million people who it says are missing from the electoral register and the 1.9 million people who could fall off it when the old household system of voter registration is phased out on 1 December.
If successful, the group's efforts could also soften the blow of the Government's boundary review, which is expected to disadvantage Labour by reducing the number of seats in areas where the party is strong.
People not signed up to vote by 1 December will not be counted towards the Electoral Commission's review – which the Government wants based on registered voters in an area rather than actual population levels.
Voter registration is particularly low in deprived areas, where Labour is traditionally dominant, meaning the party will likely lose out.
Increasing the number of people on the electoral register in those areas before 1 December could mean fewer seats in them are scrapped.
Emma Rees, one of the campaign's organisers, said it was aimed at politicising people who had previously not been active.
"Jeremy Corbyn's campaign for Labour Leader put forward a new kind of politics, a politics that engaged with those shut out from the political system, promising more participatory democracy," she said.
"Claiming your right to vote is a major step in politicisation, to further action at community and national level. And so, we thought that Democracy SOS was a natural choice as Momentum's first national campaign."
The group says it will coordinate with Labour party voter registration efforts when they begin.
The campaign is supported the TSSA, a railway workers' union. Sam Tarry, the union's national political officer, described the boundary review as a stitch-up.
"The Tories want to gerrymander the electoral boundaries - taking away millions of working people across Britain's chance to be counted," he said.
"It's a blatant, anti-democratic stitch-up designed to keep them in power for as long as possible.
"Over the next few weeks we will work in communities across the country - going out and talking to people face to face, to ensure every citizen's voice is heard and will count."
The Cabinet Office said it was working with local authorities on its own voter registration campaign and added that individual voter registration was a vital reform to Britain's political system.
"Individual electoral registration is absolutely key to tackle election fraud. We are working with local authorities to remove ghost voters who don't exist or have moved on, to make sure we have a clean and fair electoral roll. This system has been tried and tested in Northern Ireland for over a decade, where there were once serious concerns about electoral fraud," John Penrose, Minister for the Constitution, said.
"The answer to under-registered groups like young people or expatriates is not to stuff the electoral rolls - and potentially the ballot boxes - with the names of people who don't exist, but instead to run a vigorous and energetic voter registration campaign. Which we will do."
The boundary review was due to go ahead before the 2010 general election but was blocked by the Liberal Democrats in response to Conservative MPs blocking House of Lords reform.
The creation of Momentum was announced earlier this month, billed as an "activist network" that would organised in every town in Britain.
The group is the successor organisation to Jeremy Corbyn's leadership campaign and can contact anyone who signed up to that campaign's communications infrastructure – giving it an advantage over other similar groups.
Join our new commenting forum
Join thought-provoking conversations, follow other Independent readers and see their replies