Jeremy Corbyn tightens his grip on power over shadow cabinet elections as defiant MPs dig in for a fight
Mr Corbyn could move to appoint his own shadow cabinet, slighting MPs who wanted a say on its members as a price for a truce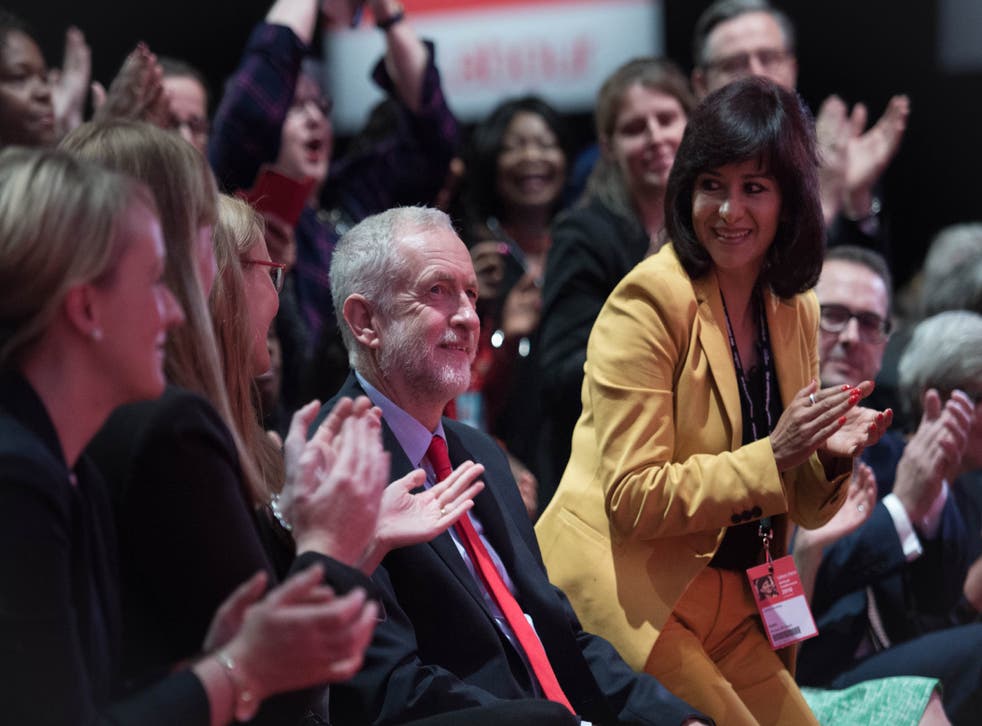 Jeremy Corbyn is preparing to tighten his stranglehold over Labour by appointing his own shadow cabinet and cementing his control over the party's ruling executive.
Critics claimed he had shelved a plan to give MPs a chance to elect his shadow cabinet members, which many saw as the price he must pay for a truce in the party.
But having smashed the challenge to his leadership from Owen Smith and seen off a bid to impose the elections, sources began to report that Mr Corbyn would conduct his own reshuffle.
At the same time a string of high-ranking MPs prepared for a fight, making speeches at meetings across the party's conference in Liverpool calling for resistance.
Battle lines were being drawn less than 24 hours after calls for unity came from all sides of the party in the wake of Mr Corbyn's victory. But one senior backbencher laid them to rest, saying the leader only wanted "the unity of the graveyard".
Leading MPs had said the elections plan drawn up by deputy leader Tom Watson was the only way that Mr Corbyn could regain the trust of his party.
But Labour insiders reported that the leader's discussions to tempt some MPs to take up jobs were progressing, giving him the confidence to kick the Watson plan into the long grass. It will now be considered at an event on November 22, long after a reshuffle is likely to have taken place.
John McDonnell repeatedly refuses to apologise for calling Tory MP a 'stain on humanity'
It came as Mr Corbyn hinted at a limited number of deselections of MPs, as he told the BBC's Andrew Marr that the "vast majority" of Labour MPs had nothing to fear.
He also vowed to give grass-roots Labour supporters more say over policy-making, which could sideline the MPs who oppose him – calling it key to building a "more equal and decent society".
If the leader does appoint his own shadow cabinet it means the crucial seats its members take on Labour's ruling National Executive Committee could all be held by his backers - further strengthening his control over that crucial decision-making body.
One longstanding MP said: "Tom's plan was delayed to November which suits his backers just fine. They can then decide on it after a reshuffle, when Jeremy's people could well have an extra seat on the NEC.
"Once they have the NEC, they have the party."
At the Progress rally where those from the right of Labour gathered, Alison McGovern MP brandished a Militant newsletter she said she had been handed on the way into the conference.
The MP claimed Militant had "ruined her childhood" in Liverpool, adding: "I will not stand by as they ruin the next generation."
Wes Streeting MP told the rally: "We the people in this room, and across our party cannot surrender to a political tradition that will keep this party in opposition for generations to come."
The defiant tone was also struck by Iain McNicol, the Labour General Secretary apparently targeted for removal by Mr Corbyn's allies.
In his conference address, Mr McNicol pointedly stressed the party's purpose was "clause one socialism" - referring to the first clause of the party which committed it to being a force in Parliament, rather than simply a mass membership movement, hailed by Mr Corbyn.
At a conference fringe meeting one former minister Vernon Coaker said the stakes could not be higher, telling delegates: "Our policies have to change. If we don't change we will die."
At the meeting staged by the Labour First group, which calls itself the voice of "moderates", Mr Coaker added: "The real task, of course, is changing the membership and winning the party back to the views of electability as well as principle."
Former Shadow Chancellor Chris Leslie said: "I cannot give up on my belief in parliamentary democracy. We did not choose revolutionary socialism."
Labour leadership contest: Jeremy Corbyn vs Owen Smith

Show all 8
Lisa Nandy – who quit the Shadow Cabinet with the defeated Mr Smith - said a return to power was impossible unless Labour could "win back Tory voters". She pointed to the demise of the old Liberal Party as a "warning from history".
And Ruth Smeeth, who has been targeted with death threats, said: "If I'm not going anywhere, not one of you gets to go anywhere because we are staying and we are fighting."
Earlier, in a TV studio, Heidi Alexander, the former Shadow Health Secretary, said Mr Corbyn still had to prove he is "a competent and capable" leader of the opposition – after a "dysfunctional" first year in office.
She warned: "What people like me are determined to do is to continue fighting for a Labour Party that speaks to and for the whole of the country, and one which is capable of winning the next general election."
But the daunting task facing them became clear when it emerged there had been a further membership boost even in the hours since Mr Corbyn's victory, with a further 15,500 people joining the party.
The dark mood among the defeated Owen Smith supporters was summed up by Conor McGinn MP, a whip, who joked that Labour was in a "much worse position" than the doomed British troops in his favourite film Zulu.
Register for free to continue reading
Registration is a free and easy way to support our truly independent journalism
By registering, you will also enjoy limited access to Premium articles, exclusive newsletters, commenting, and virtual events with our leading journalists
Already have an account? sign in
Register for free to continue reading
Registration is a free and easy way to support our truly independent journalism
By registering, you will also enjoy limited access to Premium articles, exclusive newsletters, commenting, and virtual events with our leading journalists
Already have an account? sign in
Join our new commenting forum
Join thought-provoking conversations, follow other Independent readers and see their replies