Jeremy Corbyn calls on Theresa May to ensure safety of all tower blocks in open letter
The Labour leader has written to the Prime Minister asking that the Grenfell Tower inquiry will guarantee fire safety standards in all tower blocks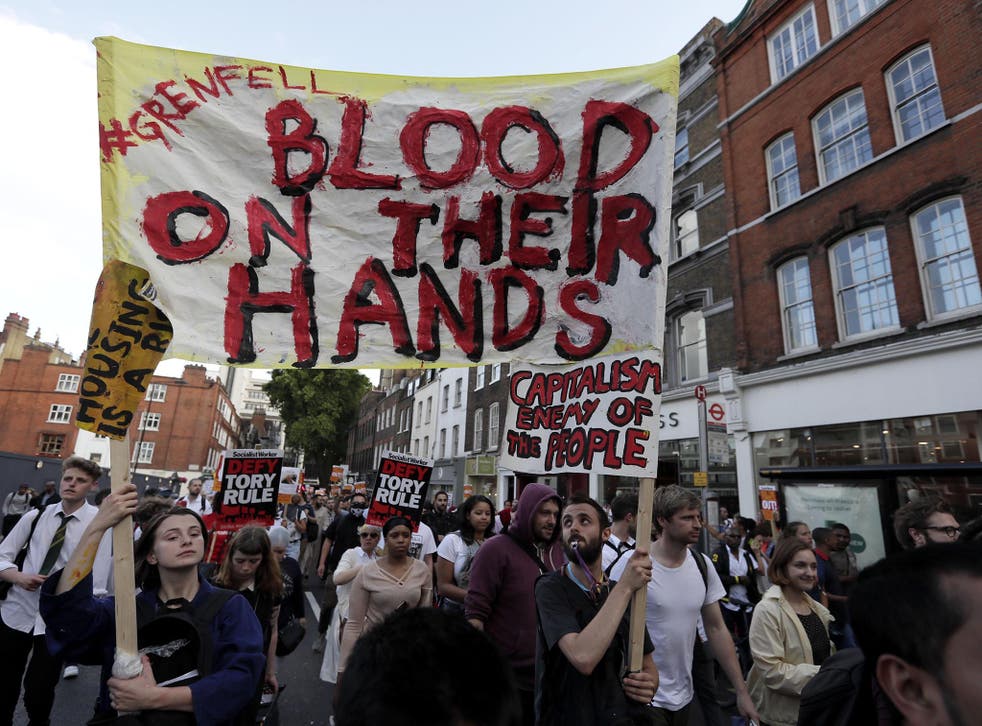 Jeremy Corbyn has written an open letter to the Prime Minister, calling on her to ensure that the public inquiry into the Grenfell Tower fire will be wide enough to ensure that fire safety standards are improved for all tower blocks.
In his letter, the Labour leader calls for the public inquiry to ensure "all necessary lessons are learned".
It says: "[The inquiry] must be empowered to consider all the steps that were, or were not, taken leading up to and contributing to this most terrible incident.
"It must also identify the urgent steps that need to be taken in relation to fire safety standards for other buildings of this nature."
Theresa May has announced a £5m fund for survivors of the fire, but protests have taken place on the streets around Grenfell Tower and past Downing Street over her handling of the response. On her first visit to the area on Thursday, she did not meet any local people affected by the tragedy. Yesterday, when she visited a church that is serving as a relief centre, protesters gathered outside. In the evening, crowds marched past Downing Street chanting: "May must go."
Mr Corbyn said the inquiry "must be empowered to make recommendations for the avoidance of any similar future disaster – and in so doing, to consider recommendations arising from previous similar fire-related deaths".
The inquiry into the Grenfell fire will almost certainly not be completed and published for several years. The inquest into the 2009 fire at Lakanal House in Camberwell, South London, in which six people died, took four years.
An interim report by the London Fire Brigade will not be released until a full inquest into those who have died – thought to be as high as 70 – has been completed, a process which could take years.
A spokesperson for the force told The Guardian: "The report will not be in the public domain until that inquest is complete. There is no timeframe for when the inquest will be, but certainly not in the short term."
Her claim appeared to contradict Secretary of State for Communities Sajid Javid, who said that the interim findings of fire officers' investigations will be made available to local councils as they carry out emergency inspections of more than 4,000 tower blocks across the UK.
The public inquiry announced by Mrs May could take place before, or instead of, any inquests. More than 50,000 people have signed a petition calling for an inquest to be held instead of a public inquiry, amid concerns it could potentially be a "whitewash" as it will be Government-led.
A separate criminal investigation into the blaze has also been launched by the Metropolitan Police.
Register for free to continue reading
Registration is a free and easy way to support our truly independent journalism
By registering, you will also enjoy limited access to Premium articles, exclusive newsletters, commenting, and virtual events with our leading journalists
Already have an account? sign in
Register for free to continue reading
Registration is a free and easy way to support our truly independent journalism
By registering, you will also enjoy limited access to Premium articles, exclusive newsletters, commenting, and virtual events with our leading journalists
Already have an account? sign in
Join our new commenting forum
Join thought-provoking conversations, follow other Independent readers and see their replies