Jeremy Hunt's junior doctors' contract will 'contradict UN women's rights', says WHO director
The Government's own Equality Impact Assessment of the junior doctors' contract said it will 'impact disproportionately on women'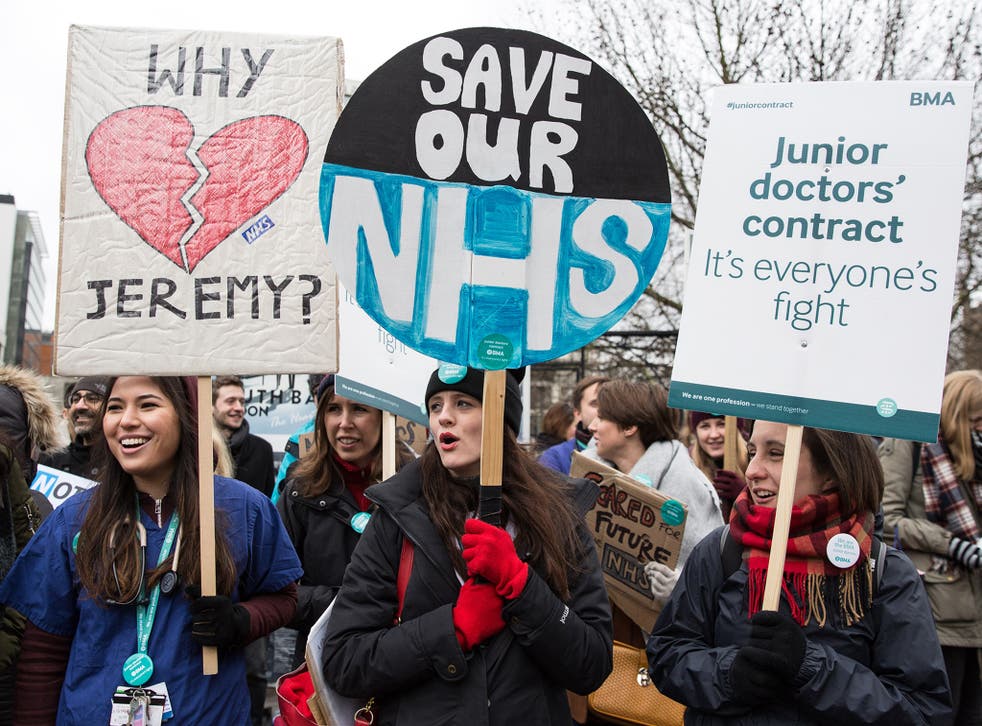 Jeremy Hunt's new junior doctor's contract will contradict the status of women set out by the United Nations, a World Health Organisation (WHO) director has said.
The Health Minister sparked an outcry after the Government's own Equality Impact Assessment of the imposed contract, published in full this week, acknowledged it will "impact disproportionately on women".
Jim Campbell, director of the WHO's Health Workforce, said over Twitter the "regressive policies" set out in the new contract "contradict the UN Commission", and posted the outcome a UN Women's Economic Empowerment meeting - a group set up in January to "[close] economic gender gaps that persist around the world."
The document, published in March, states: "The Commission on the Status of Women reaffirms… gender equality and the empowerment of women and girls.
"Every person is entitled to participate in, contribute to and enjoy economic, social, cultural and political development and equal attention... should be given to the promotion, protection and full realisation of civil, political, economic, social and cultural rights."
The meeting also emphasises "women's economic rights" saying women should be ensured "equal pay for equal work and work of equal value".
The imposed contract, however, has been criticised for widening the gender pay gap in medicine and failing to protect female working rights, after the government assessment said any "adverse effect" impact on women's pay was a "proportionate" means to an end.
The new contract will require doctors to work more weekends and will cut Saturday pay in exchange for a basic pay rise of 13.5 per cent. It will also mean doctors no longer get automatic pay increases for time served, hitting the salaries of those who take time off, including women on maternity leave.
The equality impact assessment found that increased weekend working may "disadvantage lone parents (who are disproportionately female) due to the increased cost of paid childcare in the evenings and weekend".
In pictures: Junior doctors protests in UK

Show all 10
It also found that "some aspects of the new contract have certain adverse impacts regarding maternity", with women who take time out to have children seeing their salaries increase more slowly.
It concludes: "Any indirect adverse effect on women is a proportionate means of achieving a legitimate aim."
David Cameron has also been criticised, with many pointing out the discrepancy between the gender pay gap highlighted in the assessment and the Prime Minister's past claims to "end the gender pay gap in a generation".
Writing for the Independent, Dr Rachel Clarke, a cardiologist in Oxford, said: "In other words, for [David] Cameron, the alleged champion of women, women's salaries are mere collateral damage."
Register for free to continue reading
Registration is a free and easy way to support our truly independent journalism
By registering, you will also enjoy limited access to Premium articles, exclusive newsletters, commenting, and virtual events with our leading journalists
Already have an account? sign in
Register for free to continue reading
Registration is a free and easy way to support our truly independent journalism
By registering, you will also enjoy limited access to Premium articles, exclusive newsletters, commenting, and virtual events with our leading journalists
Already have an account? sign in
Join our new commenting forum
Join thought-provoking conversations, follow other Independent readers and see their replies