Former Labour leader Neil Kinnock warns Jeremy Corbyn he cannot lead if his party will not back him
Former Labour leader Lord Kinnock warned Mr Corbyn that he cannot lead the party effectively if he is unable to persuade a 'large share' of Labour MPs to back him
Andy McSmith
Tuesday 08 March 2016 22:18 Comments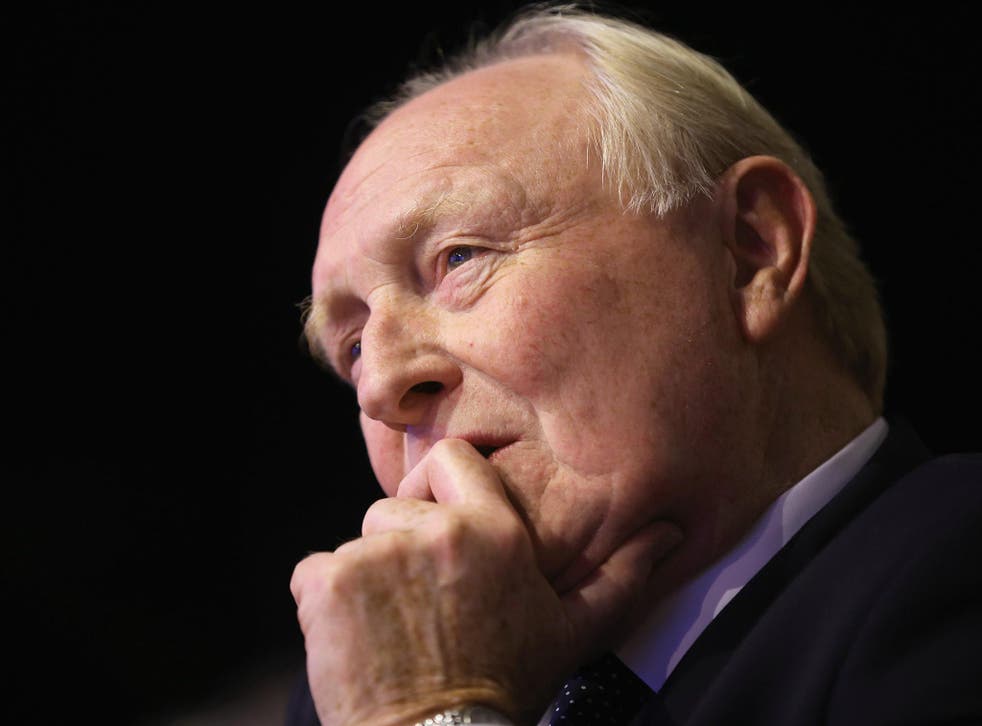 The Labour grandee Neil Kinnock has attacked Jeremy Corbyn, after plans were revealed last night for new party rules designed to prevent rival MPs from ousting their leader.
Lord Kinnock, the former leader who pulled Labour back towards electability after a disastrous bout of internal feuding in the 1980s, has warned Mr Corbyn that he cannot lead the party effectively if he is unable to persuade a "large share" of Labour MPs to back him.
The plan by a left-wing pressure group, the Campaign for Labour Party Democracy (CLPD) – which played a prominent role in the 1980s – would give Mr Corbyn an automatic right to run for re-election if challenged, without having to ask any of his fellow MPs to sign his nomination papers.
And it would mean that if he decided to stand down, another left-wing MP – such as the shadow Chancellor John McDonnell or the shadow Energy Secretary Lisa Nandy – could be sure of a place on the ballot paper in the resulting leadership contest, if they could muster support from just a dozen other Labour MPs.
Lord Kinnock, who tightened up the rules after he fought off a left-wing challenge from Tony Benn in 1988, remarked scornfully: "It's not exactly an expression of confidence in leadership, is it? Anyone who can't get a large share of support from the Parliamentary Labour Party just can't do the job. That's a basic fact of life. Maybe they don't want Labour to be led, or at least led effectively. That would be very strange. Faced with this arrogant Tory Government, CLPD is back to playing party games. Will they never learn?"
Rumours of a plot against Mr Corbyn have been growing as opinion polls indicate that Labour is heading for a drubbing in the May local elections.
Mr Corbyn's critics, who oppose his leadership style, his views on Trident, and on intervention in Syria, and his recent call for prostitution to be legalised, have been talking about whether they can move against him after the May elections or after the EU referendum in June – though the conspirators are held back by their failure to decide who should take his place.
They are also deterred by polling evidence that Mr Corbyn, who won last year's leadership contest on the first ballot with nearly 60 per cent of the vote, still commands majority support among party members and supporters.
Mr Corbyn has defended his record in raising a range of social issues. Writing for independent.co.uk, he says: "People want a different sort of politics. I'm determined to deliver on this. Unfortunately, David Cameron and the Tories still refuse to engage."
One weapon in the conspirators' armoury is an ambiguously worded rule which appears to say that if Mr Corbyn wanted to run for re-election, he would need to find 38 Labour MPs and members of the European Parliament prepared to nominate him.
UK news in pictures

Show all 50
Last year, he struggled to find the 35 nominations needed for that contest, and succeeded only because certain MPs, including the former leader Margaret Beckett, signed his nomination paper because they believed he had a right to take part, though they did not intend to vote for him and did not expect him to win.
The CLPD is canvassing constituency parties to drum up support for a rule change that would be voted on at the party's annual conference in October, which would spare Mr Corbyn from having to go through the process of collecting nominations again.
The "supporting argument" drawn up by Pete Willsman, secretary of the CLPD, argues that "the lack of precise clarity in the way the rule is written is exploited by hostile media speculation claiming that a challenge can be mounted against our current leader Jeremy Corbyn with him excluded from the ballot paper."
The CLPD plan would also cut the number of nominations any other candidate would need to enter the contest down from 38 to 13, or 5 per cent of all Labour MPs or MEPs. That would guarantee that if Mr Corbyn decided not to run, another left-wing candidate would be able to stand in his place.
Register for free to continue reading
Registration is a free and easy way to support our truly independent journalism
By registering, you will also enjoy limited access to Premium articles, exclusive newsletters, commenting, and virtual events with our leading journalists
Already have an account? sign in
Register for free to continue reading
Registration is a free and easy way to support our truly independent journalism
By registering, you will also enjoy limited access to Premium articles, exclusive newsletters, commenting, and virtual events with our leading journalists
Already have an account? sign in
Join our new commenting forum
Join thought-provoking conversations, follow other Independent readers and see their replies