John Bercow: Government's 'squalid' plot to oust the Speaker fails
Speaker Bercow appeared close to tears during the debate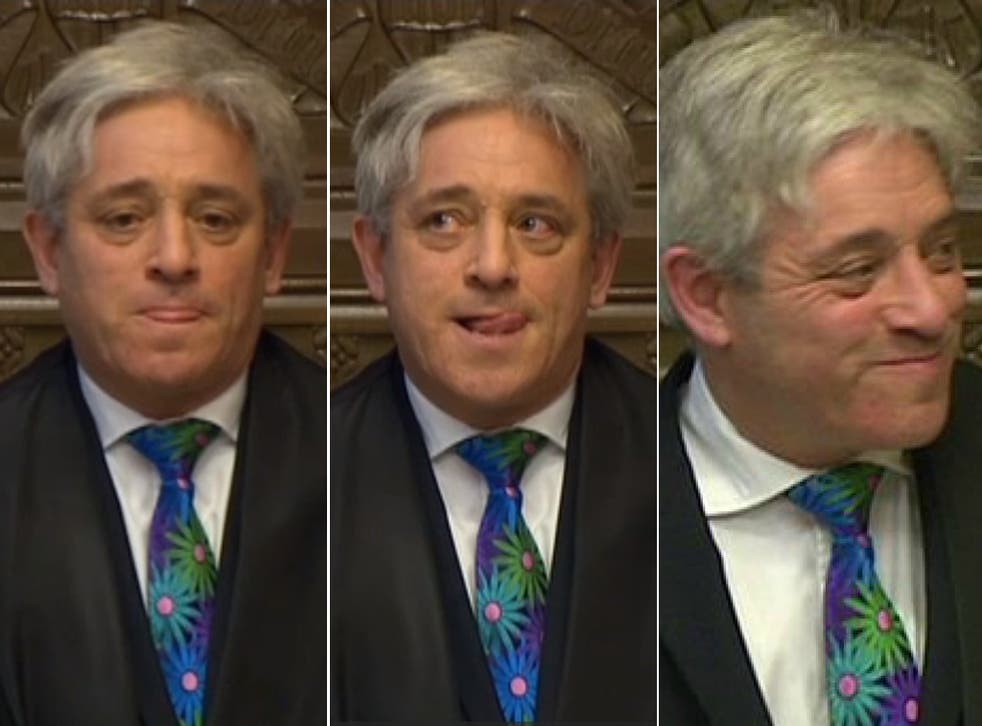 A Government plot to try and oust the Speaker of the House of Commons by stealth ahead of the election spectacularly unravelled today as backbench MPs, including 23 Tory rebels, inflicted a humiliating defeat on the Government.
In extraordinary scenes in the Commons, MP after MP rose to attack William Hague on the final day of his parliamentary career for a "grubby", "squalid" and "nauseous" plot to unseat John Bercow.
At one point Mr Bercow looked close to tears as Charles Walker, the chairman of the Commons Procedure Committee, described how he had been taken for a "fool" by Mr Hague and the Tory Chief Whip, Michael Gove.
Mr Walker's committee should have been consulted about the motion, announced late on Wednesday night, to have a secret ballot to elect the Speaker in the next parliament.
But despite attending a drinks reception with Mr Hague and Mr Gove earlier in the week, neither man mentioned their plot.
His voice cracking with emotion, Mr Walker said: "I have been played as a fool and when I go home tonight I will look in the mirror and see an honourable fool looking back at me, and I would much rather be an honourable fool in this, and any other matter, than a clever man."
He went on: "How you treat people in this place is important." Labour MPs stood up and applauded. Other MPs lined up to attack Mr Hague and Mr Gove – who looked chastened – as their motion was defeated by 228 to 202.
Afterwards, one Tory MP questioned how both men had been so inept to bring forward a controversial motion without ensuring they had the votes to get it passed. Even David Cameron, who was not due to attend, was called back to vote as the Government realised it was on the verge of losing.
Jacob Rees-Mogg, the Conservative MP for North East Somerset, said he was deeply saddened that Mr Hague "had put his name to a bit of parliamentary jiggery-pokery that has come about from some grudges that people bear to the Speaker".
David Davis said he was also opposing the motion, saying the planned reform needed to be debated in prime time and "not in a mean-spirited ad hominem manner".
Mr Hague tried to insist it was not unusual for amendments to be debated late in the day, and said the motion could not be construed an attack on parliamentary democracy.
He said it was anomalous for the existing Speaker to be re-elected through a recorded public vote, and said it was better for MPs to be able "to vote without fear or favour".
The six-party election: key figures

Show all 12
But Labour MPs laid into Mr Hague, with the result that one of the leading parliamentarians of his generation leaves parliament under a cloud of controversy.
Angela Eagle, the shadow Leader of the House, said: "In my 23 years of parliament, I have never seen a government behave in such a grubby and underhand way." It was, she said, a "spiteful attempt to get rid of a Speaker that has the temerity to stand up for parliament".
Paul Flynn also accused Mr Hague of "a mean, spiteful kick at the best reforming Speaker we have had for 30 years". Labour's Gordon Marsden said that Michael Dobbs, creator of the House Of Cards and a Tory peer, would have been ashamed to have dreamt up such "grubby" antics for one of his novels.
After the result of the vote was announced the Labour benches erupted in cheers.
Join our new commenting forum
Join thought-provoking conversations, follow other Independent readers and see their replies