Johnson: we need a debate on migration
Labour's failure to engage with issue 'has boosted BNP' admits Home Secretary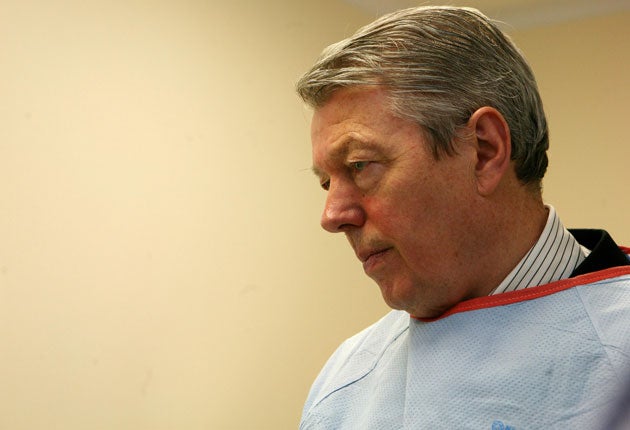 In a candid interview with The Independent, Mr Johnson admitted that Labour's failure to debate immigration had "probably" boosted the BNP's appeal.
"People think we have shied away from a debate on it. They may well be right," he said. "My post bag is bigger on immigration than any other issue. It is a major public concern. The public deserves a rational debate on this, rather than what they sometimes get, which is at the extreme end of the scale."
His call for a "real debate" about immigration marks a big shift in Labour's thinking. A week ago, Mr Johnson admitted that successive governments, including the present one, had been "maladroit" in handling the issue.
In his interview he made clear that his comments were not a one-off but part of a concerted attempt to regain the initiative and try to convince the public that Labour has learnt from its mistakes and "completely transformed" the immigration and asylum systems.
Mr Johnson, who two weeks ago prompted a major row with British scientists by sacking the Government's chief drugs adviser Professor David Nutt, conceded that the Government did not spend money on the asylum system quickly enough to cope with a sudden influx of claims seven years ago. In contrast with one of his predecessors John Reid, he insisted that the Home Office is now "fit for purpose".
But he conceded that the absence of a proper debate had played into the BNP's hands. "Part of its attraction is that it is raising things that other political parties don't raise," he said. "It would take the absence of a national debate as the green light to distort the debate. It has absolutely no inhibition about lying about these issues."
Until the BNP won its first seats in a nationwide contest at the European Parliament elections in June, Labour's strategy was to deprive the far-right party of publicity and fight it on the doorsteps. A Labour rethink was brought to a head by the BBC's controversial decision to invite the BNP leader Nick Griffin on to its flagship Question Time programme. Mr Johnson was on the losing side of what he called a "friendly" cabinet debate over whether Labour should take part.
"My issue was about Question Time, not other forums. I think the BNP should be on Newsnight, the Today programme and in newspapers. But Question Time is different."
He fears that Mr Griffin's appearance did more good than harm to the BNP's prospects. "I think that the publicity gave the BNP exactly what it wanted," he said. He understood why the Justice Secretary, Jack Straw, and other panellists wanted to take part. "I hope that people saw how inept Nick Griffin is as a politician. I hope they [the panellists] were right. But I fear they were wrong," he said.
The Home Secretary pledged to debate immigration "at any time" – yet he would still not appear alongside Mr Griffin. "My view is still that I won't share a platform with a fascist. That has been my view for 59 years and I don't intend to change it. I don't have to sit and debate with these people. It does not call the debate to a halt."
Mr Johnson's message is that "immigration has been a good thing for this country – culturally, socially and certainly economically". He believes passionately that places like London, Birmingham and Liverpool have been "enriched" by it. But he denied recent allegations that Labour pursued an "open-door" policy to create a multicultural society. "We don't have an open-door policy. It is misleading to say we have got one or that we have ever had one. We manage immigration."
Mr Johnson believes public fears are shaped by an out-of-date picture and that Labour's reluctance to debate immigration has deprived it of the opportunity to show that the system has changed out of all recognition. He cites the Australian-style points system for non-EU entrants and introduction of electronic border controls which have led to 4,000 arrests, and will track individuals as well as numbers coming in and out so that "illegals" can be removed.
Official net migration fell by 44 per cent from 209,000 in 2007 to 118,000 in 2008 – proof, he said, that migrants come to Britain for short periods, work, contribute to the economy and then return home.
The backlog of asylum applications has dropped from 69,000 to 6,000 since 1995. The average length of time for claims peaked at 35 months, but now 60 per cent of cases are being decided within six months.
David Cameron has played down immigration as an issue, believing that it contributed to the Tories' image as a "nasty party" at the 2005 election. But now Mr Johnson wants to test the Tory policy of an unspecified "cap" on non-EU migrants. He believes the public might mistake it for a moratorium on further immigration, which it is not. He insists that Labour's points system is more effective and flexible.
The Home Secretary dismissed last week's call by Kim Howells, the former Foreign Office minister, for British troops to be withdrawn from Afghanistan and anti-terrorism measures to be stepped up here. "I have a huge amount of respect for Kim but I think he is wrong on this. We spend what needs to be spent on counter-terrorism," he said. "If we pulled out of Afghanistan, we would need to spend more money in this country because there would be far more attacks in this country as a result."
Join our commenting forum
Join thought-provoking conversations, follow other Independent readers and see their replies