Joshua Wong: Teenage Hong Kong protest leader urges UK to press China on human rights in the former colony
The 19-year-old said the Prime Minister 'could not trust' Chinese assurances on human rights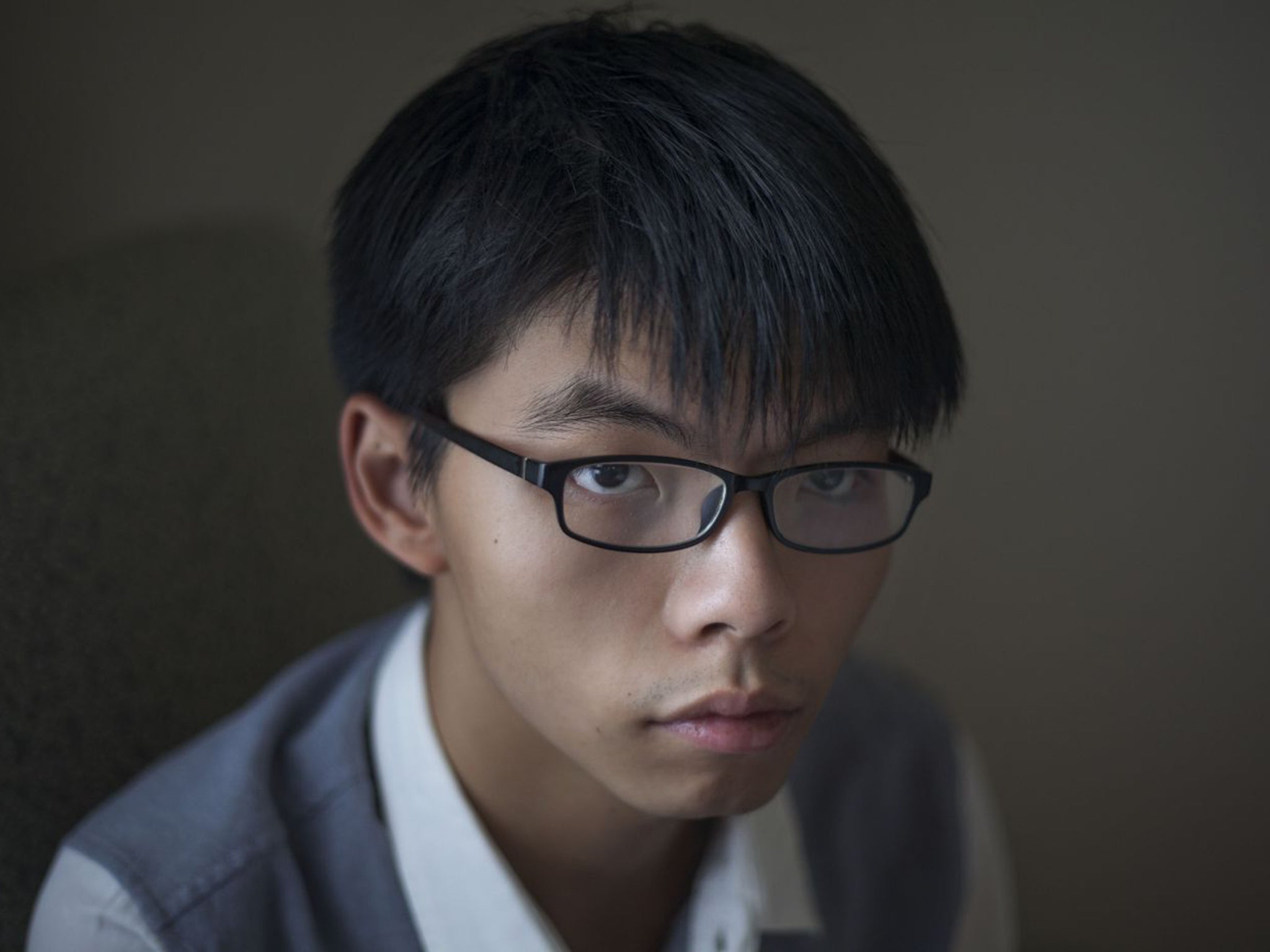 The teenager who became the public face of the Hong Kong protest movement has called on David Cameron to "publicly challenge" the visiting Chinese President over a crackdown on human rights in the former British colony.
Joshua Wong, 19, who faces up to five years in jail for his role spearheading the Umbrella Revolution, named after the parasols used by protestors to defend themselves from police tear gas, said the Prime Minister "could not trust" Chinese assurances on human rights made during this week's state visit by President Xi Jinping.
Protestors in Hong Kong captured the world's attention last year when they occupied busy intersections for 79 days and tried to storm the government headquarters. They were calling for universal suffrage, a right promised to the city under a deal between China and Britain before the former colony was handed back to Beijing in 1997.
In an interview with the Independent, as he arrived in the UK for a university speaking tour to coincide with the first state visit by a Chinese leader in 10 years, the teenager condemned Britain for failing to pressure Beijing over crackdowns in Hong Kong and on the Chinese mainland.
"My message to David Cameron is that China has not kept its promise to the people of Hong Kong to deliver universal suffrage, so how can you trust President Xi to keep his word on the trade deals signed this week? You cannot. The Chinese government will not keep its promises on trade or on human rights," he said.
President Xi's government in Beijing has been accused of increasing interference with the rule of law in Hong Kong, alongside crackdown on dissent on the mainland. In July it enacted a new State Security Law which stipulates new "responsibilities" for the people of Hong Kong to protect national security, a move which prompted dismay among democracy campaigners and NGOs.
Mr Wong, who appeared on the cover of Time magazine last year with the headline: "The Face of the Protests", faces trial next week on charges of "unlawful assembly" and incitement for his role in an attempted storming of the government headquarters in Hong Kong.
The teenager said he intended to continue the "struggle for democracy" but said that Britain had not "put enough effort" into moves to monitor democracy and human rights in Hong Kong.
"After the Umbrella protests we knew the British government had failed to keep its promise on democracy and that it viewed trade with China as more important. Despite this we are still determined to continue our fight for universal suffrage and autonomy," said Mr Wong, who is hoping to stand for election next year. "The UK government must put human rights on a higher status than trade with China."
In pictures: Police push to clear Hong Kong protesters
Show all 19
Maya Wang, a China researcher at international watchdog Human Rights Watch, said the NGO was "increasingly concerned" that the British government had "capitulated" over the deteriorating human rights situation in Hong King and on-going, more serious concerns in mainland China.
She said: "The government of Hong Kong is clearly going after the protest leaders and we call on David Cameron to use President Xi's state visit as an opportunity to raise this concern. The UK has a moral obligation to pressure Beijing over Hong Kong."
Mr Wong was due to address the Oxford Union last night as President Xi arrived at Heathrow to embark on a much-heralded four-day state visit, which will see him stay at Buckingham Palace, received all the pomp and ceremony the British Royalty can offer and meet with Chinese investors in the London and Manchester.
However human rights campaigner are concerned about allegations over the increasing use of torture on the Chinese mainland, the detention of human rights lawyers in "black sites" and repression of ethnic minorities.
Despite this, the UK is rolling out the red carpet for President Xi. Last night giant red flags of the People's Republic of China were already lining the Mall alongside the Union flag, while the president and his wife will today receive a Royal welcome on Horse Guards Parade
As the Chinese president places his foot upon the first steps of the Royal Pavilion a 41 gun "Royal salute" will ring out from Green Park, added to by 62 guns at the Tower of London. President Xi will then attend a state banquet where he will meet the Queen, Labour leader Jeremy Corbyn and hold talks with David Cameron.
Meanwhile, Amnesty International and Free Tibet will protest in St James's Park over human rights violations and the detention of up to 30 prominent human rights lawyers. Demonstrators will hold banners reading "Rights over revenue" and "People before profit", while a Free Tibet "advan" carrying the Tibetan flag, which is banned in China, will follow him during his stay in London.
Join our commenting forum
Join thought-provoking conversations, follow other Independent readers and see their replies