Junior doctors' contract dispute resolved after Government and BMA reach deal
If junior doctors vote for the deal then it will be implemented in August this year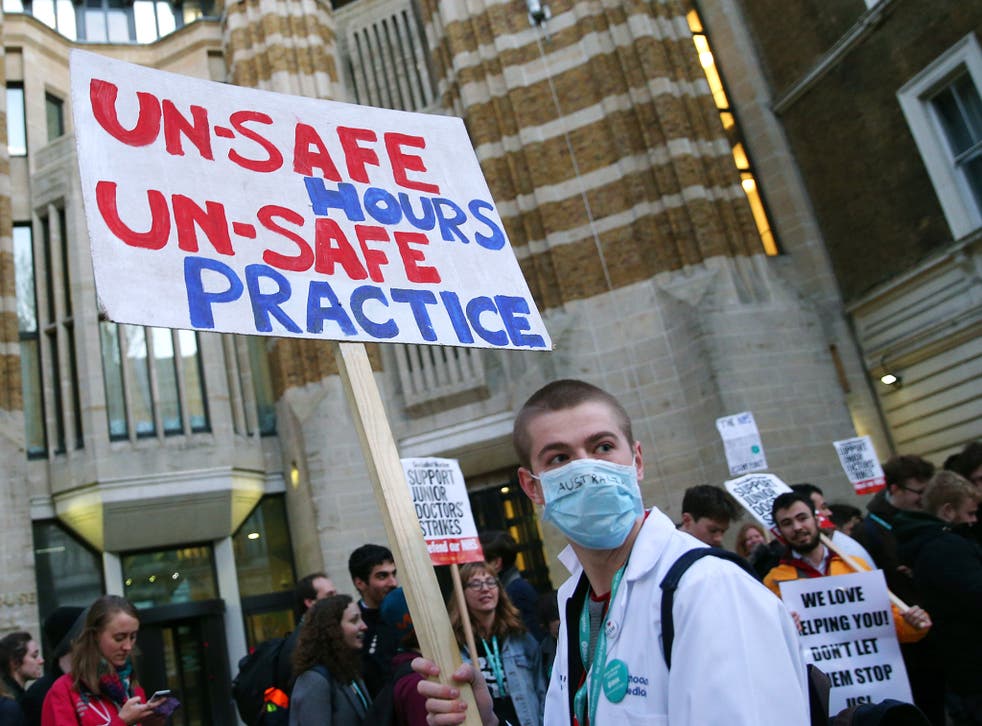 An agreement to end the bitter dispute between junior doctors and the Government has been reached, with both sides claiming significant concessions.
Both the Health Secretary Jeremy Hunt and the British Medical Association hailed the deal, which was reached after 10 days of intensive talks facilitated by Acas negotiators.
Mr Hunt said it would deliver "important changes" for junior doctors while securing the Government's goal of improving weekend services in hospitals. Dr Johann Malawana, the BMA's junior doctor chair, said it was a "a good deal for junior doctors".
The agreement, which is significantly different to the previous offer made by the Government in February, will now be put to a vote of the BMA's junior doctor members to be held between June and July.
If it is approved, some elements could come into effect as soon as August, and all junior doctors would move over to the new terms between October 2016 and August 2017.
There are major changes from previous contract offers. The issue of weekend pay has been settled, with an agreement that there will be no automatic pay premium for working Saturday or Sunday. However, junior doctors who work more than six weekends in a year will qualify for an extra pay allowance, which will increase the more weekends they work.
Doctors who work one weekend in eight will get a three per cent pay premium, rising to 10 per cent for those who work one in two weekends. A similar system will apply to on-call duties.
In addition junior doctors' basic pay will rise by between 10 and 11 per cent on average – less than previous offers from the Government. Night shifts will also attract a 37 per cent increased pay rate – less than existing night shift rates of 50 per cent.
The deal's prospects now rest on its reception by junior doctors across England. The BMA said it would be embarking on 'roadshows' to explain the new contract next month, followed by a 'referendum' of junior doctors.
Vocal support for the settlement from Dr Malawana, who is a popular figure among members, could prove crucial, but junior doctors are likely to scrutinise the offer carefully, and concerns around under-staffing of the health service will remain a sticking point.
In pictures: Junior doctors first all-out strike

Show all 10
Dr Malawana said: "Junior doctors have always wanted to agree a safe and fair contract, one that recognises and values the contribution junior doctors make to the NHS, addresses the recruitment and retention crisis in parts of the NHS and provides the basis for delivering a world-class health service."
The Government meanwhile, will be satisfied that it has secured the principle that Saturdays and Sundays can be paid at the same rate as weekdays, and is now likely to seek reforms to the contracts of other NHS staff groups. The Department of Health estimates the new contract will cut the cost to hospitals of rostering junior doctors at the weekend by a third.
The overall contract offer requires no extra spending overall from the Government – a precondition agreed by both sides ahead of negotiations.
Jeremy Hunt says junior doctors' contract is likely to be his 'last big job in politics'
However, following criticisms that the proposed new contract discriminated against women who take maternity leave, £10m will be spent, outside of the pay settlement, on additional training support to help doctors who take time off, when they return to work.
Concerns about this aspect of the contract related to new measures which will see automatic annual pay increases scrapped in favour of pay increases according to time worked and experience accrued.
Junior doctors' working hours will also be monitored by a 'guardian', appointed to work within each NHS trust, whose role will now include monitoring rota gaps. There will also be new pay incentives to attract trainee doctors to three understaffed specialisms: emergency medicine, psychiatry and oral and maxillofacial surgery.
Health Secretary Jeremy Hunt said: "We welcome this significant agreement which delivers important changes to the junior doctors' contract necessary to deliver a safer seven day NHS.
"The talks have been constructive and positive and highlighted many areas outside the contract where further work is necessary to value the vital role of junior doctors and improve the training and support they are given. This deal represents a definitive step forward for patients, for doctors, and for the NHS as a whole."
Acas chairman Sir Brendan Barber said: "This long running dispute has clearly been an extraordinarily difficult period for the NHS. So I am glad that as well as cooperating closely in preparing the communications for the upcoming referendum, all the parties are also strongly committed to tackling together the bigger, wider challenges facing the NHS."
Register for free to continue reading
Registration is a free and easy way to support our truly independent journalism
By registering, you will also enjoy limited access to Premium articles, exclusive newsletters, commenting, and virtual events with our leading journalists
Already have an account? sign in
Register for free to continue reading
Registration is a free and easy way to support our truly independent journalism
By registering, you will also enjoy limited access to Premium articles, exclusive newsletters, commenting, and virtual events with our leading journalists
Already have an account? sign in
Join our new commenting forum
Join thought-provoking conversations, follow other Independent readers and see their replies