Couple share photograph of their desperately ill child in hospital to show just how much we need junior doctors
Sethina and Paul Watson are both NHS medics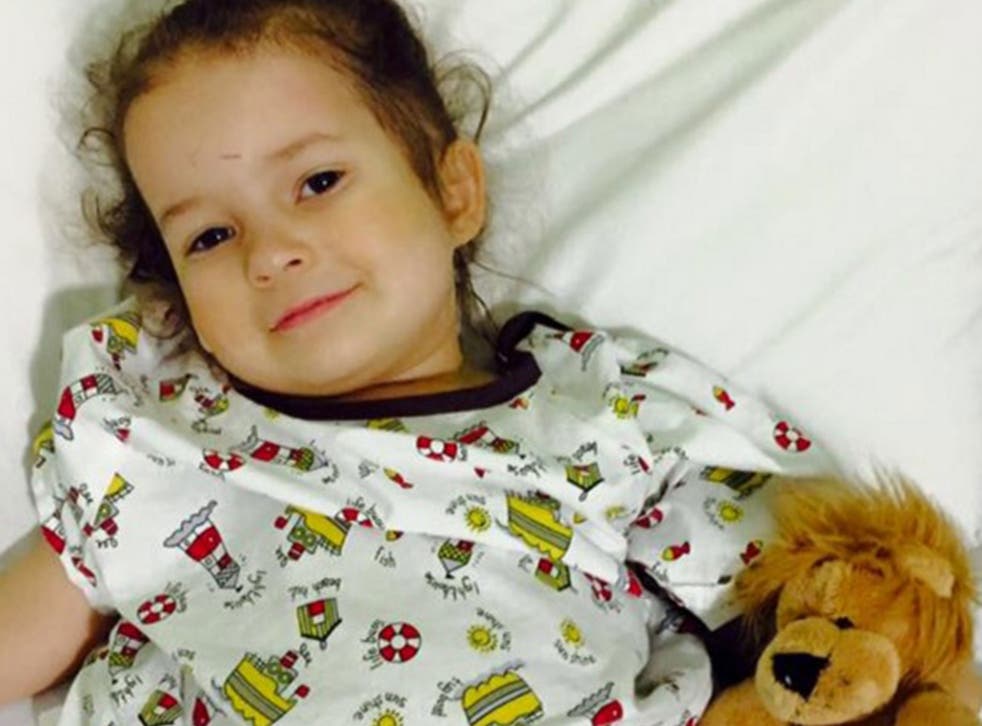 A married couple have expressed their regret at not being able to join the junior doctors' strike picket line - because their three-year-old daughter is desperately ill with cystic fibrosis in an NHS hospital.
Junior doctors Sethina and Paul Watson, from Bristol, have been at little Minty's bedside since the 48-hour walkout began at 8am on Wednesday.
And they said that while they wish they could be there to support friends and colleagues, their daughter's condition only serves to highlight how crucial the NHS is to families like theirs in the first place.
Mrs Watson, who works for Gloucestershire NHS Trust, wrote in a poignant post on Facebook on Tuesday: "My husband and I are both junior doctors. Unfortunately, we cannot join the picket line this time.
"We aren't there because we are in hospital with this little one. Our three year old daughter has cystic fibrosis. She's not been well recently and she's in for a GA, bronchoscopy, PICC line and 2 week course of heavy duty antibiotics.
"The NHS is so vital for her care and future. We have no doubt that she will be well cared for the next 2 strike days. The junior doctor fight is for every patient and every person working in the NHS.
"Doctors looking after her (and everyone else) should be well rested, motivated and valued.
"She starts nursery soon, we'd like to see her and our other children at weekends. We *already* work many weekends away from them. CF shows us that life is precious; it is too short.
"Doctors involved in her care over the next two weeks will be many; junior doctors, respiratory consultants, anaesthetists, radiologists and microbiologists.
"But also ward nurses, recovery nurses, ODPs, specialist nurses, STUDENT nurses, ward clerks, pharmacists, pharmacy technicians, porters, health care assistants, domestics, dieticians, psychologists, physiotherapists, radiographers, play specialists and more.
"Behind the scenes are lab technicians, estates workers, IT staff, medical secretaries, CSSD, theatre managers, ward managers, volunteers, security staff and a huge long list of others.
"We ALL work together for our patients. We make something pretty amazing. To think that adding just junior doctors to the ward at the weekend is all that is needed ignores the rest of that amazing team.
"When times are tough, we remember this phrase, 'dum spiro spero'. It means while I breathe I hope. Perhaps one day there will be be a cure for CF. We try to remain hopeful about the junior doctor 'fight' too.
"Junior doctors are standing up for the future of the NHS. Let's all stand together. Good luck, we've got our badges and banners on the ward ready for tomorrow. She says a big thank you for everyone looking after her.
"Mr Hunt, I request that you engage with us and take our concerns seriously."
In pictures: Junior doctors protests in UK

Show all 10
Junior doctors are staging a two-day strike following Health Secretary Jeremy Hunt's announcement that he would impose a new contract on junior doctors following a breakdown in talks with the British Medical Association (BMA).
The BMA claims the contract offers worse pay and conditions for doctors who already provide frontline services during the week and at weekends.
Thousands of junior doctors across England are expected to have joined the strike and more than 5,000 operations and procedures across England have been cancelled.
Mr Hunt has announced he will impose the contract on junior doctors - everyone up to consultant level - after months of talks with the British Medical Association (BMA) failed to reach a resolution.
Junior doctors will provide emergency care only on Wednesday and Thursday, with two further 48-hour strikes planned from 8am on April 8 and and April 26.
Additional reporting by PA
Register for free to continue reading
Registration is a free and easy way to support our truly independent journalism
By registering, you will also enjoy limited access to Premium articles, exclusive newsletters, commenting, and virtual events with our leading journalists
Already have an account? sign in
Register for free to continue reading
Registration is a free and easy way to support our truly independent journalism
By registering, you will also enjoy limited access to Premium articles, exclusive newsletters, commenting, and virtual events with our leading journalists
Already have an account? sign in
Join our new commenting forum
Join thought-provoking conversations, follow other Independent readers and see their replies