Jeremy Hunt says Labour has abandoned NHS patients by supporting the junior doctors' strike
Labour however says the Health Secretary has alienated NHS staff who will need to improve care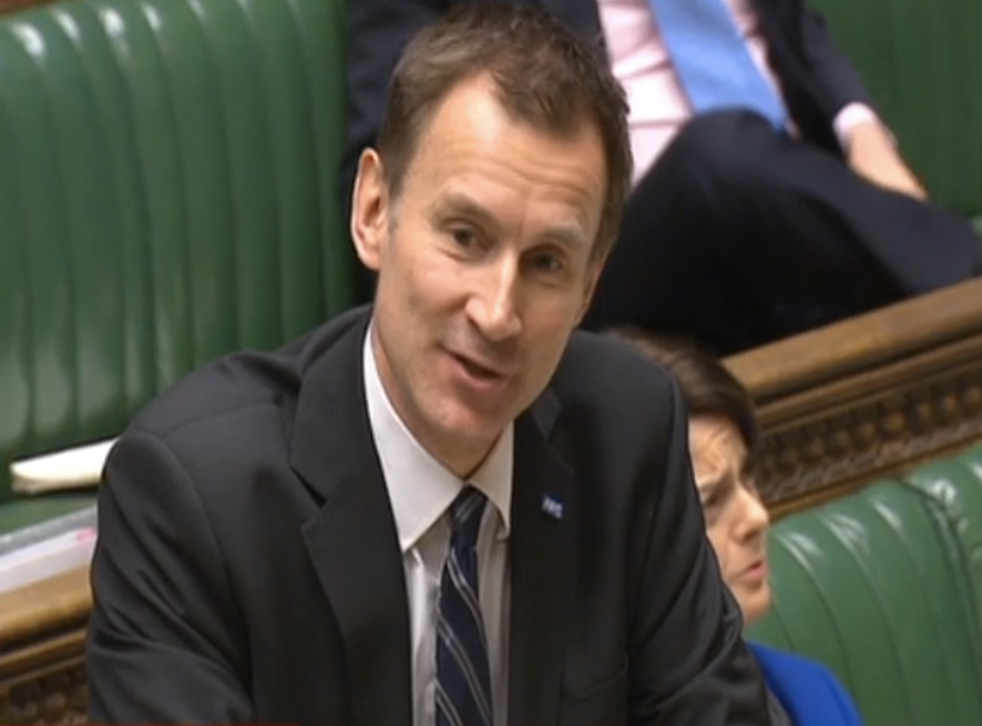 The Health Secretary has accused Labour of abandoning patients and their families by expressing support for striking junior doctors.
Medics have walked out for 48 hours over Jeremy Hunt's decision to impose a new contract on them – that they say will lead to unsafe staff rostering and damage patient care.
Jeremy Hunt however says the contract is necessary to improve care on the weekends.
Addressing Heidi Alexander, the shadow health secretary, in the House of Commons, he said Labour had "chosen the union" in the dispute.
"She mentioned the junior doctor's strike: patients and their families will have noticed that when it came for the big test for Labour –whether to back people who need a 7-day NHS, vulnerable patients, or the BMA who opposed it, they have chosen the union," he argued.
But Labour said Mr Hunt's "kamikaze" approach to the dispute meant that he had lost the trust of staff – whose cooperation would be required in order to make further improvements in care.
"The Health Secretary's kamikaze approach to the junior doctor contract means that no matter how this dispute ends he will have lost the good will of staff on which the NHS survives," she warned.
"How can he stand here and talk about patient safety when it is him and him alone who is to blame for the current industrial action, for the destruction of staff morale, and for the potential exodus of junior doctors to the southern hemisphere?
"How can he stand here and say he wants the NSH to deliver the highest quality of care anywhere in the world when the people who he depends upon to deliver that care have said enough is enough?
"How can he talk about patient safety when his £22bn of so-called efficiency savings will lead to job cuts and heap more pressure on a service that is about to break?"
Labour figures including leader Jeremy Corbyn have expressed support for junior doctors, though the party has previously said it is generally neutral in industrial disputes.
Mr Hunt last month decided to impose the contract without the agreement of the British Medical Association, which represents junior doctors.
Over 98 per cent of the medics who took part in the ballot on industrial action voted to strike.
In pictures: Junior doctors protests in UK

Show all 10
The Health Secretary has scheduled an international conference on patient safety on the same day as the strike, at which he has unveiled a number of new measures.
Health trusts in England are to be be ranked by their ability to learn from their mistakes. There are also new legal protections for people giving information following a hospital mistake, a new independent Healthcare Safety Investigation Branch and extra reviews of all deaths are among other changes to be brought forward.
He said that though NHS care already compared well with other countries, he wanted it to be even better.
In a comment piece for the Independent this morning Mr Hunt warned that NHS staff could sometimes be "defensive" about learning from their mistakes.
The minister launched an inquiry into the morale of junior doctors last month, on the same day he announced he would be imposing a new contract on the medics.
A poll by Ipsos MORI found that support for the strike was still strong – at 65 per cent, with 17 against the stoppage, down 22 per cent from the last time.
28 per cent of respondents blame both junior doctors and Mr Hunt for the dispute, while 57 per cent blame Mr Hunt.
Join our new commenting forum
Join thought-provoking conversations, follow other Independent readers and see their replies