Brexit: Labour aims to remove power from Theresa May to crash out of EU if final deal rejected by Parliament
Shadow Brexit Secretary Sir Keir Starmer to announce Labour's plan to amend EU Withdrawal Bill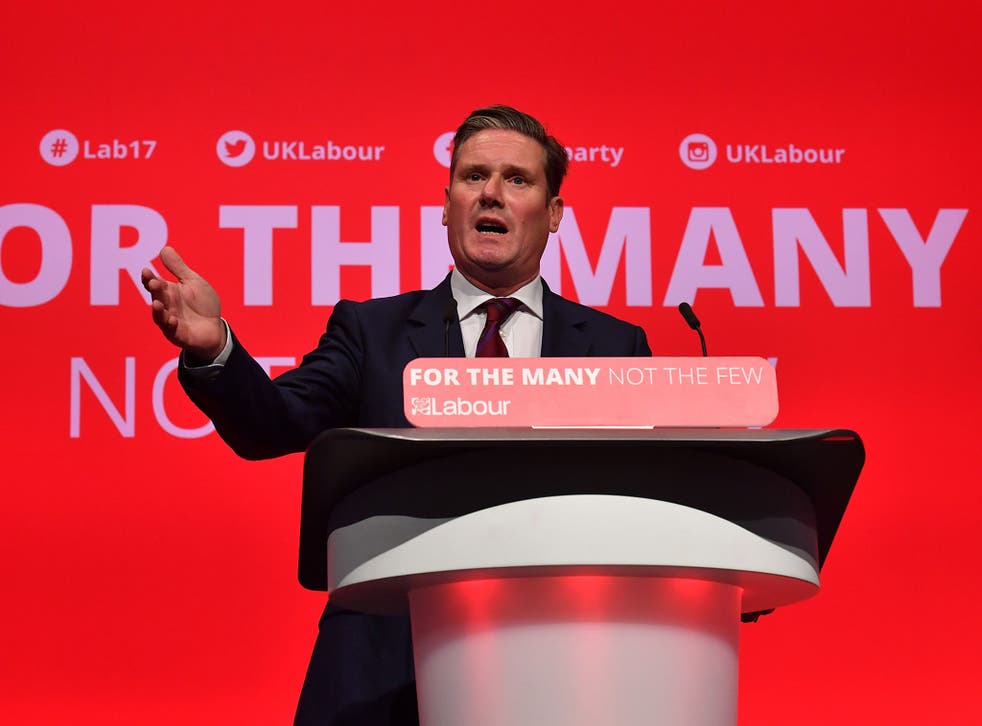 Labour hopes to remove Theresa May's power to crash out of the European Union if MPs vote down her final Brexit deal in the Commons, Sir Keir Starmer is to announce.
In a speech on Monday, the Shadow Brexit Secretary will outline his party's plans to put down an amendment to the Prime Minister's key Brexit legislation – the EU Withdrawal Bill. This Thursday (29 March) marks one year until Britain's exit from the bloc.
Sir Keir hopes to build a coalition of peers and MPs to reject the "take it or leave it" approach on offer from ministers, which would see a vote against the final agreement interpreted as a decision to back a no-deal Brexit.
But his speech risks being overshadowed amid divisions in the party in the wake of Jeremy Corbyn's decision to sack his Shadow Northern Ireland Secretary, Owen Smith, for breaking collective responsibility and calling on his party to back a fresh referendum on the final deal.
The party has not definitively ruled out calling for a second public vote – although deputy leader Tom Watson said on Sunday it was "highly unlikely" that Labour would call for another referendum.
Addressing an audience in Birmingham, Sir Keir will say: "Our amendment would make it clear that, should the Prime Minister's deal be defeated, it must be for Parliament to say what happens next, not the executive."
He will say that Labour intends to amend the EU Withdrawal Bill – currently making its way through the Lords – in order to strengthen the terms of Parliament's meaningful vote on the final deal, which is expected to reach the Commons in late 2018.
While Sir Keir will say Labour will "not dictate" what Parliament should do if MPs do vote down the deal, he will add: "Labour's preference in that scenario is clear: the Government should go back to the negotiating table and work towards securing a deal that works for Britain".
"This would provide a safety valve in the Brexit process to safeguard jobs and the economy. It would remove the possibility of a no vote leading to a no deal. It would bring back control to Parliament."
His comments come after David Davis, the Brexit Secretary, said the Government will continue its preparations for a no-deal scenario despite reaching an agreement with Brussels last week on the transition period.
While ministers have been keen to avoid answering hypothetical questions regarding the Government's response should MPs vote down the final deal in the Commons, Lord Callanan, a Brexit minister, told peers last week that if Parliament rejects what is on the table, "that would be an instruction to move ahead without a deal".
UK news in pictures

Show all 51
Sir Keir will claim Lord Callanan's comments were "totally unacceptable", adding: "If Parliament rejects the Prime Minister's deal that cannot give licence to her – or the extreme Brexiteers in her party – to allow the UK to crash out without an agreement.
"That would be the worst of all possible outcomes."
He will add: "That is why in the coming days – and working with others in the Lords and the Commons – Labour will ensure that an amendment is tabled to the EU Withdrawal Bill to strengthen the terms of Parliament's meaningful vote.
"A statutory provision requiring the Government to proceed on terms agreed by Parliament, not on the terms dictated by the Prime Minister."
Register for free to continue reading
Registration is a free and easy way to support our truly independent journalism
By registering, you will also enjoy limited access to Premium articles, exclusive newsletters, commenting, and virtual events with our leading journalists
Already have an account? sign in
Register for free to continue reading
Registration is a free and easy way to support our truly independent journalism
By registering, you will also enjoy limited access to Premium articles, exclusive newsletters, commenting, and virtual events with our leading journalists
Already have an account? sign in
Join our new commenting forum
Join thought-provoking conversations, follow other Independent readers and see their replies