Keir Starmer risks being outflanked by the Tories, Labour left-wingers warn
Speech fails to quell internal criticism as Tories accuse Labour leader of stealing their policies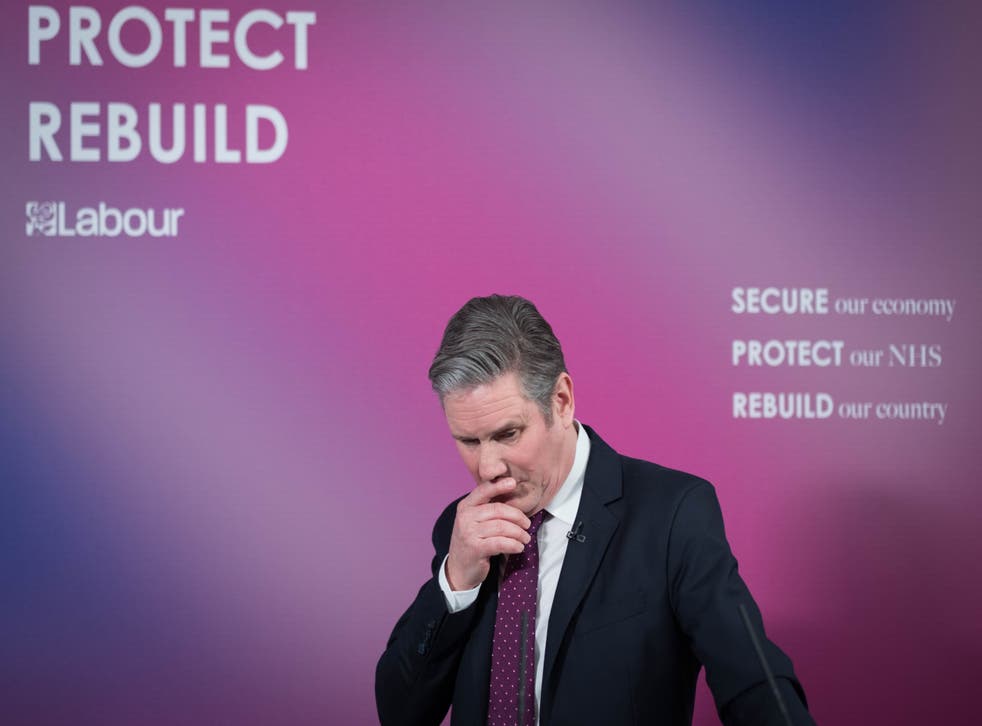 Keir Starmer risks being outflanked by the Tories, left-wingers in the Labour Party have warned – as the governing party accused him of poaching their policies.
Reacting to a major policy speech by the Labour leader on Thursday, campaign group Momentum said his new proposals lacked substance and ambition and were vulnerable to a Tory counter-attack.
Sir Keir pledged to give start-up loans to more than 100,000 new businesses across the country, and set out plans for a British Recovery Bond to allow savers to take a stake in the national bounceback from coronavirus.
The speech was billed as the first step in a policy blitz from Starmer as he seeks to move on from a first year largely dedicated to internal party management and the establishment of a "competent" brand in contrast to Boris Johnson.
But it was inevitably seen as an attempted relaunch of the new leader amid growing backbench disgruntlement at failure to secure a clear polling lead over a Conservative government that has delivered among the worst death tolls and economic slumps of any major nation in the pandemic.
The mood in the party was not helped by a Savanta ComRes poll, released as Starmer was delivering his speech in London, which gave Johnson a 16-point lead as "best PM" on 43 per cent (up five points since last week) to the Labour leader's 27 per cent (down four). The same poll saw Tories put on a point to lead Labour by 42 to 37 per cent on voting intentions.
Sir Keir said his approach was inspired by the same spirit as the 1945 Labour government, which built the welfare state, oversaw decolonisation, and nationalised swathes of industry.
"This must now be a moment to think again about the country that we want to be," he said.
"A call to arms – like the Beveridge Report was in the 1940s. A chance to diagnose the condition of Britain and to start the process of putting it right."
His address won an enthusiastic response from Labour MPs, with dozens taking to social media to hail his "inspiring" and "fantastic" comments.
And unions gave a broadly positive reaction.
Unison general secretary Christina McAnea said:  "There can be no going back to normal. Keir Starmer is right to argue that what the UK needs after the pandemic is a bold change of direction, not a return to the failed austerity and spending cuts of the past."
But there was much in the address calculated to rile remaining Corbyn supporters, as Starmer confessed that Labour had failed to realise that the only way to deliver social justice and equality was through a strong partnership with business and promised that financial responsibility would be his guiding principle.
Momentum co-chair Andrew Scattergood suggested the policies unveiled so far did not match up to rhetoric citing Clement Attlee's post-war administration, which created the NHS.
"Opposing austerity and supporting investment is a good start, but it's nowhere near enough. The pandemic demands a program that can deliver transformative change for working people," he said.
"Rishi Sunak is not George Osborne, and if he decides to invest in the economy and the NHS, Labour risks being outflanked by the Tories.
"Today's speech showed no ambition and little substance. We can't win in 2024 by promising to be better managers of the same system."
Mr Scattergood said Sir Keir should have announced policies such as a Green New Deal based on an expansion of public ownership that would fundamentally and irreversibly alter the balance of wealth and power in Britain.
And his critique was echoed by left-wing MP Zarah Sultana, who said: "We do need a 1945 moment. From the rubble of war, Labour created the NHS and built the welfare state.
"What would that ambition look like today? It would mean a Green New Deal, a radical programme of investment and public ownership to tackle social injustice and the climate emergency."
Conservatives seized on the similarities between Labour's plans and their own. Jake Berry, the MP for Rossendale and Darwen who chairs the party's Northern Research Group, said the recovery bond plan was similar to another pushed by his own organisation earlier this week.
"Labour criticised the Northern research Groups 'Big Bang' report on Monday – now the 'recovery bond' we brought forward is the centre piece of their economic plan," he said.
Tory MP Amanda Milling, co-chair of the Conservative party, said: "Keir Starmer said this speech would deliver his big vision for the future of the country, a 'policy blitz' with ideas to rival Beveridge and relaunch his failing leadership.
"But there are only two new policies – one taken from the Conservatives and the other from the CPS, the think tank co-founded by Margaret Thatcher.
"After 10 months of Keir Starmer, all Labour has to offer is others' ideas, empty rhetoric and calling for things the Government is already doing."
Speaking on Thursday, Sir Keir he believed there was a mood in the air which was note detected often in Britain.
"It was there in 1945, after the sacrifice of war, and it's there again now," he said. "It's the determination that our collective sacrifice must lead to a better future."
UK news in pictures

Show all 50
Other than announcing the two new policies, he also used the speech to reiterate calls for the government to hold off cutting Universal Credit benefits and to extend tax cuts for the hospitality sector.
And he said the furlough scheme should be extended so it was better able to help people back into work, while council tax should be frozen.
"This is no time for a second wave of austerity," he said.
"And this is no time for tax rises on businesses and families either. That would waste the sacrifices of the last year and it would choke off our recovery."
Register for free to continue reading
Registration is a free and easy way to support our truly independent journalism
By registering, you will also enjoy limited access to Premium articles, exclusive newsletters, commenting, and virtual events with our leading journalists
Already have an account? sign in
Register for free to continue reading
Registration is a free and easy way to support our truly independent journalism
By registering, you will also enjoy limited access to Premium articles, exclusive newsletters, commenting, and virtual events with our leading journalists
Already have an account? sign in
Join our new commenting forum
Join thought-provoking conversations, follow other Independent readers and see their replies