Labour ahead of Conservatives in unadjusted poll of voters
Overall result for Ipsos Mori still shows Theresa May ahead by five points - but the gap is narrowing in Jeremy Corbyn's favour
Rachel Roberts
Saturday 03 June 2017 15:49 Comments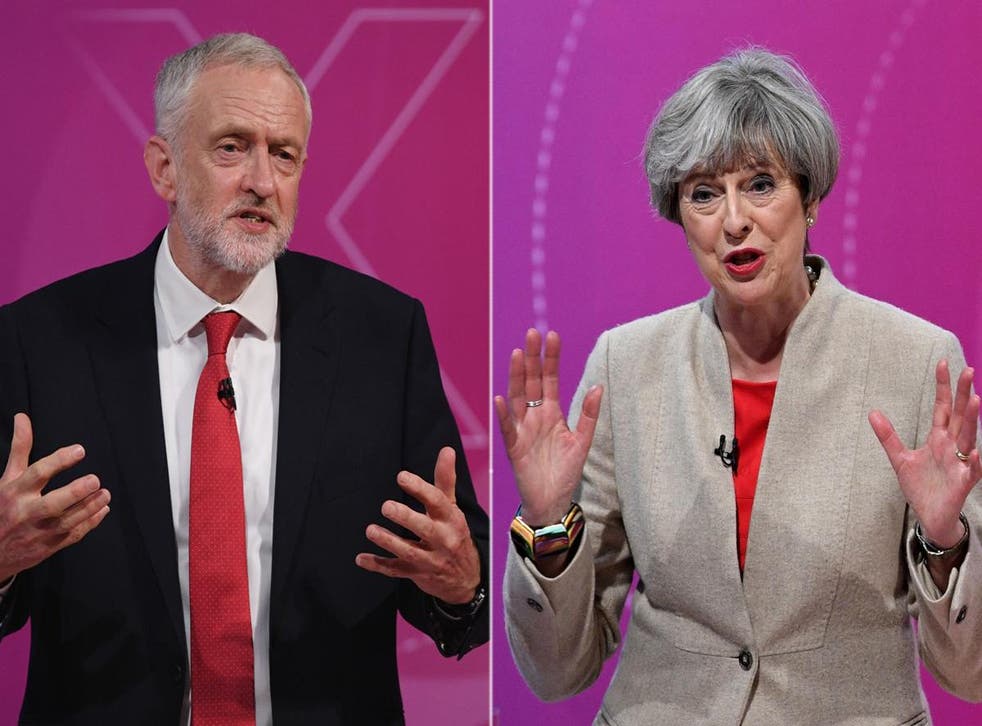 A new poll suggests Labour could be on course for a shock win at the general election – but only if all those considered least likely to vote turn out to cast their ballot on Thursday.
The Ipsos Mori survey shows the Conservatives have a five point lead of 45-40 – but it reveals a separate result for "all giving a voter intention", putting Labour on 43 and the Tories on 40. The overall result is reached by stripping out the "don't knows" and those historically unlikely to vote, who include black and ethnic minorities as well as the under 35s and the least well off older people.
The IM poll is based on a "representative" sample of 1,046 adults asked about their voting intentions between 30 May and 1 June. Pollsters for the company stated they "introduced an adjustment to allow for respondents' over-claiming their likelihood to vote, based on evidence of validated votes from the British Election Study in previous elections".
General Election polls and projections: June 3
The reason they adjust their figures for likelihood of turnout is largely because of the 2015 general election polling debacle, where polls consistently showed the country was headed for a hung Parliament before Tories won a majority.
It was subsequently concluded that this happened because many younger and less affluent voters had said they intended to vote Labour – but failed to turn out for Ed Miliband on the day.
Voter turn-out among the young has not always been so different from older generations as it is now. During the 1960s, 1970s and 1980s, young adults were only slightly less likely to vote than those in older age groups. But the last two decades have seen a dramatic decline in the number of younger people turning out to have their say at the ballot box.
UK General Election 2017

Show all 47
The turnout gap between those aged 21-35 and those aged 66-80 rose from 8 per cent in 1992 to a peak of 29 per cent in 2005, before falling marginally to 28 per cent in 2015, according to Laura Gardiner, a senior researcher and policy analyst at the Resolution Foundation. The fall dates back to the mid 1990s, meaning that it began with people now in their 40s and counted as generation X.
Labour's manifesto has policies which appeal to many young voters, such as a promise to scrap tuition fees and reintroduce maintenance grants and a pledge to build 100,000 council or housing homes a year and to introduce inflation caps on rent rises for those in the private rent sector. Leader Jeremy Corbyn has consistently polled very well with younger voters – but very badly with those in his own age group of 65 and overs.
Question Time audience: May doesn't know difference between mental health and learning disability
Older voters are far more likely to vote Conservative and to approve of Theresa May – but she angered many of her core supporters with the manifesto pledge to introduce a so-called "dementia tax" for social care costs as well as a pledge to means test pensioner perks such as the heating allowance and to remove the "triple lock" from pensions.
IM's overall result showed Labour breaking through the 40 point barrier for the first time since the campaign began, and while the Tories remain odds-on favourites to win on Thursday, there has been a decisive shift towards Labour, who trailed in the opinion polls by 24 points at the start of the campaign.
The news that a quarter of a million under 25s registered to vote by the deadline was encouraging for many Labour activists who campaigned desperately to mobilise the youth vote. As the IM poll suggests, whether or not they actually use their vote could hold the key to the result.
Register for free to continue reading
Registration is a free and easy way to support our truly independent journalism
By registering, you will also enjoy limited access to Premium articles, exclusive newsletters, commenting, and virtual events with our leading journalists
Already have an account? sign in
Join our new commenting forum
Join thought-provoking conversations, follow other Independent readers and see their replies