Labour is no longer in 'authoritarian arms race' over UK prisons, says Shami Chakrabarti
In reference to the doubling of the prison population since Margaret Thatcher's premiership, the Shadow Attorney General added: 'I don't believe the sum of human wickedness has doubled in my adult lifetime'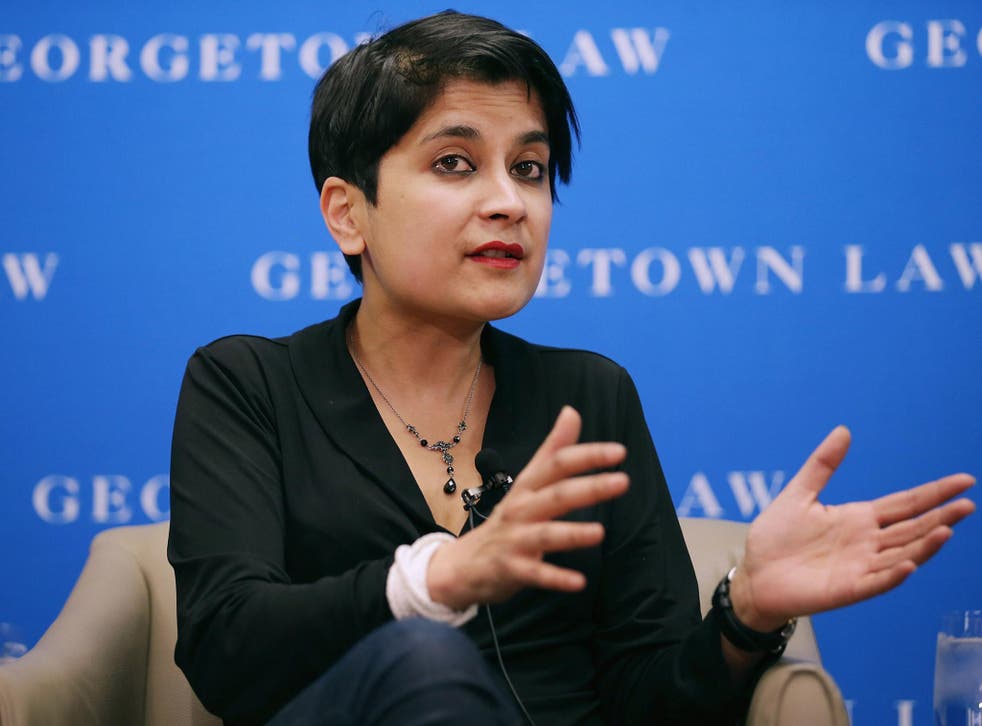 Labour is no longer in the "authoritarian arms race" in politics that has resulted in the "crisis" in British prisons, Baroness Chakrabarti has suggested.
Appearing to signal a break in stance from the New Labour era, the Shadow Attorney General - also the former head of civil rights organisation Liberty - urged for the role of privately run prisons to be assessed.
Her comments were applauded by the Shadow Home Secretary Diane Abbott who said Baroness Chakrabarti's interview was "great", adding: "Time to end the criminal justice arms race".
The political battle – triggered in the 1990s when Michael Howard was declaring "prison works" as Home Secretary and Tony Blair's Labour was vowing to be "tough on crime, tough on the causes of crime" – had led to overcrowded, understaffed prisons, the Shadow Attorney General said.
Baroness Chakrabarti, who was nominated as a peer by Mr Corbyn in July after he praised her for a career of public service, told BBC's Radio 4 Today Programme that the role of private security firms needed to be assessed, adding: "We need to ask questions about whether it is right that there are companies profiting from incarceration.
"Private prisons are exempt from freedom of information so we can't deliver the same scrutiny in relation to G4S as we can in relation to public sector prisons.
"I question whether there should be commercial incentives to lock up more and more people."
Her comments come after three senior politicians called on the prison population in England and Wales to be reduced by 40,000 – almost a half – to levels seen under Margaret Thatcher's premiership in the 1980s.
The call from the former Tory Home Secretary Kenneth Clarke, Liberal Democrat MP Nick Clegg, deputy Prime Minister in the coalition government and Jacqui Smith, who served as Labour's Home Secretary between 2007 and 2009, urges the Government to act to curb the "escalating prison population", in a letter published in The Times.
In her interview Baroness Chakrabarti added: "In my adult lifetime I have seen a doubling of the prison population. I think this is caused by an authoritarian arms race in British politics, particularly between the two parties."
"After my background I wouldn't have joined this Labour Party or this shadow cabinet if I didn't think there was an opportunity to at least reflect on what's been going on for nearly a quarter of a century."
She said most people, "when they reflect and they have a serious conversation that isn't just about headlines and trading insults between politicians about who is soft and who is hard on crime", want a criminal justice system that maintains the rule of law, keeps the peace and offers "reasonable opportunity for meaningful rehabilitation" for those who need to be imprisoned.
But her comments were branded a "car crash" by Labour backbencher John Spellar, who said the Shadow Attorney General had single-handedly abandoned Tony Blair's totemic promise to be "tough on crime and tough on the causes of crime".
Another former Labour minister, Sally Keeble, who was MP for Northampton North from 1997 to 2010, said it would take the party "years to recover from that Shami Chakrabarti outpouring", adding: "Tough on crime, tough on causes of crime no more."
In a message on Twitter, the former minister said: "Car crash interview on BBC Today as Shami Chakrabarti unilaterally abandons Labour's Policy of 'tough on crime, tough on the causes of crime'."
A G4S spokesman said Chakrabarti was wrong to claim private firms had a financial incentive to see an increased population behind bars. "We are paid by the taxpayer per available prison place, not per prisoner, so it's inaccurate to suggest we have an incentive to see more people locked up," said the spokesman.
"In fact we run some of the most progressive programmes in the country aimed at reforming and rehabilitating prisoners in the hope that they turn away from crime on release.
"Nor is it true to say that our prisons business is not subject to Freedom of Information (FoI). We provide the Government with information all the time to satisfy FoI requests regarding the facilities we manage."
Join our new commenting forum
Join thought-provoking conversations, follow other Independent readers and see their replies