Anti-Corbyn Labour officials regard party as 'their personal property', Len McCluskey says
Union chief says Labour right is only interested in fighting the left and not winning elections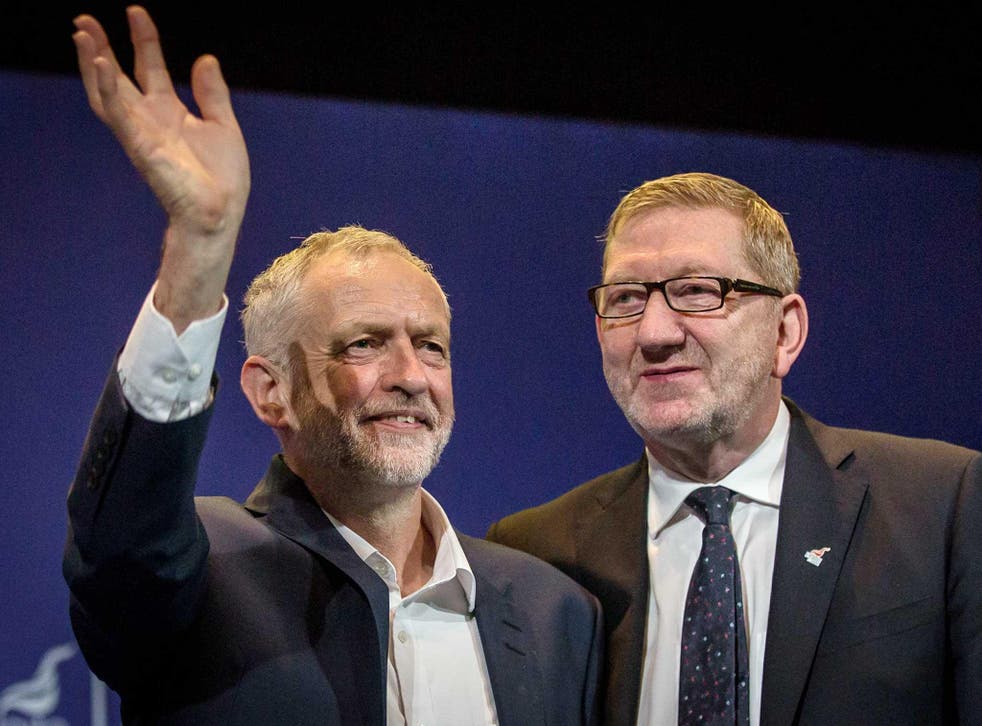 Anti-Corbyn Labour officials who worked to prevent the party from winning in order oust its leader regard the organisation as "their personal property", Len McCluskey has said.
In an angry broadside published on Wednesday, the Unite general secretary said the "politically-crooked" officials on right wing of the party were only interested in fighting the left and had taken part in a "rancid, and very cruel, political culture".
The intervention comes after the leaking of a report and cache of WhatsApp chats and emails that appear to show senior executives at the party's HQ worked to undermine Labour's chances at the 2017 election and were distraught when it overturned the Tory majority.
"The only thing the Labour right are interested in, the only thing they are good at, is fighting the left," Mr McCluskey said, citing socialist writer Stuart Hall.
"Bear in mind that these are the people who accused Corbyn supporters of only being interested in political purity and not in winning power. Even the most demented sectarian on the left has not championed a Tory election victory to win an inner-party argument."
Writing for the LabourList website, he said officials who had been given honours for "for services to the Labour Party" should have them altered to reflect "services to the Tory Party".
"Let us be clear what the officials whose cynical, abusive and factional conduct has now been exposed were actually doing," Unite's general secretary said.
"In working for a Labour defeat, they were working for a Tory victory – that is to say, empowering the party that stood for austerity and a 'hard Brexit'. These politically-crooked officials were prepared to risk dramatic damage to the interests of the British economy and working people just in order to scratch their factional itch."
Mr McCluskey said the episode was "not about legitimate political disagreement" and that those who opposed the leadership had a right to hold their views, but that they should do their jobs "diligently, loyally and professionally".
The 860-page report, drawn up in the last days of Mr Corbyn's leadership, is thought to have been produced as an annex to the party's submission to the Equality and Human Rights Commission. The EHRC is investigating Labour's handling of antisemitism complaints. The report focuses on the conduct of the party's governance and legal unit and argued that factional hostility inhibited the functioning of the Labour bureaucracy and made it harder to tackle antisemitism complaints.
But it is the report's copious evidence of the extent of factional sabotage and abusive discussion by senior staffers of left-wing colleagues that has most incensed many Labour members and supporters.
"The atmosphere exposed in the exchanges varies between what one might expect to hear in the toilets at a teenage nightclub – 'she's so fat', 'she smells' – and the banter at a Trump rally – the black woman is 'disgusting', that left-wing activist should 'die in a fire'. Mean Girls meets Mississippi Burning," Mr McCluskey wrote.
"They seem to regard the Labour Party as their private property and anyone a millimetre to the left of Tony Blair as a 'Trot'. Andy Burnham has spoken out about how he feels the same apparatus undermined him on NHS policy.
"And we – the labour movement – were paying for all this. Indeed, it seems we were also handing over money that was, unbeknownst to the national executive committee, allegedly being squirrelled away into secret slush funds devoted to supporting those MPs who party officialdom favoured. At first glance there would appear to be a case to answer for breaches of electoral law as well as party governance procedures. Since Unite was by far the largest single donor to the 2017 election campaign, giving around 75 per ecent of total union donations, we have the right to expect an honest accounting for this."
Speaking on Wednesday morning Sir Keir Starmer, the new leader of the Labour party, said he was "shocked" by the report. He has ordered an inquiry into its contents, as well as how it came to be drawn up and leaked.
"This is a leaked report into what was apparently happening before I became leader. I was shocked by what I saw and the circumstance in which it all came about," he told BBC Radio 4's Today programme.
"That's why I have ordered an inquiry, which I want to be professionally done, independently done and quickly done, because our party needs to unite and face the future and get back to our historic purpose, which is getting a Labour government in so that we can actually change lives for millions of people for the better."
UK news in pictures

Show all 50
In a statement released on Wednesday the Labour party branch of the GMB union, which represents some staffers at the party's HQ, said it was "deeply concerned" by the report, and the means by which it was commissioned, created, and made public".
The branch, which is one of a number of trade unions organising Labour staffers, said it was "extremely worrying that the report contains transcripts of private conversations between staff on private accounts using personal equipment".
It added: "We agree some of the selected comments attributed to senior staff are absolutely indefensible, it is worth noting that they are not being seen within context and some comments attributed are being flatly denied."
Join our new commenting forum
Join thought-provoking conversations, follow other Independent readers and see their replies