Labour 'could boycott Trident vote to stem internal rebellion'
The Conservatives want to hold a snap vote in the House of Commons to approve the construction of four new submarines
Mark Leftly
Deputy Political Editor
Saturday 30 January 2016 22:00 Comments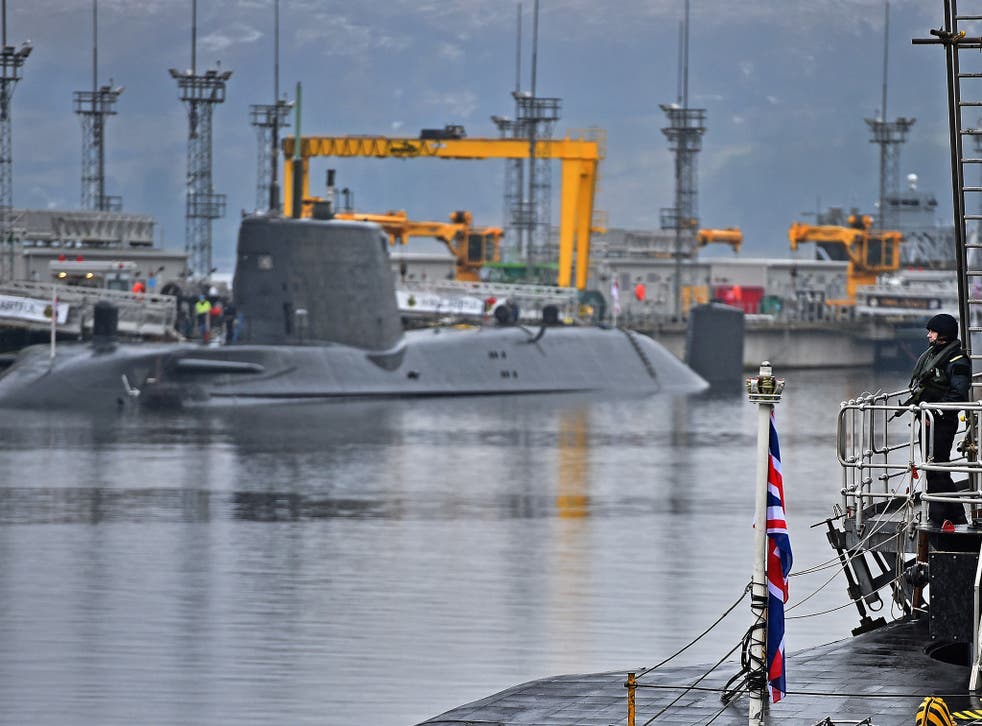 Labour could refuse to vote on the renewal of the Trident nuclear deterrent, an issue that is deeply dividing the party, because of a lack of detail about the next generation of nuclear missile-carrying submarines.
The Conservatives want to hold a snap vote in the House of Commons to approve the construction of four new submarines, currently estimated to cost £31bn, that would maintain Britain's round-the-clock nuclear deterrent. This vote is now expected by Easter, before Labour completes a review that is expected to overturn the party's current policy of supporting Trident.
Jeremy Corbyn has battled to scrap Trident for his entire political career – he was chair of the cross-party Campaign for Nuclear Disarmament group in Parliament when he became Labour leader last year. He believes his emphatic leadership victory has given him a mandate to change policy.
But this has caused a rift within the parliamentary party, to the extent that Mr Corbyn was forced to replace Maria Eagle, a Trident supporter, with Emily Thornberry as shadow Defence Secretary in a troubled reshuffle this month. A vote could see further bloodletting, with dozens of MPs, including Shadow Cabinet members, defying their leader's position and voting with the Government.
It was widely believed that Mr Corbyn would be forced to offer his MPs a free vote, but Ms Thornberry, who is leading the review, is thought to have identified a way to contain any rebellion.
Labour could recommend that its MPs refuse to vote at all because the Government will not be providing full details of the renewal programme.
This would allow Ms Thornberry to argue that Labour cannot be certain of exactly what MPs are approving, which would be unfair to even those who support Trident. There are, for example, fears over the cost of the programme and reports that the Government will change the way the construction is overseen, involving more private sector management.
Parliamentary approval for new submarines is not a requirement, but it was promised at what is known as the "main gate" decision. This is the moment when the bulk of details about the programme are decided, such as the total cost, the number of boats and the way that they will be built.
This was considered the most logical moment for a symbolic vote to approve the programme, but last year's Strategic Defence and Security Review (SDSR) said that having a one-off main-gate was "not appropriate for a programme of this scale and complexity". Instead, the submarines will be regularly assessed under what is known as a "staged investment programme".
In a recent article, the International Institute for Strategic Studies research fellow Matthew Harries argued: "The changes laid out in the SDSR remove that clear moment of decision, and in so doing make the question of a parliamentary vote, and its timing, even more a matter of the Government's discretion. The SDSR promises 'a debate in Parliament on the principle of continuous at sea deterrence and our plans for successor', which is something rather different from a vote to approve."
UK news in pictures

Show all 50
A senior Labour source said: "The position would be: 'You [the Government] can ask us to turn up and play the game to try to play for a draw, but we're not turning up. You can turn up and kick as many balls into an empty net as you like, but we're not playing your game.'"
Senior Labour figures also argue that the Government is politicising a matter of national security. A Shadow Cabinet source said: "The Conservatives have left a big hole with a big, flashing light above it showing an elephant trap for the Labour Party. This is supposed to be a main-gate vote, and they are trying to distract us from that. Is this a real decision or not? Is this a game?"
However, senior Conservatives said they had hoped to hold a vote before the parliamentary recess on 11 February, because they had wanted to quickly end speculation over the successor generation of submarines. Aides have calculated that at least 60 Labour MPs will back renewal and the Tories do not want to jeopardise that support.
However, a member of the Shadow Cabinet and a senior backbencher both insisted that the Government's calculations were unduly cautious – they believe well over 100 of Labour's 232 MPs will vote in favour, no matter what the party's tactics.
The rebels will include John Woodcock, the MP for Barrow and Furness where the submarines will be built. He has warned that a change in policy means Labour "risks tearing itself apart when the public need a coherent opposition to hold the Tories to account more than ever".
As chairman of the party's backbench defence committee, Mr Woodcock is launching his own review in defiance of Mr Corbyn.
Register for free to continue reading
Registration is a free and easy way to support our truly independent journalism
By registering, you will also enjoy limited access to Premium articles, exclusive newsletters, commenting, and virtual events with our leading journalists
Already have an account? sign in
Join our new commenting forum
Join thought-provoking conversations, follow other Independent readers and see their replies