Future Labour government should be more radical than Attlee, says Shadow Chancellor
Labour would 'transform capitalism' if voted into power under Jeremy Corbyn, Shadow Chancellor John McDonnell has said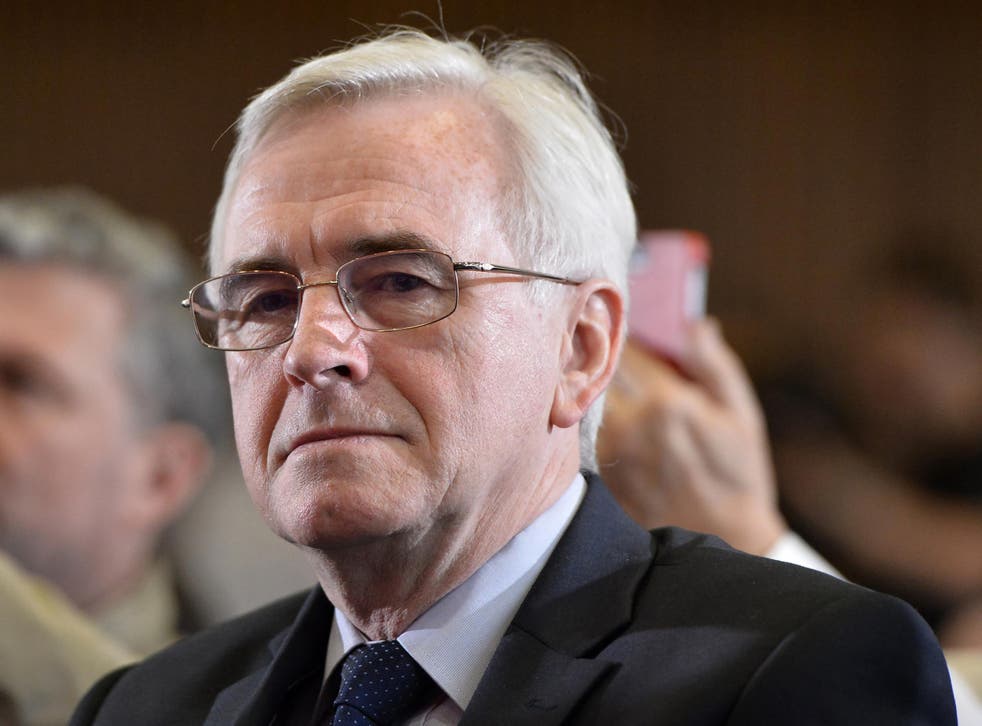 A Labour Government under Jeremy Corbyn would bring in even more radical reforms than post-war Prime Minister Clement Attlee, Shadow Chancellor John McDonnell has pledged.
In a bold statement of intent, Mr McDonnell vowed that Labour's goal would be to "transform capitalism", with consequences more far-reaching even than the Attlee Government's establishment of the welfare state and the NHS.
Speaking at the party's economics conference in London, the Shadow Chancellor proposed a dramatic expansion of the role of local councils, saying they should lend to young people to support first-time buyer mortgages, and would be given powers to impose rent regulations to crack down on "skyrocketing" prices.
He said that the aims of a Corbyn government would be to "in the life of one Parliament… lay the foundations of a new society that is radically fairer, more equal and more democratic".
"Too many governments in the past, and not just this one, thought government should only intervene when something goes wrong," he said. "We think government intervention should be there to make sure things go right.
"When we return to government, we must aspire to be another great reforming administration. I want us to surpass even the Attlee Government for radical reform.
"The situation demands nothing less. Simply undoing the damage inflicted by David Cameron and George Osborne will be a huge task. But we should aim higher than this."
Pointing to councils in Manchester, Warrington and Sandwell that are already offering cheap local authority-backed mortgages, Mr McDonnell said that Labour would support the public sector in by-passing banks to lend to those struggling to get onto the housing ladder.
"Many, particularly young people, who are unable to get onto the housing ladder are then at the mercy of an unforgiving, unrestrained housing market," he said.
"Other urban areas are suffering from skyrocketing rents. We'll look to give local authorities the powers to impose rent regulation to secure fair rents where these are needed as Labour committed itself to at the last election."
He also set out plans for a huge increase in the number of employee-owned companies, saying that the "model of centralized ownership and control for the economy" established by the post-war Labour government had "always had problems", and pledged to double the size of the cooperative sector in the UK economy.
However, he said Labour's mission went beyond "a few appealing policy tweaks here and there".
"Fundamentally, we have to reshape the narrative on the economy," he said. "It's been dominated for too long not only by the ludicrous claims of the austerity-mongers. Going back further, it's been dominated by a particular belief that free markets are fundamentally always right, and that free market outcomes are always the best. We have to break with that."
52 Weeks: Artists highlight Britain's housing crisis

Show all 12
Mr McDonnell also announced reviews of the roles of the Treasury, Her Majesty's Revenue and Customs and the Bank of England's Monetary Policy Committee.
In his own speech to the conference, Mr Corbyn re-stated Labour's plan for a National Investment Bank to fund "infrastructure, transport, housing and the technologies of the future". Mr McDonnell has committed Labour to eliminating the Government's deficit on day-to-day spending over five years, while also permitting borrowing to fund capital investments, stimulating economic growth.
Responding to Labour's new housing proposals, a Department for Communities and Local Government spokeswoman said the government was "creating a bigger and better private rented sector".
She added: "The vast majority of tenants across the country are seeing their rents remain stable, and are happy with the service they receive from landlords.
"These proposals for excessive state regulation would destroy investment in new housing, push up prices and make it far harder for people to find a flat or house to rent."
Register for free to continue reading
Registration is a free and easy way to support our truly independent journalism
By registering, you will also enjoy limited access to Premium articles, exclusive newsletters, commenting, and virtual events with our leading journalists
Already have an account? sign in
Register for free to continue reading
Registration is a free and easy way to support our truly independent journalism
By registering, you will also enjoy limited access to Premium articles, exclusive newsletters, commenting, and virtual events with our leading journalists
Already have an account? sign in
Join our new commenting forum
Join thought-provoking conversations, follow other Independent readers and see their replies