Labour has 'no God-given right to exist' warns leadership contender Liz Kendall as she tells her party to move to the centre after 'epic defeat'
Liz Kendall tells her party to face up to the hard-truths of Ed Miliband's 'catastrophic' election defeat and urges colleagues to elect her to give Labour a fresh start
Matt Dathan
Thursday 21 May 2015 20:15 Comments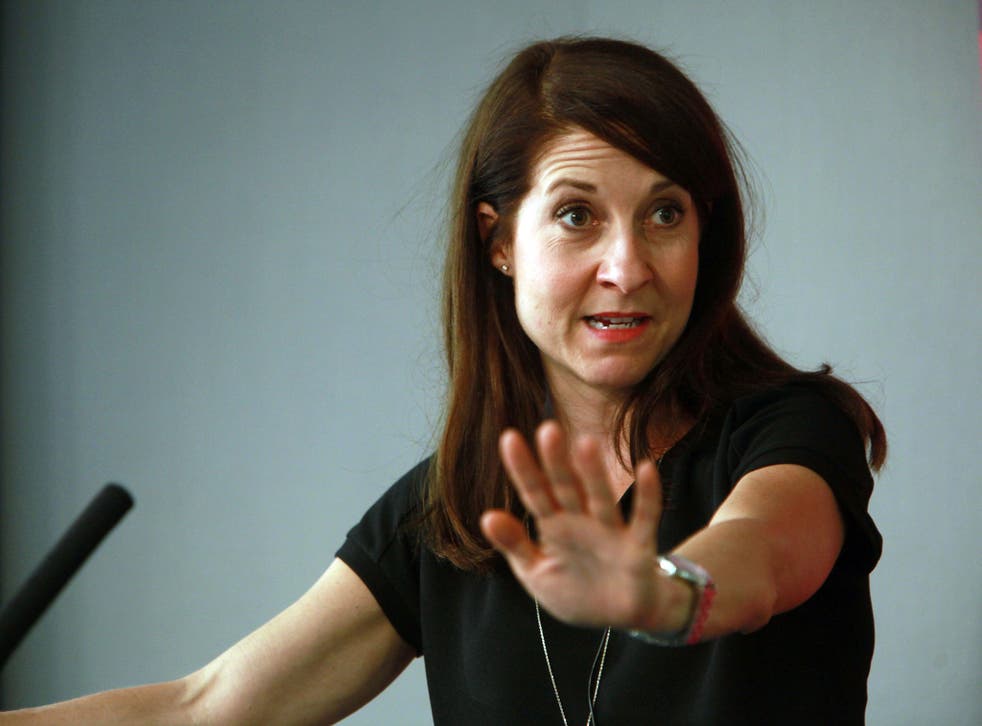 One of the leading candidates to replace Ed Miliband as Labour leader has warned her party that it faces a fight for its very survival, urging her colleagues to move back towards the centre ground.
Liz Kendall, who is standing on a pledge to modernise the party and move it away from Mr Miliband's interventionist approach, faces a tough challenge against two of the party's veteran ex ministers – Andy Burnham and Yvette Cooper.
Speaking to a gathering of Westminster journalists, Ms Kendall described the election defeat as "epic" and on a "magnitude few predicted or imagined", adding a stark warning that "things could get worse" for Labour if the party failed to choose a candidate with a chance of winning the 2020 general election.
"There's no God-given right for the Labour party to exist," she said in a hard-nosed appraisal of the party's "catastrophic" performance at the election.
Her modernising credentials have earned her the tag as the 'Blairite' candidate in the leadership contest, but she is wary of the internal-party danger of being tarnished by the former Labour Prime Minister.
"These labels are of the past," she said, insisting on the need to "apply our values to how the world is now and in the future". But she accepted Tony Blair has "a huge role to play," noting that he is the only Labour leader to have won an election in more than 40 years. "He won three election victories. Let's see what happens."
However much she attempts to avoid the 'Blairite' tag – she said she had not spoken or seen Mr Blair since deciding to stand – Ms Kendall's "what matters is what works" rhetoric and the fact she has hired Mr Blair's former aide Matthew Doyle is a sign of how centrist she is determined to move the party.
Who will be the next Labour leader?

Show all 7
She delivered a scathing assessment of the direction Mr Miliband took the party. One-by-one she disowned his policies, insisting she would not oppose free schools if they were seen to have worked, describing his energy price freeze as "wrong" and announcing she would focus on early years education rather than cutting tuition fees to £6,000.
"If a school is providing a great education – whether it's a local authority, academy or free school – we will back it, full stop," she promised – a 180 degrees change from Mr Miliband's education policy. "What's more, if someone wants to help run their school, they deserve credit not criticism."
She also pledged a Labour party led by her would maintain Britain's commitment to the Nato target of spending at least 2 per cent of GDP on defence – a move Mr Miliband decided against too.
And in a sign of her determination to move the party on to a fresh start with new faces, she took swipes at her leadership rivals and former colleagues, mocking Ed Balls for losing his seat.
She even made a joke at Chuka Umunna's expense – a dangerous tactic considering his nomination could play a significant role in the leadership election – mocking him for dropping out of the race and making a reference to embarrassing but false reports he had edited his Wikipedia page in the past. "Chuka's got a bit more time on his hands," she joked.
Warning her party of the dangers of Ukip in the north, the size of Labour's challenge in Scotland and the threat of the Government's promised boundary changes, which would benefit the Conservatives at the expense of Labour, she said:
"The Labour party has lost a general election, lost our leader, lost our leader in Scotland, lost our shadow foreign secretary and lost our shadow chancellor.
"Although most people thought we lost our balls before the election. This election can't be about who the general secretaries say impresses them most. Or who makes the Labour Party feel comfortable. Or who's the best known candidate in 2015. It must be about who has got the best chance of winning and changing the country in 2020.
"That means facing up to the depth of our defeat, and the scale of change needed to win again. This defeat was epic.
"We lost by a magnitude few predicted or imagined. The election demands a new era for the Labour party. The question is whether we will grasp it.
"We see this catastrophic defeat but things could get worse for us, with the boundary review, with Ukip building on where they are second place, the Liberal Democrats can only go up.
"This is isn't the worst it can get. There's no God-given right for the Labour party to exist. That's a real challenge."
Register for free to continue reading
Registration is a free and easy way to support our truly independent journalism
By registering, you will also enjoy limited access to Premium articles, exclusive newsletters, commenting, and virtual events with our leading journalists
Already have an account? sign in
Join our new commenting forum
Join thought-provoking conversations, follow other Independent readers and see their replies