Labour lead smallest for a year as Ukip threatens all three parties
The Independent's "poll of polls" reveals Ed Miliband's fortunes waning since Febrary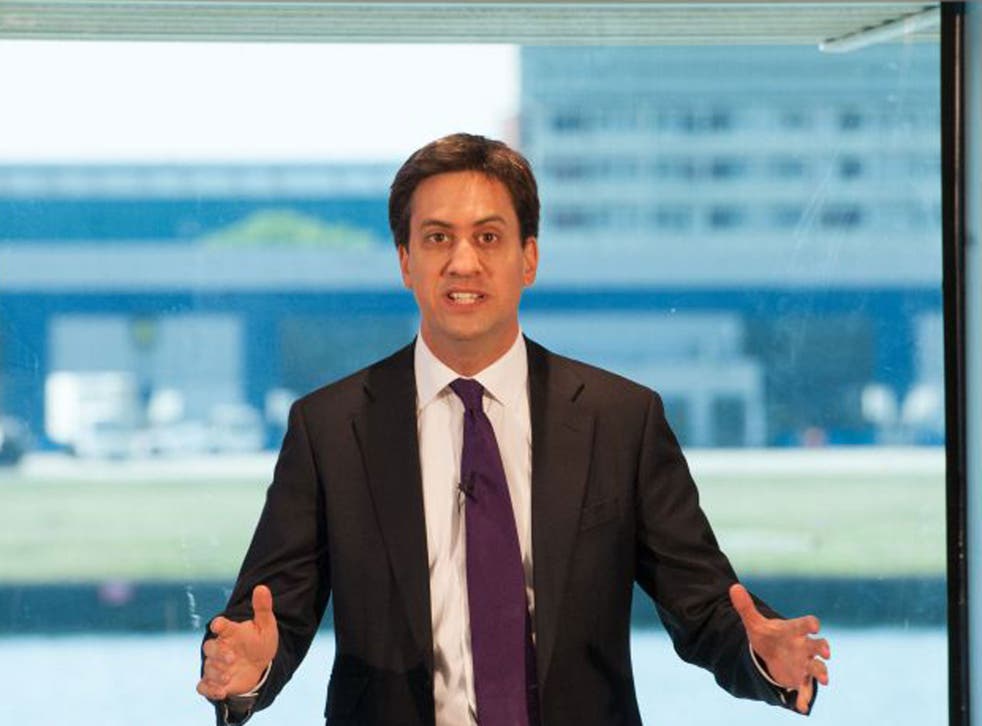 Labour's lead over the Conservatives has dropped to its lowest level for more than a year, according to The Independent's latest poll of polls.
It suggests that Nigel Farage's UK Independence Party is eating into Labour's support as well as harming the Tories. Labour enjoyed an eight-point advantage in April but last month that dropped to five points in May, its lowest since March last year.
Despite a flatlining economy and Tory divisions over Europe and gay marriage, Labour's lead has been on a downward track since February this year, when it was 13 points ahead. The latest weighted average of the polls puts Labour on 35 per cent (down four points on the previous month), the Tories on 30 per cent (down one point), Ukip on 15 per cent (up three points) and the Liberal Democrats on 11 per cent (unchanged).
John Curtice, professor of politics at Strathclyde University, who compiled the "poll of polls," said Labour's shrinking lead was caused partly by Ukip's advance. "In relative terms Ukip is still hurting the Conservatives more than Labour," he said. "But in absolute terms Ukip is hurting Labour more than it was. So we should not assume that any further increases in Ukip will necessarily come especially at the Conservatives' expense. Labour's relatively soft vote, much of it a protest vote, also seems vulnerable to Ukip's appeal."
By April, 16 per cent of people who voted Tory at the 2010 election had switched to Ukip, as well as 4 per cent of Labour's 2010 backers and 8 per cent of Lib Dem voters. By last month, 21 per cent of Tory, 9 per cent of Labour and 9 per cent of Lib Dem voters at the last election had moved over to Mr Farage's party.
Although the latest figures will worry Labour, they would still give Ed Miliband an overall majority of 42 if repeated at the next general election. Labour would have 346 seats, the Conservatives 240, the Liberal Democrats 34 and other parties 30.
Labour strategists insist that the party has built a solid platform for the 2015 election despite the turbulence caused by Ukip's rise and the outbreak of "four-party politics." But they admit Mr Farage is scooping up voters angry at the Government who might normally switch to the main opposition party.
Insiders hope Labour will reap an eventual benefit in the polls following the speeches on economic policy and welfare by Ed Balls, the shadow Chancellor, and Mr Miliband last week. A tougher line on welfare, on which Labour is perceived as "soft", could woo back traditional working class Labour supporters from Ukip.
Yesterday the Tories and Lib Dems challenged Labour to spell out whether Mr Balls's announcement that pensions could be included in its cap on social security spending would mean cuts in the basic state pension. Labour denied that, insisting that it would stick to the Coalition's "triple lock" under which the state pension rises annually with inflation, earnings or 2.5 per cent, whichever is highest.
Register for free to continue reading
Registration is a free and easy way to support our truly independent journalism
By registering, you will also enjoy limited access to Premium articles, exclusive newsletters, commenting, and virtual events with our leading journalists
Already have an account? sign in
Register for free to continue reading
Registration is a free and easy way to support our truly independent journalism
By registering, you will also enjoy limited access to Premium articles, exclusive newsletters, commenting, and virtual events with our leading journalists
Already have an account? sign in
Join our new commenting forum
Join thought-provoking conversations, follow other Independent readers and see their replies