Jeremy Corbyn says 'slate will be wiped clean' for critics if he wins Labour leadership contest
But some opponents are not yet ready to take the Labour leader at his word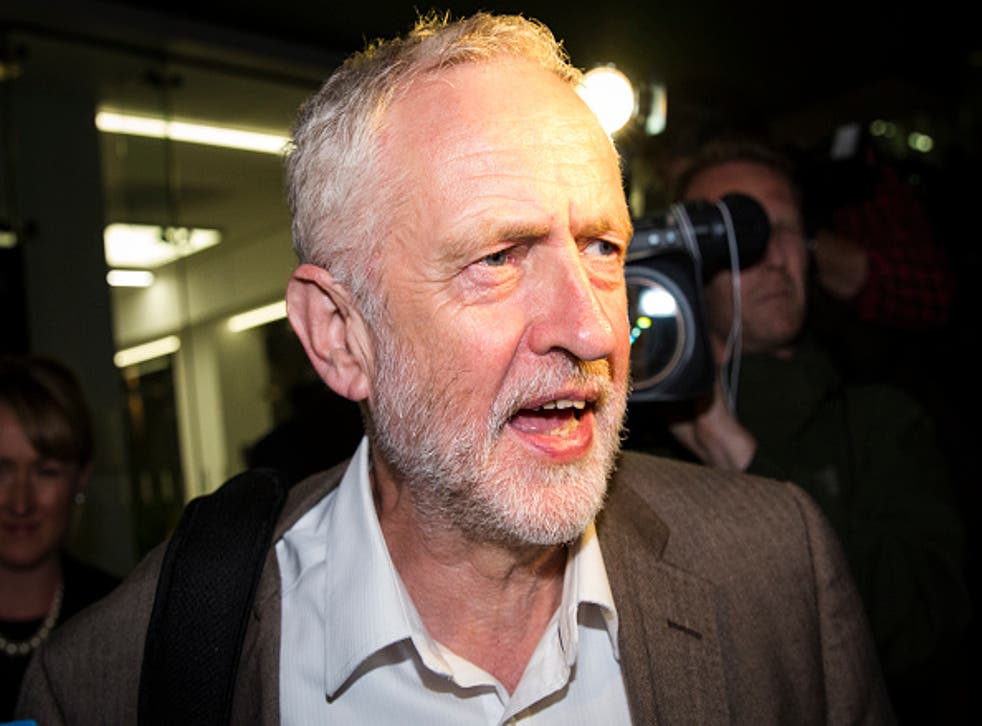 An emboldened Jeremy Corbyn has told rebel MPs "the slate will be wiped clean" if he wins the Labour leadership contest this weekend.
Mr Corbyn is widely expected to beat rival Owen Smith, who himself appeared to concede defeat when he said he "won't be serving in Jeremy's shadow Cabinet".
The Labour leader said he wanted "a new working relationship" with MPs who sought to topple him over the summer.
But suspicions between rival factions are riding high, with one senior figure telling The Independent they had no doubt Mr Corbyn's supporters would now move to weaken his opponents in whatever way they could.
Others began trying to undermine Mr Corbyn's expected win by suggesting he would be weakened if his margin of victory falls short of the 2015 result that first delivered him into Labour's top job.
In other developments:
One Labour MP suggested Mr Corbyn was an "ideological purist" who is out of touch with working-class voters
Mr Corbyn's ex-wife said she had backed Mr Smith in the leadership contest because her former spouse lacked the skills to do the job
Former cabinet minister David Miliband launched a scathing attack on Mr Corbyn's Labour
Until now, both leadership candidates have been careful not to pre-empt the contest's result, but statements released within hours of each other suggested they both suspected Mr Corbyn has won.
Jeremy Corbyn signals plan to 'nationalise' the Great British Bake Off
Mr Smith said he would not serve on his rival's frontbench, without even adding a caveat that he meant it in the case of a Corbyn victory.
Meanwhile Mr Corbyn said: "As far as I am concerned, the slate will be wiped clean this weekend.
"If I am re-elected leader, I will reach out to and work with all Labour MPs to form a broad and effective opposition to this divisive and floundering Tory Government."
He added: "In the next few days, I will be holding discussions with MPs and others about the best way to cement a new working relationship with the parliamentary Labour Party, as we democratise our party and its structures."
But in a warning to those prepared to stand against him, he said all MPs had a responsibility to "respect the leadership of whoever is elected".
Despite the magnanimous words, Mr Corbyn's critics were not convinced hostilities are over.
One senior Labour figure said: "There are clearly people around him trying to deliberately scupper any thought of greater unity."
Owen Smith and Jeremy Corbyn clash at latest leadership debate
The individual also argued that if Mr Corbyn's margin of victory is smaller than the one he achieved last year, he would be weakened and more vulnerable.
One of the leaders' closest allies, John McDonnell, attempted to head of that claim by arguing it had been impossible for Mr Corbyn to surpass the 2015 result, because of a "purge" of his supporters before the contest.
The shadow Chancellor said: "On Saturday – let me be straight with you – I think it's going to be really tough to get the [figure] we got last time around because of the numbers that have been prevented from voting.
"Some will argue if we dip below the 59.9 per cent, that somehow Jeremy's mandate has lessened. If we win, no matter what, his mandate is still in place."
The fractious contest has involved court cases and endless claims of bullying and abusive behaviour, with most of the accusations levelled at Mr Corbyn's supporters.
But in his statement the Leader suggested "it has been a positive campaign that has focused on bringing people together".
Jeremy Corbyn announces left-wing solution to refugee crisis
The idea was lost on Ruth Smeeth MP, who revealed the extent of anti-Semitic abuse she has suffered over the summer.
The former shadow minister has been taking advice from the police about security after receiving death threats and a total of 25,000 abusive messages, many of them racist attacks.
In a stinging attack on Mr Corbyn, whom she accused of failing to act in the face of such abuse, she suggested the leader had little in common with working class people in her Stoke-on-Trent North seat.
"He earns £130,000 a year. My constituents are doing well if they earn 10 per cent of that…perhaps it's easy to be an ideological purist if you can afford to live under the Tories. My constituents can't."
The criticism also came from closer to home, with Mr Corbyn's ex-wife Jane Chapman revealing she had not backed her former husband.
The professor said in a BBC radio interview that Mr Corbyn lacked the flexibility, media skills and leadership to inspire his party.
Labour leadership contest: Jeremy Corbyn vs Owen Smith

Show all 8
She added: "One of the things about Jeremy is he hasn't actually changed that much politically.
"Now, that is what a lot of people admire. But that begs the question, are the politics of the 1970s relevant to the 21st century and to post-Brexit Britain."
Meanwhile, former Labour Foreign Secretary David Miliband published a damning indictment of Mr Corbyn's agenda claiming he had made the party "unelectable".
He wrote for the New Statesman: "The main charge against Jeremy Corbyn is not just that his strategy is undesirable because it makes the party unelectable – that is only half the story.
"The real issue is that his strategy makes the party unelectable because it is in many aspects undesirable."
He slammed Mr Corbyn's approach to Europe, Nato and Russia and argued his domestic policy does not add up.
It follows a crunch meeting of Labour's ruling National Executive Committee, which failed to reach a decision on whether MPs should be allowed to elect the shadow Cabinet – something desired by Mr Corbyn's opponents who believe it could temper his power.
In response, Mr Corbyn supporters have suggested allowing members, who overwhelmingly back the leader, to elect some Shadow Cabinet positions.
The matter will be discussed again at a meeting on Saturday, the same day Mr Corbyn's victory is expected to be announced at a special event in Liverpool.
Register for free to continue reading
Registration is a free and easy way to support our truly independent journalism
By registering, you will also enjoy limited access to Premium articles, exclusive newsletters, commenting, and virtual events with our leading journalists
Already have an account? sign in
Register for free to continue reading
Registration is a free and easy way to support our truly independent journalism
By registering, you will also enjoy limited access to Premium articles, exclusive newsletters, commenting, and virtual events with our leading journalists
Already have an account? sign in
Join our new commenting forum
Join thought-provoking conversations, follow other Independent readers and see their replies