Labour leadership contest: Two-thirds of people think Jeremy Corbyn would be unlikely to win next general election
Exclusive: Survey will be seized upon by MPs hoping to oust the left-winger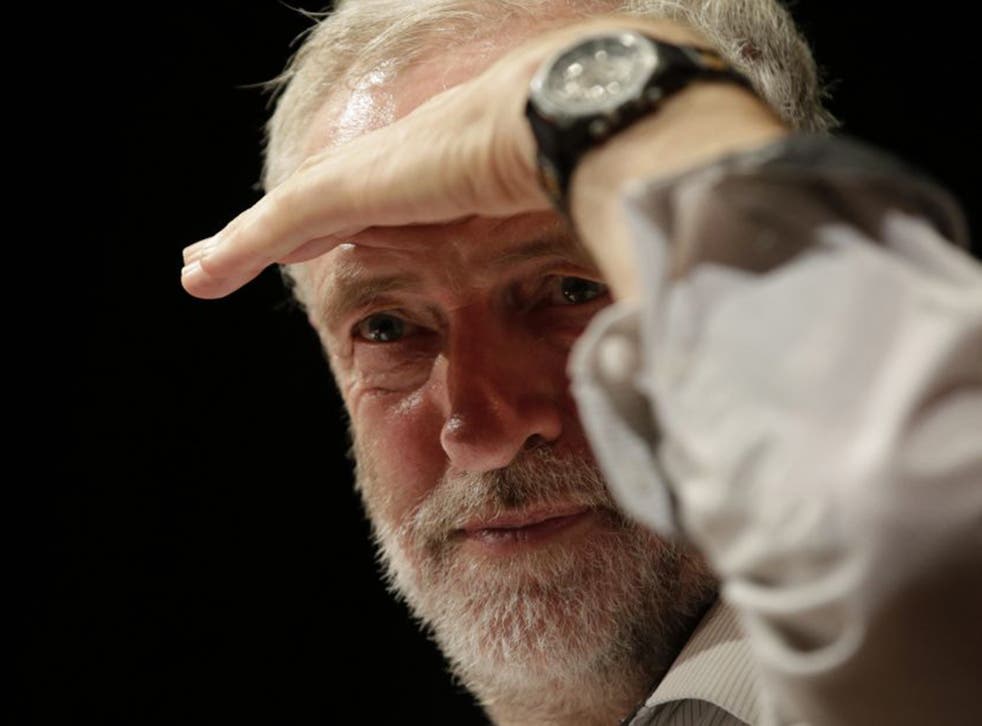 Two out of three people believe that Jeremy Corbyn would be unlikely to lead Labour to victory at the next general election, according to a poll for The Independent.
Only 34 per cent of people think that the left-wing front-runner for the Labour leadership would be likely to take his party back into power at the 2020 election, while 66 per cent say he is unlikely to do so.
The survey of 2,000 people by ORB will be seized on by those Labour MPs already determined to oust Mr Corbyn before the next election if, as expected, he is confirmed as party leader when the result of the contest is announced on Saturday.
Labour insisted it had "no plans whatsoever" to delay the announcement amid signs that some of the 550,000 members, supporters and trade unionists entitled to vote have still not received their ballot papers. Voting ends at noon on Thursday.
Some Labour figures expressed alarm at the latest evidence of chaos in the contest. But party officials stressed that only "a small number" of people will be re-sent an email so they can take part.
David Cameron will chair a meeting of Conservative strategists at his Chequers country retreat on Thursday to discuss how to respond to the new Labour leader. The Tories would be delighted to see Labour take a left turn and would prefer Mr Corbyn to survive as leader until the 2020 election. But senior Tories differ over whether to an immediate full-frontal attack Mr Corbyn or to go "soft" on him initially while claiming that as prime minister, he would put the economy and national security at risk.
According to ORB, Andy Burnham is seen by the public, irrespective of how they will vote, as the Labour candidate who would do most to improve the party's chances at the next election. Some 30 per cent name him as Labour's best asset, although the figure is down from 36 per cent in June.
While 29 per cent of people think Mr Corbyn offers the best chance of boosting Labour's election prospects, some 48 per cent name him as the candidate most likely to harm the party's chances – up from 33 per cent in June. This finding suggests that voters have not warmed to the veteran left-winger while he enjoyed a high profile as he set the agenda in the contest.
Yvette Cooper has improved her standing as a vote-winner since June. The proportion of people who seeher as the candidate most likely to boost Labour's chances has risen from 20 per cent to 23 per cent since then. But the number citing Liz Kendall as the most likely vote-winner has dropped from 25 per cent to 19 per cent over the same period.
ORB found that Mr Corbyn is more likely to be seen as the best electoral asset by younger adults, but the 66-year-old backbencher has not convinced grey voters. Some 39 per cent of 25-34 year-olds name him as the candidate most likely to enhance Labour's chances. But 58 per cent of 45-54 year-olds and 69 per cent of those aged 65 and over believe Mr Corbyn is the candidate most likely to harm his party's prospects.
Ms Kendall, who is seen as the Blairite candidate, came close to conceding defeat as she said fellow modernisers needed to learn lessons from the contest. The shadow Care Minister, who is expected to finish last, said: "There will be serious lessons for those of us on the moderate wing of the party to learn from the leadership campaign.
"We need to understand how much the party has changed. There are many thousands of people who have been far more motivated and inspired by what Jeremy has said than those of us on the moderate wing of the party. We have failed to move ourselves on from where we were in government."
Join our new commenting forum
Join thought-provoking conversations, follow other Independent readers and see their replies