Labour leadership race hots up as Burnham accuses rivals of smear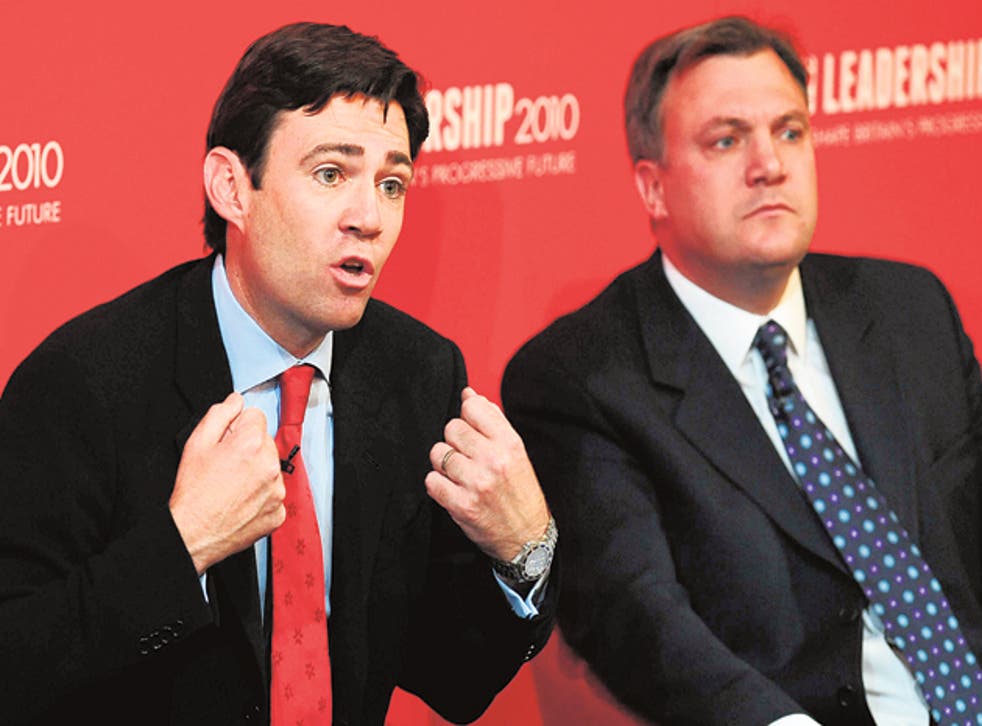 Andy Burnham, a contender for the leadership of the Labour Party, has accused supporters of a rival camp of conducting "malicious briefing" in the hope of getting him to throw in the towel. His remarks are the first public sign of mutual antagonism in a leadership contest that has been marked by restrained language up to now.
Mr Burnham said that he "nearly fell out of his chair" when he read a report that he was looking for an early exit to avoid the embarrassment of coming fifth in a field of five.
Mr Burnham's camp have remained tight-lipped about who they blame for the smear but some have been quick to point the finger at supporters of Ed Balls. Both are fighting for the votes of a very similar constituency.
The shadow Health Secretary claimed the rumour was put about because he has begun to pick up support. He said: "It was malicious briefing. I can only conclude that they're worried. It was total rubbish. It's a sign of desperation."
Mr Burnham entered the field as the least well-known of the candidates in a contest that appeared at the beginning to be a family affair between the brothers David and Ed Miliband.
The shadow Education Secretary Ed Balls is now battling it out with Mr Burnham for the remaining votes, except those of the outside left, which are likely to be picked up by Diane Abbott, who is well known but has no government experience.
Though Mr Balls is arguably the most experienced of the candidates, he began with the disadvantage of being very closely associated with Gordon Brown. He has run a highly organised campaign, helped by seasoned campaigners such the former Cabinet Office minister Tom Watson and Gordon Brown's former spin doctor, Charlie Whelan.
Mr Burnham now has nominations from 10 constituency Labour parties, from a total of 632, and the number of supporters signing up on his website has doubled in the past week to 1,100.
He has tried to carve out a distinctive identity for himself by emphasising his northern roots. He is the son of a telephone engineer, brought up on Merseyside, and has his campaign headquarters in Manchester.
He has also begun making free use of the word "socialist", which virtually disappeared from the mouths of leading Labour politicians in the 1990s. His latest email to Labour supporters is headed "the 'S' word is back" – which works better as a slogan for winning a leadership campaign within the Labour Party than in a contest between Labour and the Conservatives.
But his definition of socialism is not the one used by the founders of the Labour Party, for whom it implied common ownership of the commanding heights of industry. Mr Burnham advocates "aspirational socialism" in which enterprise is generally left free from state control, but there is more state or collective ownership in health and social care, the finance industry, and football.
Mr Burnham believes that England's dismal performance in World Cup contests would improve if the clubs were owned by their supporters rather than big business, because they would then become more interested in training new talent rather than buying in foreign players. When he was a special adviser in the Department for Culture, Media and Sports more than 10 years ago, Mr Burnham helped set up Supporters Direct, which seeks to make the clubs more democratic. Fan power would be a modern form of socialism.
In a speech to the Local Government Association last night, Mr Burnham called for local councils to be given greater powers to make compulsory purchases of empty properties or homes belonging to absentee landlords which are threatened with dereliction.
Register for free to continue reading
Registration is a free and easy way to support our truly independent journalism
By registering, you will also enjoy limited access to Premium articles, exclusive newsletters, commenting, and virtual events with our leading journalists
Already have an account? sign in
Register for free to continue reading
Registration is a free and easy way to support our truly independent journalism
By registering, you will also enjoy limited access to Premium articles, exclusive newsletters, commenting, and virtual events with our leading journalists
Already have an account? sign in
Join our new commenting forum
Join thought-provoking conversations, follow other Independent readers and see their replies