Labour leadership: New poll shows party is now even 'less electable' than under Ed Miliband
Exclusive: Poll results show majority of voters think party has gone backwards, and that a 'radical rethink' is needed for it to reclaim power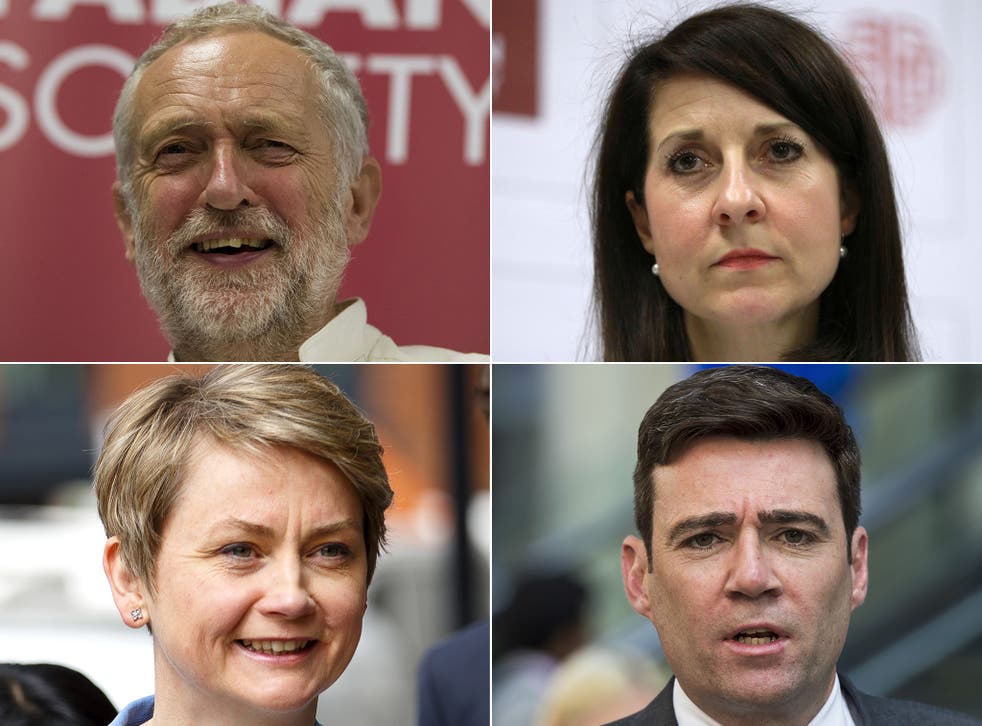 Three out of four people think Labour is less electable than it was at the May general election, while a new study shows that the party cannot regain power in 2020 by focusing its appeal on left-of-centre voters.
A poll by ORB for The Independent suggests that voters think Labour has gone backwards since its crushing defeat under Ed Miliband. Only 24 per cent of people believe the party is more electable than it was in May, while 76 per cent say it is less electable.
The gloomy findings came as an analysis by the Labour-affiliated Fabian Society found that the party must broaden its appeal to people who voted Conservative in May to have any chance of returning to office at the next election.
It dismisses the idea, favoured by some on Labour's left, that the party should target Green and Liberal Democrat voters – a course likely to be pursued if Jeremy Corbyn, the left-wing candidate who is making the running in the Labour leadership election, wins the contest.
Taking account of boundary changes which will favour the Conservatives, Labour will need to gain 106 seats to secure a Commons majority of one – 83 in England, 13 in Scotland and 10 in Wales. So at least four in five of the "extra votes" Labour needs to win will be in English marginals.
Andrew Harrop, general secretary of the Fabians, told The Independent: "In 2015 the goal of uniting the left offered a plausible pathway to victory for Labour, but in 2020 it just won't be an option. Most of the extra votes Labour will need in English marginals must come from people who voted Conservative in May.
"To win, Labour's new leader must win the confidence of people who were happy voting Tory in 2015, not simply please party activists. Labour must champion popular, big tent ideas that offer hope to the party's existing supporters but also reach deep into Middle England."
The Fabians focused on English seats because many senior Labour figures believe the party will need to do much better there in 2020 because it is unlikely to regain quickly many of the 40 seats it lost to the SNP in Scotland in May.
The ORB survey of 2,000 people carried out between Friday and Sunday shines a light on the public's view of Labour's leadership contest.
A third of 18- to 24-year-olds regard Labour as more electable than in May, the highest of any age group and a sign that Mr Corbyn might be appealing to young people. However, two-thirds of 18- to 24-year-olds believe Labour is now less electable.
Labour has not impressed older voters. Only 15 per cent of 55- to 64-year-olds and 10 per cent of those aged 65 and over think it is more electable.
The party has gone backwards in Scotland. Only 18 per cent of Scots regard Labour as more electable now, with 82 per cent saying it is less electable. Only the South-west and Eastern regions give a worst post-election verdict on Labour.
Men are less likely than women to think Labour has got better. Only 22 per cent of men see the party as more electable than in May, compared with 26 per cent of women. Public sector workers (30 per cent) are more likely to say Labour is more electable than people working in the private sector (25 per cent).
The Fabians, who are not endorsing any runner in the Labour race, deliver a highly critical verdict of the party's election performance by seven candidates who were defeated in marginal seats in England. Its pamphlet, Never Again, argues that local candidates were let down by a national message from Mr Miliband that was "narrow and predictable" and "inadequate". It was concerned that Labour is not learning from its defeat, and says that to regain power, the party must show economic competence and support for business and meet voters' concerns on immigration.
The editors Sally Keeble, former MP for Northampton North, and Will Straw, son of former cabinet minister Jack Straw, write: "Labour's leadership candidates have a huge responsibility to explain how they can win in the marginal seats where Labour failed. From thousands of conversations on the doorstep it was clear that our former leadership was not taken seriously and our 'offer' was seen as transactional and out of touch with the people we needed to win back."
They add: "The electoral mountain now facing the party calls for a fundamental rethink of our purpose, a broadening of our appeal, and a related policy overhaul as radical as anything we have ever undertaken. The battleground in 2020 will be primarily in England."
Andy Burnham, the shadow Health Secretary and leadership candidate, will describe Labour as "frightened by its own shadow" as he tries to explain the Corbyn surge in a speech in Leeds. He will argue that it is wrong to predict "oblivion" for Labour if Mr Corbyn wins.
He will add: "What our members are telling us is that they are yearning for a different style of politics from Labour and a break with the bad habits of the past. They are sick of politicians speaking in soundbites, sticking to the script and looking like they don't believe a word they are saying."
Chuka Umunna, the shadow Business Secretary who pulled out of the leadership race, dismissed speculation that Mr Corbyn would face a coup by Labour MPs if he won the contest. "There are no coup plots as such," he said.
"I think whatever the result is on 12 September, everybody in the party – from the Shadow Cabinet down – will respect the result because it's party democracy in action."
Join our new commenting forum
Join thought-provoking conversations, follow other Independent readers and see their replies