'Beast of Bolsover' Dennis Skinner takes Ukip MP Mark Reckless to task moments after he is sworn in
Mr Reckless felt the full force of the 'Beast of Bolsover'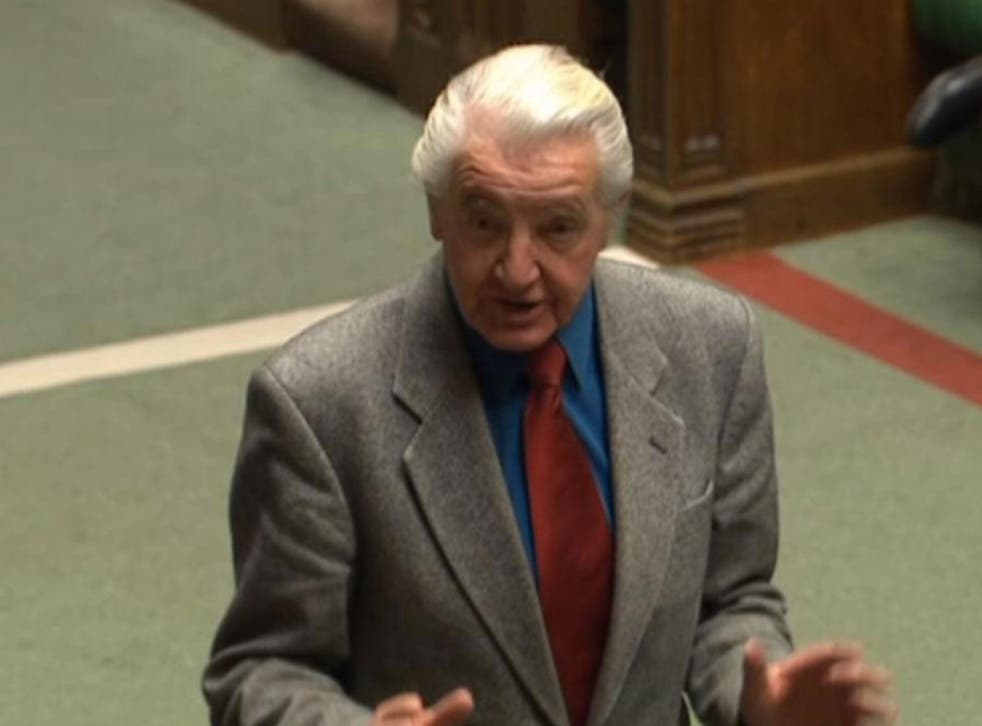 Veteran Labour MP Dennis Skinner took Ukip defector Mark Reckless to task in a memorable address shortly after he was sworn in into the House of Commons.
The 'Beast of Bolsover' took a moment during a debate on the NHS in the Commons to blast Mr Reckless and fellow Ukip defector Douglas Carswell by accusing them of wanting to deport migrants.
Labour MPs packed the Opposition bench today, which Mr Carswell has used since his return to Parliament last month.
The move ensured Mr Carswell and Mr Reckless sat in the second row of the Opposition benches, behind Mr Skinner.
Earlier this week, Mr Reckless suggested some long-term European immigrants to Britain could be told to leave the country if Ukip wins the next general election and the UK exited the EU.
Today, an impassioned Mr Skinner reeled off the many migrants who took pivotal roles in his successful heart bypass surgery in 2003.
In pictures: Rochester by-election

Show all 15
In a scathing attack, Mr Skinner said: "We dragged the National Health Service in 1997 to 2010 from the depths of degradation that the Tories left it in and hoisted it back to the pinnacles of achievements."
Pointing at Mr Reckless and Mr Carswell, he continued: "I've got a United Nations heart bypass to prove it, and it was done by a Syrian cardiologist, a Malaysian surgeon, a Dutch doctor, a Nigerian registrar, and these two people here talk about sending them back from whence they came.
"If they did that to the hospitals in London I for one would be dead in six months – that's the facts about Ukip as well."
The 82-year-old's comments were met by loud cheers and shouts in the House.
The outspoken MP for Bolsover is a former miner who earned his nickname for his plainspoken and forthright approach to politics over the last five decades.
Mr Skinner, a staunch republican, is known for heckling every year seconds before the Queen's speech, this year shouting "Coalition's last stand" to bursts of laughter from fellow MPs.
His viper-tongue quips have seen him ejected from the House of Commons ten times over the years.
In 2012, he explained his candid, and now legendary, comments to The Guardian as a matter of principle, saying: "If my heart and my head are together on an issue, [then I] write it, say it."
Mr Skinner was recently voted off the Labour Party's governing body by his fellow parliamentarians, prompting outrage from his colleagues who praised him as "a powerful voice for the working classes".
Join our new commenting forum
Join thought-provoking conversations, follow other Independent readers and see their replies