Labour must 'learn from the past but not live in it', says Liam Byrne
Shadow Work and Pensions Secretary said Labour would need policies for a different economy, welfare state and form of government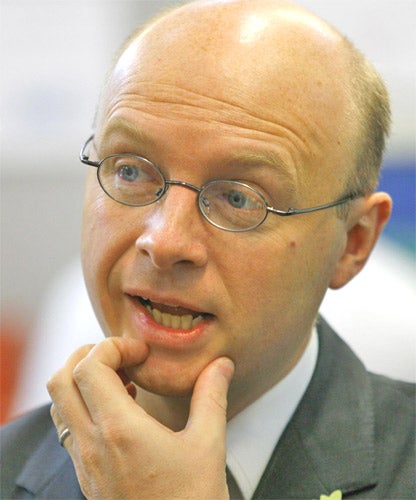 Labour will not win the next general election unless it admits the mistakes it made in power and learns the lessons, the head of the party's policy review warned yesterday.
Liam Byrne, the shadow Work and Pensions Secretary, admitted the last Labour government did not secure value for money from all its spending. "Oppositions that stay in opposition for a long time are the parties that fail to confront and take on the weaknesses the public see in them," he said. Mr Byrne acknowledged that Labour had:
* failed to spend every pound wisely
* underestimated the effect of eastern European migration and failed to manage it properly
* moved too slowly on welfare reform and demanded to little from benefit claimants who were not trying hard enough to get a job
* failed to regulate the banks properly and stop executives rewarding themselves for financial failure.
He was speaking before a meeting of Labour's national policy forum in Wrexham on Saturday, when plans to modernise the way the party is run – including the role of the trade unions – will be unveiled. Ed Miliband believes it would not be credible to announce new policies before it has "listened and learned", but he will signal some "directions of travel" at the party's annual conference in September.
Mr Byrne, who will set out Labour's strategy to ensure it is a "one-term opposition," said: "We did make mistakes – we should call a spade a spade.... We are confronting head-on the things we got wrong."
Insisting that Labour's root-and-branch policy review was not "an exercise in gratuitous masochism", Mr Byrne said: "The public – like our members – expect us to learn from our past, and not live in it." He argued: "We mustn't shy away from confronting the weaknesses of the past; but it's more important to confront the challenges of the future." Labour would need policies for "a different economy, different welfare state and different kind of government".
He added that Labour's success stories – such as rescuing the NHS, the national minimum wage and Sure Start centres – worked because they were rooted in a vision for the future.
Mr Byrne believes that when they were in opposition, Margaret Thatcher and Tony Blair were quick to confront their party's past weakness and future challenges. But he claimed David Cameron had not learnt that lesson, saying: "He tried to reposition the brand of the Conservative Party – but he didn't engage in an argument about what the Tory party was for."
He argued that was why Cameron did not win a majority – unlike Baroness Thatcher and Mr Blair – and why Labour was now addressing the fundamental challenges facing Britain.
Labour is having a heated internal debate over how openly to admit its mistakes in office. Ed Balls, the shadow Chancellor, believes voters are much more worried about "the here and now" than about what Labour got wrong when in office.
At a four-hour Shadow Cabinet strategy session on Tuesday, Mr Balls is understood to have been criticised by Tessa Jowell, the shadow Cabinet Office Minister, for not telling his frontbench colleagues before announcing his proposal for a temporary emergency cut in VAT last week. Yesterday Labour officials insisted that the move was not a new policy since the party had opposed the January rise in VAT, and so it did not need to be cleared.
Taunted by Tories in the Commons, Mr Balls insisted that his proposal had been "discussed in detail" with Mr Miliband. Some shadow ministers complained that they only learnt about Mr Balls's plan from news bulletins. One said: "The problem is that it is playing to our weaknesses and creates the impression that we can't face up to tough decisions."
Join our commenting forum
Join thought-provoking conversations, follow other Independent readers and see their replies