Labour may oppose Article 50 Bill if amendments rejected, Diane Abbott says
'If we are not able to get any of our amendments through, clearly we will have to review our position,' says shadow Home Secretary
Rob Merrick
Deputy Political Editor
Friday 27 January 2017 10:07 Comments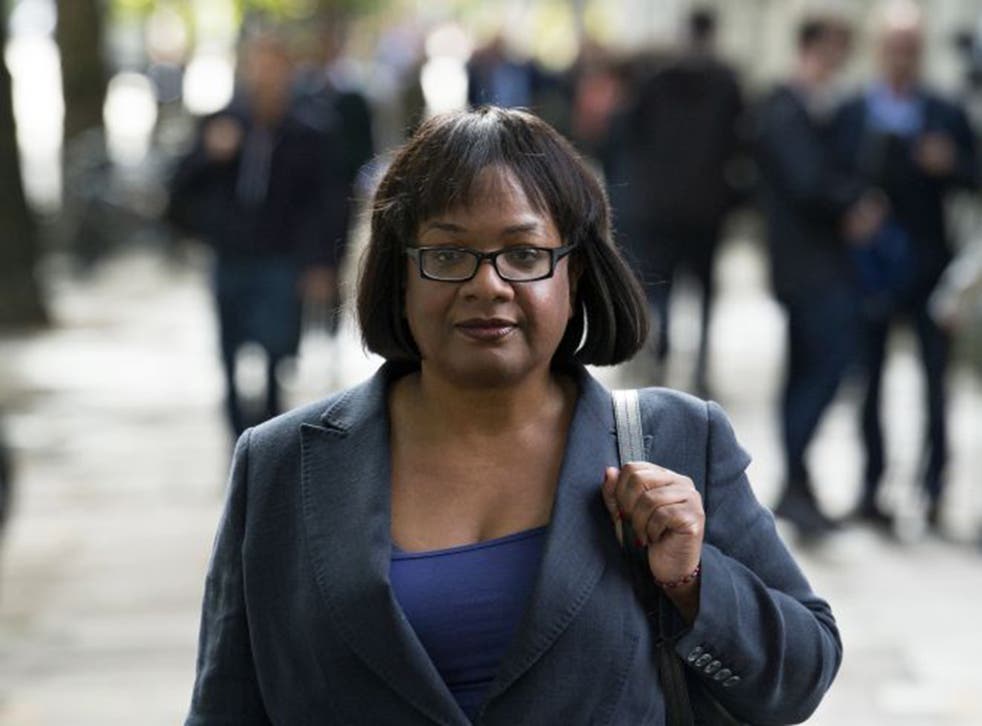 Labour may yet oppose the Article 50 Bill if its amendments are thrown out, the party said today.
Diane Abbott, the Shadow Home Secretary, created further confusion about Labour's stance when she said it would "review our position" if it failed to change the legislation.
The comment appeared to raise the prospect of Labour voting against triggering Article 50 if Theresa May refuses to guarantee a "meaningful" Commons vote on her final deal.
Jeremy Corbyn sparked an internal Labour war yesterday when he announced a three-line whip to support the legislation to start Brexit, next week.
One shadow minister, Tulip Siddiq, immediately resigned and two Opposition whips said they would defy the order – despite telling other MPs to obey.
Today, another senior MP, Meg Hillier, said her London constituents were in a "rage" about Labour's decision to support the Prime Minister's Bill.
But Ms Abbott, a key ally of Mr Corbyn, said: "Are we going to vote with the Tories come what may? This is a question of opening the process.
"We will seek to amend and, if we are not able to get any of our amendments through, clearly we will have to review our position."
A Labour source confirmed to The Independent that yesterday's decision was to support the Bill at second reading only, in a vote next Wednesday.
That will be followed by three days of line-by-line scrutiny in a Bill committee, at which Labour will attempt to shape the Brexit process - before a final vote, called third reading.
Most important, it is demanding a "meaningful vote" in Parliament on the final Brexit deal – early enough for Ms May to seek better terms if hers are rejected by MPs.
Its amendment states: "The consent of Parliament would be required before the deal is referred to the European Council and Parliament."
However, the Prime Minister has threatened to crash out of the EU with "no deal" if Parliament rejects her terms – despite stark forecasts of an economic slump if she does.
Labour will also seek to compel Brexit Secretary David Davis to publish reports on the negotiations every two months.
And it wants the legal status of EU citizens in the UK to be resolved "before negotiations begin", with all workers' rights protected.
Speaking to BBC Radio 4's Today programme, Ms Abbott suggested Labour rebels on Article 50 would escape punishment, saying there was "great sympathy" for MPs in pro-Remain constituencies.
And she defended Mr Corbyn's stand, saying: "You have to remember how this looks to people in post-industrial Britain, former mining areas, the North, the Midlands, South Wales.
"It would look as if elites were refusing to listen to them. It would be wrong.
"How could MPs vote for a referendum and then turn around and say 'It went the wrong way so we are ignoring it'?"
But Ms Hillier told the BBC: "Certainly, in Hackney [her constituency], the rage in the room was palpable and people are really concerned.
"My constituency voted 78 per cent to Remain and, while a lot of those people recognise the outcome of the referendum, we just don't want a blank cheque, there are so many issues that we need to get resolved."
Jeff Smith and Thangam Debbonaire are the two whips who have said they will defy Mr Corbyn in next week's vote, as has transport spokesman Daniel Zeichner.
Register for free to continue reading
Registration is a free and easy way to support our truly independent journalism
By registering, you will also enjoy limited access to Premium articles, exclusive newsletters, commenting, and virtual events with our leading journalists
Already have an account? sign in
Join our new commenting forum
Join thought-provoking conversations, follow other Independent readers and see their replies