Jeremy Corbyn backs soft Brexit and says second referendum 'some way off'
Labour will pay 'a heavy price' for Brexit errors, prominent party figures warn Corbyn
MPs call for clear support for Final Say referendum after Labour slumped to third place in polls behind pro-EU Lib Dems
Prominent Labour figures have warned the Corbyn project faces ruin if the party leader does not shift his position on Brexit.
With Labour slumping into third place in the European elections and falling behind the pro-EU Liberal Democrats in a Westminster poll, one MP said the party would pay "a heavy price" for its equivocal position on EU withdrawal, while another warned of a "clear and present danger" to its future.
Former spin doctor Alastair Campbell said Labour would be "complicit" in ushering Boris Johnson into Downing Street and paving the way for a no-deal Brexit unless it backs a Final Say vote.
And the head of a left-wing pro-Remain campaign group said the "shocking" poll figures showed that the leadership's policy of constructive ambiguity had now "run its course" and risked leaving the Corbyn project in ruins.
Labour supporters of a second referendum had hoped Mr Corbyn was moving towards explicitly backing a Final Say after he signalled increased readiness to support a public vote in the wake of the party's 14 per cent showing in the EU elections.
Brexit billboards: Campaigners remind MPs of past promises

Show all 15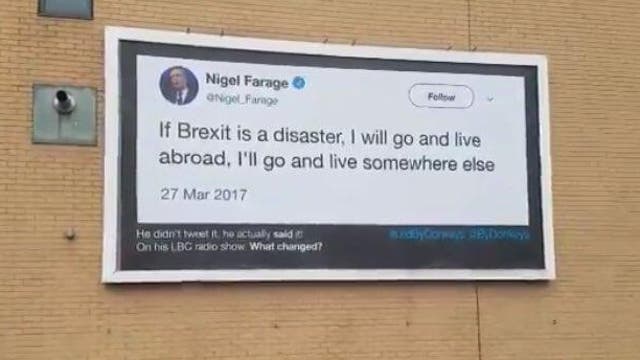 But the Labour leader resisted pressure from shadow cabinet colleagues to campaign for a new referendum, saying he would try to renegotiate a deal with Brussels.
In a sign of the deep tensions within the party, Unite leader Len McCluskey warned that supporting another referendum would be "electorally suicidal".
Now a YouGov poll putting Labour equal with Tories on 19 per cent in general election voting intentions, behind the Lib Dems on 24 and the Brexit Party on 22, has sparked fresh fears that the European results may reflect more than just a protest vote.
Mr Campbell, who was expelled from Labour for voting Lib Dem in an act of anti-Brexit protest, said the party had been "virtually annihilated" in last week's election.
"The Labour party has not had a clear, coherent, credible position on Brexit and until it gets that, it is not going to win back the support of many, many people that it has lost," he told the BBC Radio 4 Today programme.
Stephen Doughty, a pro-Remain Labour MP, said: "These polls show exactly why the time for equivocation and triangulation is long past. It is crucial Labour now takes a definitive position to support putting any Brexit deal to the people for their final say, with an option to remain.
"It's what our voters and our members want. Labour must lead the fight against this disastrous Brexit that the Tories have led us to, and stand resolute in the face of the populist right. To fail to do so would be a mistake of historic proportions for the country and our party will pay a heavy price."
Mary Creagh, a former shadow cabinet minister, said it was "very worrying" to see that just 47 per cent of those who voted Labour in 2017 told pollsters they would do so again.
There was a "clear and present danger" that the party may not be able to woo back switchers, she said.
"It shows the futility of trying to please both sides on Brexit," the Wakefield MP told The Independent. "We were punished in the local and European elections as our voters and members deserted us to back the Lib Dems and Greens, even in northern areas that voted Leave, such as Wakefield where the Lib Dem vote trebled."
Mr Corbyn has suggested that the party's policy on Brexit could be reviewed at the next annual conference in September – just a month ahead of the 31 October deadline for leaving the EU with or without a deal.
But the national organiser of the Another Europe is Possible group, Michael Chessum, said this would be too late.
Alastair Campbell admits voting for Lib Dems: 'I didn't vote Labour for the first time in my life'
"These polling figures are shocking and ought to scare the whole of the left," he said. "Labour's electoral base is being eaten by a centrist party. It's the opposite of the leftward turn that Corbyn's leadership is trying to achieve.
"Constructive ambiguity has run its course. Leading left figures – John McDonnell and Diane Abbott – are following the members towards a clear anti-Brexit position. The small number of people in the Labour machine still fighting to deliver Brexit are isolated, but their strategy is still dangerous. If they win out, the Corbyn project faces ruin."
Frontbencher Clive Lewis – who quit the shadow cabinet in 2017 to vote against triggering the Article 50 process – said Labour was in an "unacceptable situation".
Voters have not "bought into" Mr Corbyn's position, he said. "People now want clarity from the Labour Party. It is painful to watch. Many of these are voters who have voted for a party other than Labour for the first time and their support for that other party will solidify over the coming days and months unless we act."
And one of Labour's most forthright supporters of leaving with a deal, Stephen Kinnock, said Labour was suffering from a lack of clarity on the single issue dominating British politics.
"One way or the other, we have got to deal with Brexit," he said. "We should either have given whole-hearted full-throated support for a referendum or stuck to our original position. By trying to face both ways we just lose people's support and we lose their respect."
A Labour spokesperson declined to comment, saying that the party does not respond to polls.
Join our new commenting forum
Join thought-provoking conversations, follow other Independent readers and see their replies