NHS will get £2.5bn boost funded by mansion tax and and levy on tobacco firms, pledges Ed Miliband
Labour leader promises to fund 20,000 new nurses and 8,000 new GPs
Andrew Grice
Tuesday 23 September 2014 16:35 Comments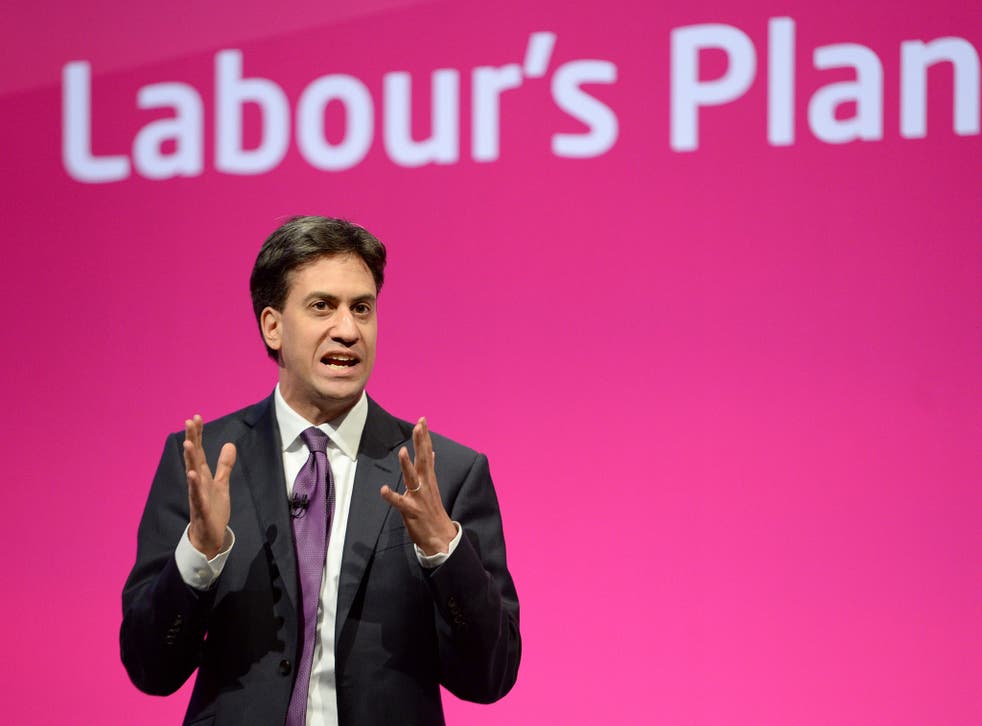 An incoming Labour Government would give the NHS a £2.5bn injection, funded by a mansion tax, a levy on tobacco firms and closing tax loopholes exploited by hedge funds, Ed Miliband announced today.
In his speech to the Labour conference in Manchester, he tried to put the NHS at the heart of next year's general election campaign by promising that a new "Time to Care" fund would fund 20,000 more nurses, 8,000 more GPs, 5,000 more care workers and 3,000 more midwives.
The Labour leader said the new fund would give nurses and doctors "time to care" properly for patients and improve access to GPs so people did not end up in hospital unnecessarily.
Mr Miliband told the conference: "The NHS is sliding backwards under this Government. It is privatising and fragmenting it. Just think what it would look like after five more years of this Government. It is not safe in their hands.
"Doing it together means everyone playing their part to help fund our NHS. The stakes are incredibly high in this election. But nowhere more than on the NHS."
Promising to create a "truly integrated service" for physical and mental health and care for the elderly, he said: "We won't borrow a penny to do it. And we won't do it by raising taxes on everyday working people."
Labour sources said the party would raise £1.2bn by imposing a mansion tax on home worth more than £2m. Owners of properties worth tens of millions would pay much more than someone in a £2m home. The £2m threshold would rise in line with property prices to stop more homes being dragged into the tax. There would be safeguards for people without a high income who live in an expensive property.
A levy on the profits of tobacco firms would force them to make a bigger contribution to tackling the cost of tobacco-related illness. Fees would be modelled on those introduced by US President Barack Obama in 2009. They would be based on market share and would raise at least £150m a year.
Labour would raise £1.1bn by clamping down on tax avoidance. It would stop hedge funds avoiding £500m of tax on shares by having them held by investment companies. It would close the so-called "Eurobonds loophole" under which large firms move profits to subsidiaries based offshore to avoid corporation tax. It would also prevent umbrella companies avoiding tax and national insurance by exploiting rules on expenses.
In his final Labour conference speech before the election, a pledge to "save and transform the NHS" was one of six goals set out by Mr Miliband in a "national mission" that he said would take 10 years to achieve.
The others were doubling the number of first-time buyers; ensuring as many school-leavers take up apprenticeships as go to university; halving the number of low-paid workers; tackling the cost of living crisis and creating one million jobs in green industries.
Labour said the 20,000 extra nurses would ensure safe staffing in hospitals and fill thousands of vacancies unfilled since 2010. The 8,000 more GPs would enable people to stay healthy outside hospital and ensure family doctors service kept pace with population growth. The 5,000 new care workers would work in integrated care teams, the start of a shift towards an NHS which provides joined-up support to help people remain in their home. The 3,000 extra midwives would ensure "safe, one-to-one care to women in labour".
Register for free to continue reading
Registration is a free and easy way to support our truly independent journalism
By registering, you will also enjoy limited access to Premium articles, exclusive newsletters, commenting, and virtual events with our leading journalists
Already have an account? sign in
Join our new commenting forum
Join thought-provoking conversations, follow other Independent readers and see their replies