Labour promises 'tough cap' on rail fares, but stops short of offering full freeze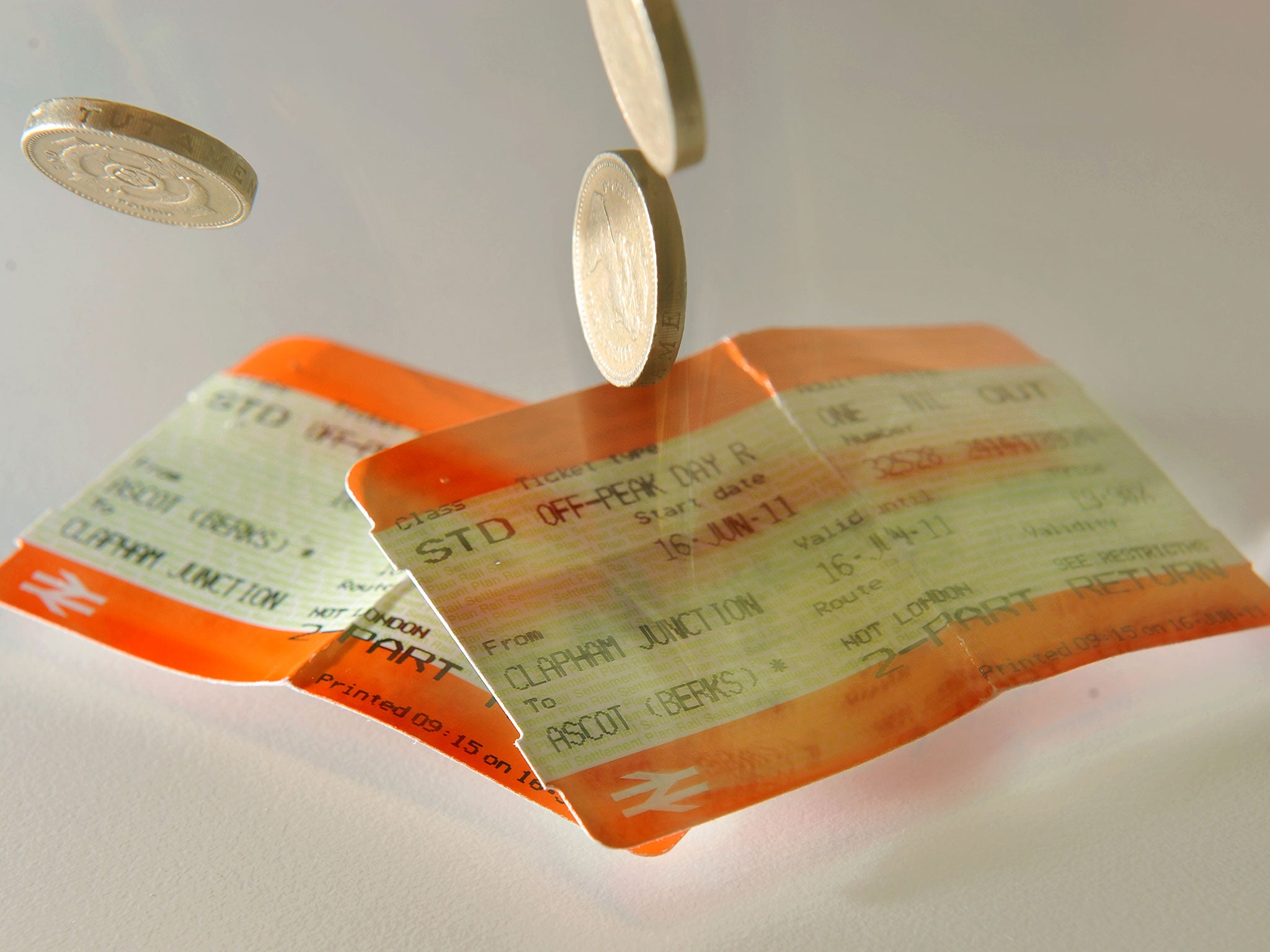 A "tough cap" on rail fares would be imposed by an incoming Labour Government, Ed Miliband has pledged.
The Labour leader pitched for the commuter vote as he warned that fares could rocket by up to 5.6 per cent in January under the Coalition's formula. The increase will be based on the retail price index (RPI) to be announced on 19 August. It is currently 2.6 per cent.
Labour plans to simplify fare structures, bring in a legal right for passengers to get the cheapest ticket, and would extend the Government cap to all fares. At present, it covers regulated fares – most season tickets, some off-peak and anytime day tickets.
The Department of Transport's formula for the cap is RPI plus one per cent, but rail firms have the flexibility to vary individual fares by up to a further two per cent as long as the average figure does not breach the cap. Labour would abolish that flexibility, so companies could no longer vary rises on different routes and commuters would know their fares would be capped at the level set by the Government. However, Labour has stopped short of promising to freeze fares or raise them only in line with the RPI.
On a visit to Hastings in Sussex, Mr Miliband warned that local people who commuted to London could see their annual fares bill rise by up to £265 to £4,724 next year.
He said: "David Cameron has failed hard-pressed commuters – who are already struggling due to the cost-of-living crisis – by allowing fares to rise by 20 per cent since he came to power. A Labour government would cap annual fares on every route and drive through the biggest reforms of the railways since privatisation."
Labour has already announced plans to bring some rail lines back into public ownership by allowing publicly owned companies and cooperatives to bid for franchises when they come up for renewal.
Mr Miliband's move on fares will put pressure on George Osborne to limit the pre-election rise when he makes his autumn statement. Conservative MPs, many of whom represent commuter belt seats, will press him to repeat his intervention last year, when he knocked one per cent off the scheduled rise by limiting it to the RPI figure.
Mr Miliband told LBC Radio: "We have the highest fares in Europe and the biggest taxpayers' subsidy [£4bn a year]. There must be a better way forward than that."
The Labour leader denied that Labour's plans would mean a return to the state-run British Rail, which ran the system before the Conservatives privatised it in the 1990s. He said: "This is a logical, pragmatic position which says 'let's open it up to the public sector.' We have this crazy situation where you can be a European company that is in the public sector and comes in to run a British rail line. You can have a nationalisation as long as it's from a foreign country. That doesn't make any sense to me."
Other Labour reforms include devolving decisions to local authorities so they can create integrated train, bus and tram networks. Network Rail would work with a new passenger body to oversee stations, fares and ticketing and improve customer satisfaction.
Patrick McLoughlin, the Transport Secretary, said Mr Miliband's comments looked like "yet another unfunded spending promise which shows that Labour has failed to learn the lessons from their great recession".
He said: "It would cost £1.8bn over the lifetime of the next parliament and be paid for by more borrowing and higher taxes. It is because we've taken difficult decisions as part of our long-term economic plan that we've been able to cap rail fares increases at the rate of inflation for the first time in a decade, the majority of which was spent under Labour rule. People will look at what Labour did in government, not what it says now."
Join our commenting forum
Join thought-provoking conversations, follow other Independent readers and see their replies