Labour six points ahead in new poll
Gap is opened by Tory slide – but 53 per cent cannot imagine Ed Miliband as Prime Minister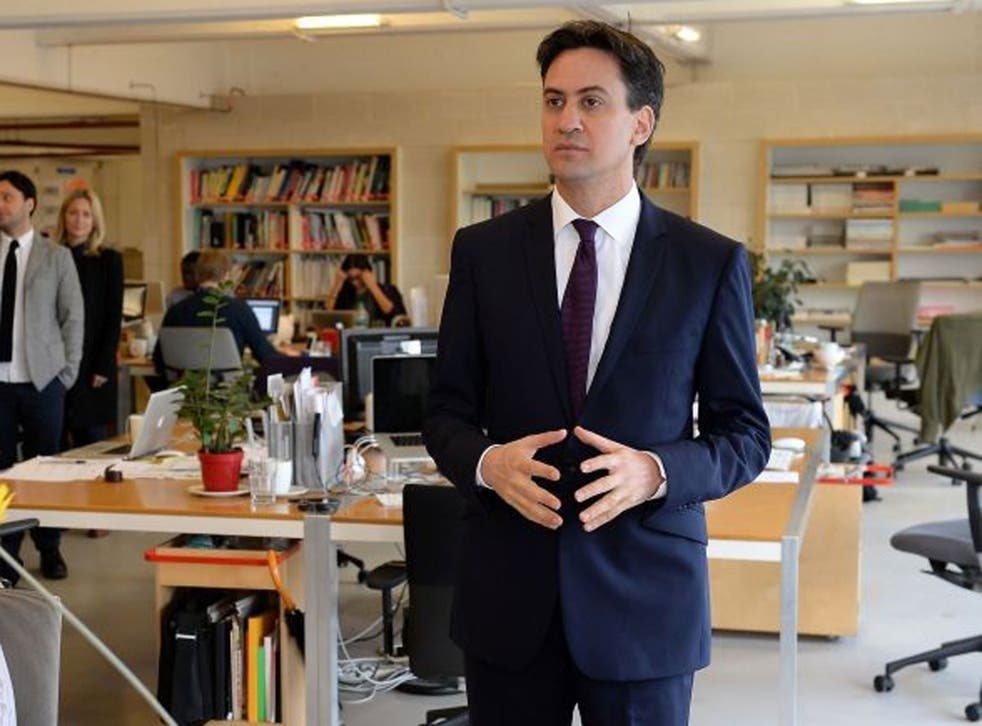 Labour has increased its lead in The Independent on Sunday's monthly opinion poll conducted by ComRes, but more than half of voters say that they cannot imagine Ed Miliband as prime minister. Conservative support has fallen by three points since last month, giving Labour a six-point lead, which would mean a 74-seat majority for Mr Miliband if repeated at the election, even though 53 per cent of voters say they disagree with the statement, "I can imagine Ed Miliband as Prime Minister."
Despite Mr Miliband's plan for an energy price freeze, which has forced the Government on to the defensive since the party conferences, only 24 per cent say he is "turning out to be a good leader of the Labour Party", up two points from before his party conference speech but down from 31 per cent in May. More voters (29 per cent) say their opinion of him has "become more negative recently" than say it has become more positive (24 per cent).
Trust in Mr Miliband and Ed Balls, the Shadow Chancellor, has fallen to its lowest point since the "omnishambles" Budget last year. Only 19 per cent trust them to "make the right decisions about the economy". David Cameron and George Osborne, on the other hand, are trusted by 27 per cent. Encouragingly for the Government, 44 per cent say they "expect the UK economy will improve next year", while only 34 per cent disagree.
The poll also finds strong support for Sir John Major, who said it was "shocking" that positions of power are held "overwhelmingly by the privately educated": 69 per cent of voters agree with him and only 12 per cent disagree. Sir John's remarks came as an unwelcome surprise to his Eton-educated successor, but the poll suggests that Mr Cameron's privileged background is becoming less of a liability for him. Asked if "the fact that David Cameron went to Eton makes it harder for him to be a good prime minister for the whole country", only 34 per cent agree, down four points since a year ago, while 45 per cent disagree, up three points.
Equally, though, the Daily Mail's attack on Mr Miliband's father seems to have had little effect. Asked if "the fact that Ed Miliband's father was a Marxist makes it harder for him to be a good prime minister for the whole country", only 16 per cent agreed and 55 per cent disagreed.
Looking ahead to the party leader TV debates before the next election, 36 per cent expect Mr Cameron to "come across better" than Mr Miliband.
Join our new commenting forum
Join thought-provoking conversations, follow other Independent readers and see their replies