Progressive alliance: Greens, Labour and Liberal Democrats unite to take down Jeremy Hunt
Activists defy party leadership by uniting behind National Health Action party in bid to oust Health Secretary from seat in South West Surrey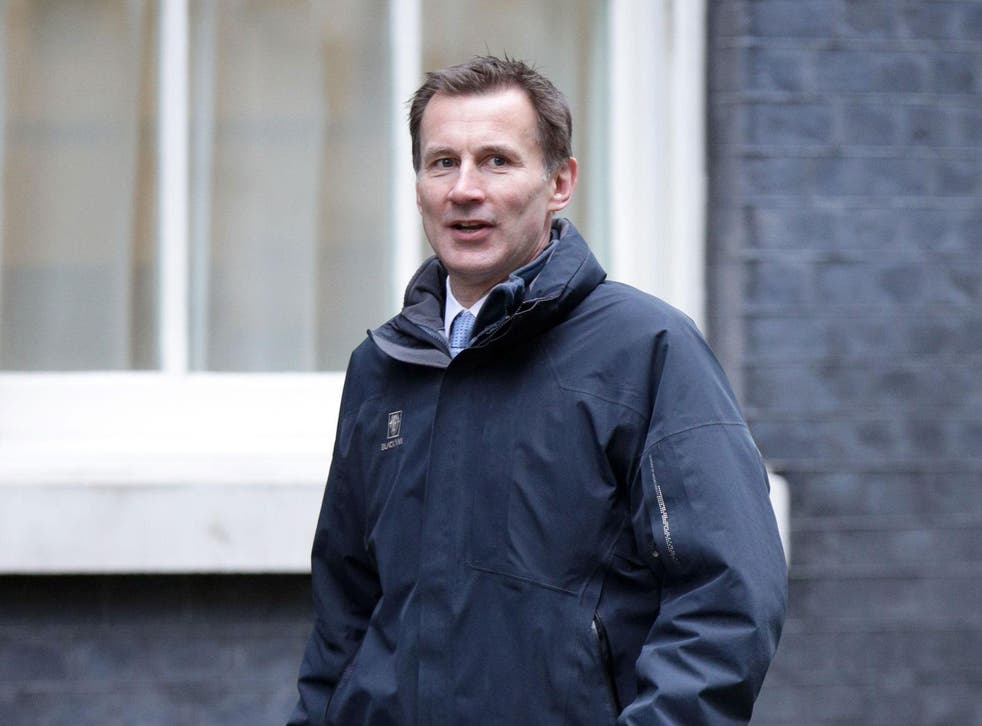 Labour and Liberal Democrat activists have united with the Green Party in a groundbreaking alliance aimed at unseating Jeremy Hunt in the general election.
A "progressive forum" organised by the South West Surrey Compass group over the weekend saw the Green Party withdraw their candidate from the race completely, while Liberal Democrats and Labour members agreed not to campaign, after members from all four parties selected the leader of the National Health Action party as the best placed candidate to oppose the Health Secretary.
The decision by activists to unite behind Dr Louise Irvine, who took 8.5 per cent of the vote in 2015, marks the latest development of the Progressive Alliance movement, which seeks for progressive parties across the country to tactically unite behind a candidate who has the best chance of defeating the Tories.
Jeremy Hunt asked why nurses are having to go to food banks
The Green Party has been the main driver of such alliances so far, having stood down for Labour or the Lib Dems in Ealing, Hove, Ilford, Oxford West and Abingdon, Richmond Park and Twickenham, while the Liberal Democrats agreed to stand down in Brighton Pavillion to enable Green Party co-leader Caroline Lucas a better chance of retaining her seat.
Labour has meanwhile made it clear at a national level that it would not support such alliances, but activists in a number of constituencies have nonetheless defied such orders and decided not to back their own candidates in order to increase the chances for another progressive candidate in the region.
Steve Williams, executive member of the Labour Party and chair of South West Surrey Compass, who chaired the meeting, described the decision as "ground-breaking" and that Mr Hunt now faced a "serious challenge".
"Yesterday's meeting was a ground-breaking moment for the 2017 general election campaign in South West Surrey. Jeremy Hunt is a deeply unpopular MP amongst many of his constituents who hold him responsible for the current sorry state of the National Health Service," said Mr Williams.
"He is now facing a serious challenge from a highly capable and articulate GP who is well accustomed to taking on Jeremy Hunt and fighting for keeping our National Health Service as a high quality, well-funded public service, providing world-class healthcare for all, free to the user at the point of use."
Dr Irvine, who successfully led a campaign that defeated the government in court in 2012 when the Secretary of Health attempted to downgrade casualty and maternity units, said she was ready to mount a challenge against the health secretary.
"I am honoured and delighted that people in South West Surrey have chosen me as a progressive alliance candidate and I am ready to challenge Jeremy Hunt on his government's disastrous NHS policies as well as the huge damage they are doing to our society in many areas such as education, housing and the environment," she said.
Such a move was also carried out in the region's local elections, with South West Surrey Compass facilitating an agreement that saw Labour and the Greens in Godalming North opt out and allow the Liberal Democrats to challenge the Conservatives, which led to the Liberal Democrat Penny Rivers winning the seat.
Ms Rivers, who won on a 27 point swing, said: "I am clear that this election result in Godalming North would not have happened if all the parties had stood. It was because Labour graciously stepped aside, allowing voters a chance to concentrate and deliver a meaningful vote.
"The result of this election shows that a progressive alliance works. In Jeremy Hunt's constituency, progressives are abandoning our tribal loyalties and working together."
Susan Ryland, the Green candidate in South West Surrey who has stood down as part of the alliance, said: "There's a clear consensus amongst campaigners in South West Surrey to stand a single progressive candidate against Jeremy Hunt. I'm pleased to announce that the local Green Party will be stepping aside and throwing our support behind Dr Louise Irvine.
Jeremy Hunt on £350 million Brexit NHS pledge 'We're not going to promise something we can't deliver'
"We can change the government on June 8th but it requires progressives to come together. The Labour and Liberal Democrats should follow the Green lead and back Louise."
Following the decision in South West Surrey, the Green Party co-leader Ms Lucas urged broadly left-wing parties to pursue "grown-up politics" by forming progressive alliances across the country, sayng there was "a huge amount of enthusiasm and energy" for deals between progressive parties to defeat the Tories.
"For this to happen we need Jeremy Corbyn to get around a table with us and I think what is so disappointing is that he talks about doing politics differently and yet he is betraying the mass of the people that he says he represents by allowing them to be hit hardest by a massive Tory majority," she told BBC Radio 4's Today programme.
"We've still got a few more days where we could build on these alliances, which it isn't just the Green Party asking for them, it is people up and down the country begging parties of the left and the centre-left to get together to do grown up politics and to be able to put in place a group of people who have a better chance of serving the interests of the people rather than allowing a massive Tory landslide."
The Progressive Alliance movement, headed by think tank Compass, is focusing on 97 seats where the combined progressive vote is crucial to the outcome of the election.
Neal Lawson, chair of Compass, previously told The Independent there had been a "massive outpouring" of willingness among local parties to form alliances, adding that the movement was a "grassroots rebellion from below".
UK General Election 2017

Show all 47
"There's been a massive outpouring of local parties talking about deals and vote-swapping. Local parties are talking to each other across the country about where it makes sense for them to stand and not to stand," said Mr Lawson.
"This is a grassroots rebellion from below. This is the electorate's progressive alliance, not the leaders. And there's a huge amount of interest. It's going to be an election like no other, driven not from the press releases and the newsrooms, but by the people. There's a very different sentiment going on.
"What we're picking up is the fear of the one-party state and the role of the electoral voting system within it. That's really mobilising people and getting them out and worried and looking to cross tribal barriers this time."
Join our new commenting forum
Join thought-provoking conversations, follow other Independent readers and see their replies