Labour voters unhappy at Jeremy Corbyn's pro-Brexit position, poll reveals
Despite alienating Remainers, 'soft Brexit' stance is still least divisive among party's supporters  
Benjamin Kentish
Tuesday 07 February 2017 16:54 Comments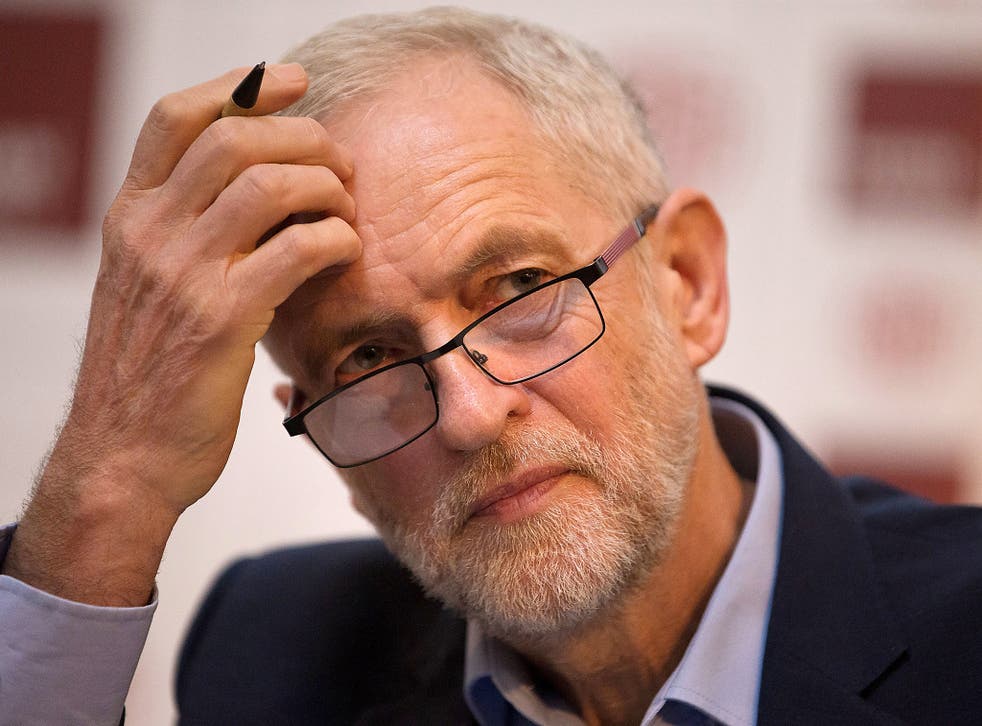 Labour voters are unhappy about Jeremy Corbyn's decision to support Brexit and would prefer Labour to pledge to keep Britain in the European Union, a new poll suggests.
Voters who backed Labour in 2015 would be happier if the party promised a second referendum on whether Britain should leave the EU – or said it would stop Brexit entirely.
Despite upsetting many of his party's Remain-supporting voters, however, the poll suggests Mr Corbyn may have still chosen the least divisive position - and reveals the huge divisions within Labour on whether Britain should leave the EU.
The YouGov survey found 45 per cent of Labour voters would be "delighted" or "pleased" if the party promised to reverse Brexit – more than the number expressing support for any other policy position on the issue. 42 per cent, meanwhile, would react positively if the party promised a second referendum that could see the original Leave vote overturned.
In contrast, only 36 per cent of Labour supporters are happy with Mr Corbyn's position of advocating a "soft Brexit", while even fewer - 28 per cent - want a "hard Brexit".
However, a pledge to stop Brexit would be hugely divisive among Labour voters. While almost half would back it, more than a third (34 per cent) say they would be angry or disappointed at such a policy.
Mr Corbyn's team will be buoyed by the finding that their current position, in favour of a "soft Brexit", is the least divisive among Labour voters – suggesting he may have chosen the most sensible option in attempting to unite his fractured party.
What experts have said about Brexit

Show all 11
Anthony Wells, YouGov's Research Director, told The Independent: "Either by luck or by design, Jeremy Corbyn seems to have picked the course of action that will be best in keeping Labour together.
"Normally the criticism of Corbyn and his allies is that they are ideological purists who act on principle and [think] 'to hell with Labour supporters', but actually if you look at this it's the other way round.
"It is Labour pro-Europeans who want to stand up and fight it and refuse to vote for Brexit who are the ones risking driving a further wedge between Labour and its working class support.
"It's not what you expect from Jeremy Corbyn to go down the consensual route rather than the decisive one but that seems to be what he has done.
Labour's current policy "will probably do the least damage", he added, saying: "Jeremy Corbyn has actually got it right."
Jeremy Corbyn says he is 'very lenient' in response to possible shadow cabinet sackings over Brexit whip
Of Labour voters who backed Brexit, the poll suggests almost half want a 'hard Brexit" in which the UK leaves the single market and only negotiates a free trade deal with the EU. Fewer than one in four want to see Britain maintain a close relationship with the rest of Europe.
The survey also suggests very few people have changed their mind since the EU referendum last June – just 3 per cent of Labour-supporting Brexit voters now want the party to stop Brexit.
Studies suggest Labour voters backed Remain by a majority of 61 per cent to 33 per cent, but the Leave supporters tended to be in the party's northern heartlands where it must retain support to have any hope of winning a general election.
Mr Corbyn's challenge is to keep both sides of his party together but his allies are likely to take heart from the finding that he may be on the best path to doing so.
Register for free to continue reading
Registration is a free and easy way to support our truly independent journalism
By registering, you will also enjoy limited access to Premium articles, exclusive newsletters, commenting, and virtual events with our leading journalists
Already have an account? sign in
Join our new commenting forum
Join thought-provoking conversations, follow other Independent readers and see their replies