Law chief marks Magna Carta with fierce attack on Cameron
Bar Association head to use lavish global summit to criticise governments' contempt for justice
Mark Leftly
Sunday 22 February 2015 01:00 Comments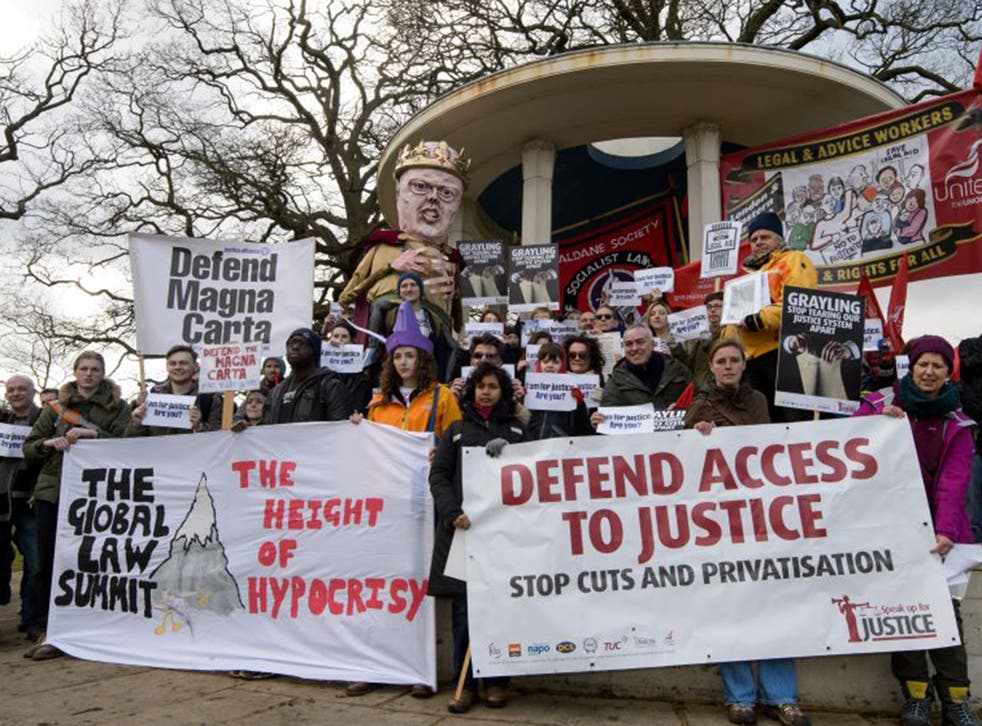 Britain's chief criminal barrister will tear into David Cameron and past governments for treating public law "with contempt", at a lavish £1,750-a-ticket government-backed conference tomorrow marking the 800th anniversary of Magna Carta.
Tony Cross, chairman of the Criminal Bar Association, is expected to demand that no prime minister ever again appoints a non-lawyer as Lord Chancellor. Three years ago, David Cameron made Chris Grayling the first Lord Chancellor without a legal background in four centuries of the role's existence.
Mr Grayling's reformist agenda has been hugely unpopular among lawyers. Mr Cross will argue that from Tony Blair's premiership onwards, governments have damaged the legal system. He will unfavourably contrast the "wonderful idea of Magna Carta", with demoralised lawyers who have taken industrial action over legal-aid cuts.
Barristers and solicitors have been infuriated by the reductions in legal aid from £2bn to £1.5bn a year, as well as policies such as raising court fees, as the Lord Chancellor looked to save money. Much of the legal profession believes these policies restrict access to justice, so is against the spirit of Magna Carta. The document was a charter of liberties signed by King John which placed the monarch (and so, later, the government) under the rule of law. It underpinned the legal system.
The three-day Global Law Summit celebrating the 1215 charter– often cited as Britain's most important gift to a world that has adopted so many of its principles – has been much criticised. Some believe that the Government is trying to use the event for publicity by holding it before the election, even though the anniversary is in June.
Others argue that it is a corporate jamboree, with expensive tickets and many speakers from a business background, such as the chairman of defence giant BAE Systems, Sir Roger Carr. Lord Green, the former HSBC chairman, was due to speak but withdrew after he stood down from one of the financial group's behind the summit, CityUK. His presence would have attracted criticism given revelations about HSBC's role in tax avoidance schemes.
Mr Cross has been criticised by senior barristers for attending the event. John Cooper QC has argued that by attending, the Criminal Bar Association is "tacitly endorsing what Grayling is doing to the criminal justice system". Mr Cooper's chambers, 25 Bedford Row, has said that publicly funded criminal lawyers are "key to a 'fair and just society' yet will be notable by their absence from Mr Grayling's celebration".
But Mr Cross has decided to embarrass this and earlier governments by being highly critical at the Ministry of Justice's own event. "I'm going to talk about how successive governments have treated public law with contempt, certainly over the last 20 years," Mr Cross said.
"I will look to compare and contrast this wonderful idea of Magna Carta and where we are now: how morale is at an all-time low, how barristers and solicitors feel undervalued. The last few governments have treated the legal aid system as a second-class service, when in fact it should be treated as a first-class service that society demands, from probation to the delivery of services in magistrates' and crown courts."
Yesterday, the Justice Alliance, which includes Amnesty International and the Association of Prison Lawyers, started a three-day protest march on London from Runnymede in Surrey, where King John agreed a peace treaty with rebellious barons on 15 June 1215 that came to be known as Magna Carta (great charter).
It ends with an event in London tomorrow called Not the Global Law Summit, supported by actresses Emma Thompson and Maxine Peake. After this protest there is a comedy gig entitled Stand up for Legal Aid – Justice Just Got Funny!, featuring Stewart Lee, Sara Pascoe and Stephen K Amos, at £15 a ticket.
A Ministry of Justice spokeswoman said: "The Global Law Summit is a unique event to celebrate our proud legal history based on Magna Carta, and recognise the legal sector's contribution to our society and our economic prosperity today. It will also showcase the UK's unrivalled expertise in legal services around the world, attracting business and promoting growth.
"Magna Carta is one of the UK's proudest exports, and to this day its principles of freedom and justice not only underpin our own prosperity but also our global leadership in legal services. It's right to celebrate that.
"Legal aid is a vital part of our justice system, but resources are not limitless and must be targeted at the cases that need it most. Our reforms are designed to ensure the system is fair for those who need it, the lawyers who provide it, as well as the taxpayers who ultimately pay for it."
Register for free to continue reading
Registration is a free and easy way to support our truly independent journalism
By registering, you will also enjoy limited access to Premium articles, exclusive newsletters, commenting, and virtual events with our leading journalists
Already have an account? sign in
Join our new commenting forum
Join thought-provoking conversations, follow other Independent readers and see their replies