Irish Prime Minister dismisses plan to register in advance to cross border after Brexit being studied by No 10
The Independent revealed that anyone without 'fast track movement' clearance would be 'considered to have entered the state irregularly' - other than at approved crossing points
Rob Merrick
Deputy Political Editor
Tuesday 13 March 2018 17:21 Comments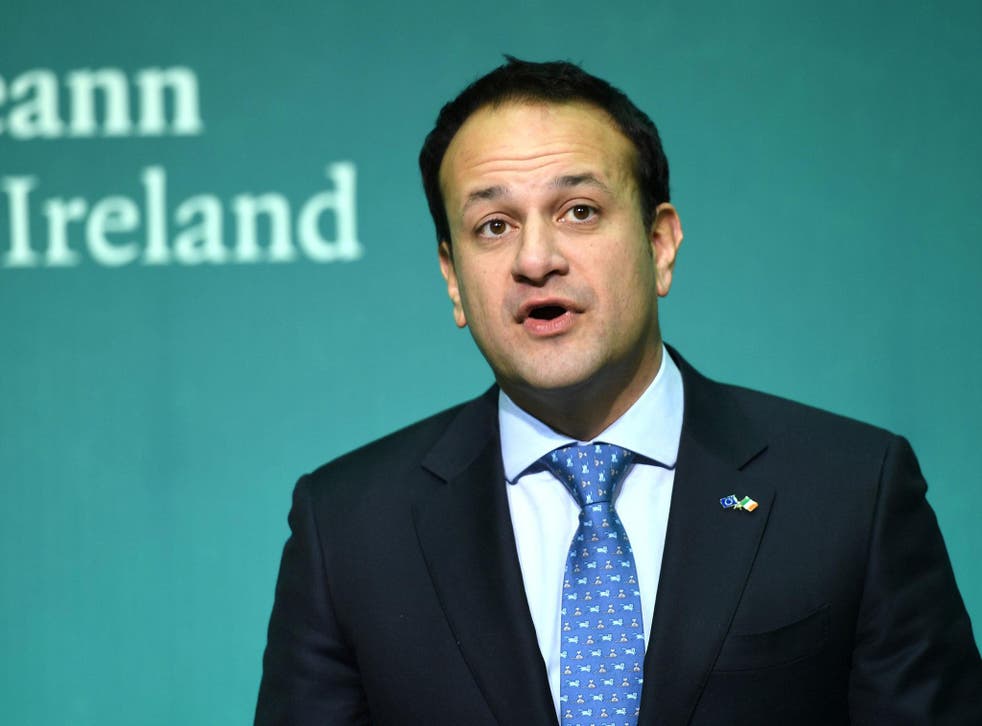 The Irish Prime Minister has attacked a plan for people to register in advance to cross the border without checks after Brexit, which is being studied by Theresa May.
Leo Varadkar dismissed the idea – revealed by The Independent – as he turned on senior UK Cabinet ministers for failing to visit the border in order to understand it better.
Under the plan, anyone without clearance for "fast track movement" would have to use approved crossing points or would be "considered to have entered the state irregularly".
CCTV and cameras to track vehicle number plates would be needed at some crossing points - despite the Prime Minister's promise that the border will continue to have no "physical infrastructure".
Nevertheless, Ms May told MPs she has "asked officials to look at it very carefully", adding: "I believe it gives some very good proposals for solutions."
The Independent's story was raised with Mr Varadkar when he addressed an audience in Texas, part of a trip to the United States to celebrate St Patrick's Day.
"It is not a solution that we envisage," the Taoiseach said.
He also seized on the fact David Davis, the Brexit Secretary, has not visited Northern Ireland since September 2016 – while Boris Johnson, the Foreign Secretary, has failed to make the trip at all since his appointment in July 2016.
"I can't see anything negative in a British Cabinet minister viewing the border, seeing what it looks like," Mr Varadkar said.
The biggest issues facing UK on leaving EU

Show all 8
"You can read as many briefing documents as you like, sometimes you need to see things with your own eyes."
Oliver Robbins, the Prime Minister's chief Brexit negotiator, has also never visited the Irish border since taking on the role.
In sharp contrast, Michel Barnier, the EU's chief Brexit negotiator, has made the trip and Guy Verhofstadt, the European parliament's Brexit co-ordinator, visited Belfast in September.
The Prime Minister has asked officials to study the Smart Border 2.0 report – commissioned by a European Parliamentary committee – as she scrambles for a solution to the border dilemma.
In December, she agreed to "full alignment" of regulations across the entire UK if necessary to avoid the return of border posts and checks, which could become a magnet for terrorists.
But she has been accused of reneging on that agreement, rejecting the EU's proposal of a a "common regulatory area" across Ireland if other solutions to avoid a hard border fail.
Instead, the Government has vowed to leave the EU customs union, putting its faith in technology to avoid checks – while failing to rule out the return of cameras at the crossing.
The Smart Border 2.0 study does propose a solution based on technology, but The Independent revealed it acknowledges the plan would still require:
* "Both physical and digital infrastructure" – with vehicles "to be monitored using Automatic Number Plate Recognition (ANPR) at unmanned border crossings". It states: "CCTV will also be required at border crossings".
* A Trusted Traveller Program – under which people would "pre-register for fast-track movement across the border", possibly using "biometric passports or enhanced drivers' licenses using radio frequency identification".
* "Free movement lanes" at the busiest crossings to "allow differentiation between those entitled or not to move under the CTA [Common Travel Area]. Non-qualifying individuals who did not cross at these specific border crossings would then be considered to have entered the state irregularly".
Register for free to continue reading
Registration is a free and easy way to support our truly independent journalism
By registering, you will also enjoy limited access to Premium articles, exclusive newsletters, commenting, and virtual events with our leading journalists
Already have an account? sign in
Join our new commenting forum
Join thought-provoking conversations, follow other Independent readers and see their replies