Liam Fox's department posts report critical of Philip Hammond's Treasury by 'mistake'
The document posted by Dr Fox's department said the Treasury had 'made a mess' of economic forecasts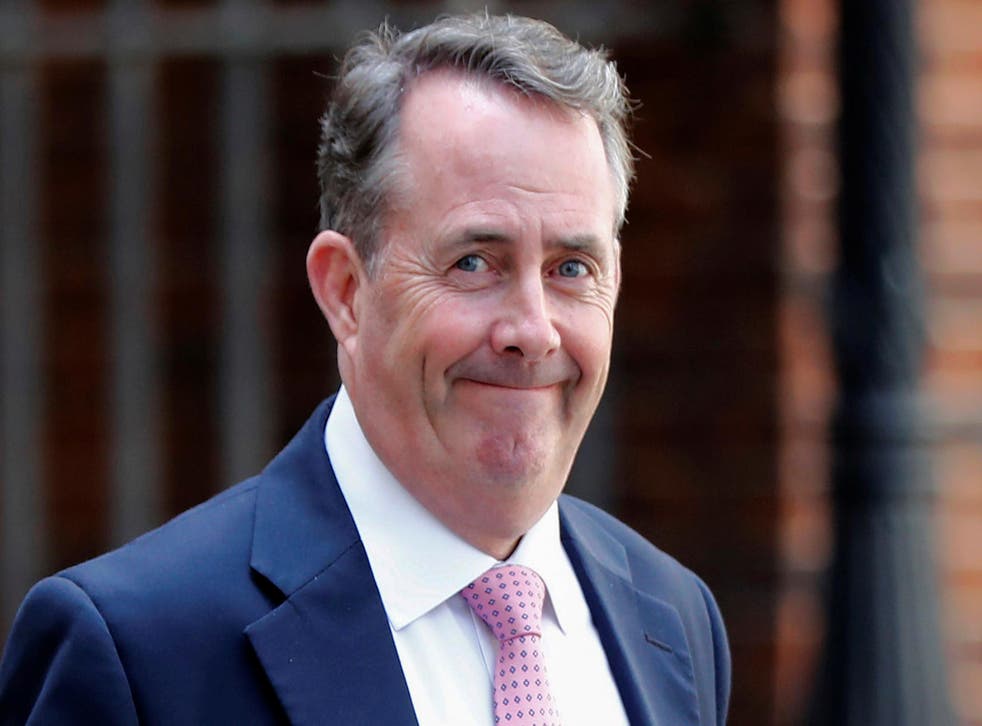 The Whitehall department of Brexit-backing cabinet minister Liam Fox has said it made a "mistake" in promoting a report that was highly critical of Philip Hammond's Treasury.
Officials at the Department for International Trade posted and then later deleted a link to the document on Twitter which accuses the Treasury of making "a mess of its forecasts".
The incident led one Labour MP to demand Dr Fox be investigated for "potential breaches of the Civil Service Code and the Ministerial Code".
It comes ahead of a critical Budget for Mr Hammond which could make or break the Government and amid a cabinet war between Brexit-backing ministers and the Chancellor, who they feel is not enthusiastic enough about EU withdrawal.
After taking the post down, a spokesman from Dr Fox's department said: "It was a genuine mistake and as soon as we realised we deleted the tweet."
DIT officials posted a link to a report written by the heavily pro-Brexit Economists for Free Trade group, which has diverged from other groups in arguing that the UK will actually enjoy a £135bn windfall after Brexit.
The organisation's report also attacks the "negative" approach to predicting the impact of Brexit taken by the Treasury, which has projected difficult economic challenges ahead due to EU withdrawal.
Brexit: the deciders

Show all 8
In a section entitled "How The Treasury Got It Wrong", the report states: "It is clear that the Treasury and its several institutional acolytes have made a mess of its forecasts."
Mr Hammond has clashed with Brexit-backing ministers who are angered by his cautious approach to taking the UK out of the European Union.
While they have pushed for a clean break as soon as possible with Europe, he has advocated a transition period to avoid a 'cliff edge' that would create instability for business.
Brexiteers demanding more spending to prepare for a 'no deal' Brexit, which they say is necessary to convince Brussels Britain is serious about it as a possible outcome, have been angered by Mr Hammond warning it would rob cash from the NHS.
Labour MP Chuka Umunna, a leading supporter of Open Britain, said promoting the Economists for Free Trade report was a breach of the Civil Service Code which requires Whitehall officials to be objective.
He pointed out that Dr Fox and Foreign Secretary Boris Johnson have already been reported to the Cabinet Secretary for an alleged breach of the Ministerial Code, after they allowed another Brexit backing think tank, the Institute for Free Trade, to use Government buildings.
Mr Umunna said:"It tells us all we need to know that the department deleted the tweet less than an hour after posting it. The Cabinet Secretary must urgently investigate potential breaches of the Civil Service Code and the Ministerial Code.
"And Liam Fox must urgently clarify why his Department has been endorsing reports which are at odds with official Government policy."
Register for free to continue reading
Registration is a free and easy way to support our truly independent journalism
By registering, you will also enjoy limited access to Premium articles, exclusive newsletters, commenting, and virtual events with our leading journalists
Already have an account? sign in
Register for free to continue reading
Registration is a free and easy way to support our truly independent journalism
By registering, you will also enjoy limited access to Premium articles, exclusive newsletters, commenting, and virtual events with our leading journalists
Already have an account? sign in
Join our new commenting forum
Join thought-provoking conversations, follow other Independent readers and see their replies