Lib Dem sexual harassment scandal: Nick Clegg changes story on Lord Rennard resignation and sex-pest claims
Deputy PM's new explanation dismays Lib Dems ahead of crucial Eastleigh by-election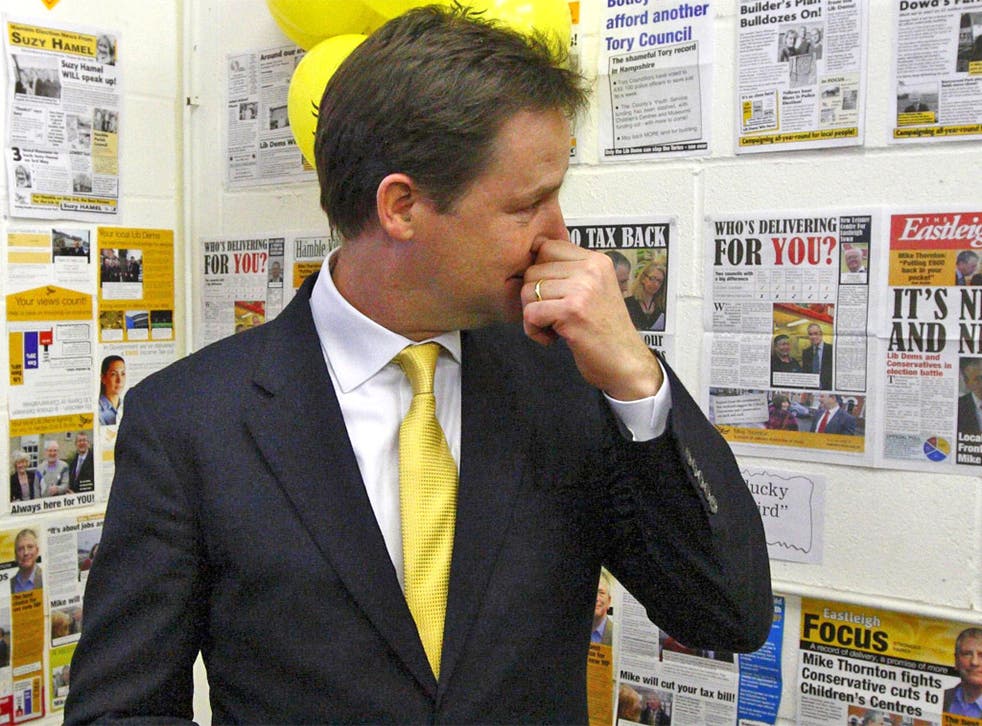 The turmoil within Liberal Democrat ranks over Lord Rennard deepened last night after Nick Clegg admitted that allegations of sexual harassment were a factor in the peer's decision to quit as the party's chief executive.
To the dismay of MPs, the Deputy Prime Minister dramatically altered his explanation for Lord Rennard's surprise resignation in 2009, which had previously been blamed on ill health. His comments were rejected by the peer's friends, who said he had been warned by his doctors that he could be dead within a year unless he led a less stressful lifestyle.
And last night the party's most senior female politician, Baroness Williams of Crosby, spoke out in support of Lord Rennard, claiming the charges against him had been "hopelessly exaggerated".
The furore sparked by claims that Lord Rennard propositioned as many as 10 young Liberal Democrat activists has convulsed the party, raised fresh questions about Mr Clegg's leadership and hit its campaign for today's pivotal by-election in Eastleigh.
The peer has strenuously denied the claims and said he had never received a complaint about his conduct during his entire time with the party.
Quizzed yesterday about Lord Rennard's departure, Mr Clegg said: "He left on health grounds but the issues of his inappropriate behaviour were in the background – of course they were."
Mr Clegg repeated his assertion that only "general concerns" – and not specific complaints – about the peer had been brought to his attention. However, he disclosed that his former chief of staff, Danny Alexander, had confronted Lord Rennard, telling him his alleged behaviour was "totally unacceptable".
Alison Smith, a former Liberal Democrat activist at the centre of the allegations, last night contradicted Mr Clegg's previous claims that no formal allegations were made about Lord Rennard. Ms Smith said she had offered to make a formal complaint to Paul Burstow, the then Chief Whip in 2007, but "kept hitting brick walls".
The Liberal Democrat leadership's changing accounts in response to complaints about the peer were condemned by its MPs. One said: "When you are in a hole you are supposed to stop digging." Another senior figure said: "The handling of this whole affair has been just dire."
A friend of Lord Rennard insisted the explanation given for his resignation was genuine. He said: "Chris was seriously ill. The doctors had told him he should leave the post on health grounds."
Fresh allegations that Mr Clegg was warned that Mike Hancock, MP for Portsmouth South, allegedly made advances to women but did nothing about it emerged last night. Mr Clegg allegedly received a written complaint in March 2011 about the behaviour of Mr Hancock but did not reply, the Daily Mail reported.
The Conservative Business minister, Michael Fallon, ridiculed his Coalition partners' handling of the crisis. "One of the reasons that the Lib Dems are in trouble is that they have not been straight about this," he told the BBC.
"The reason it has gone on for a week is that first they said it wasn't happening, then they only heard it in general terms; now they have said they have heard the specific allegations, they are saying it was something to do with why Lord Rennard resigned."
Lady Williams conceded Westminster was a "very bullying place, a very masculine culture" which meant women were "not treated very fairly". But she added: "Chris Rennard in my view is a very fine man."
The Deputy Prime Minister conceded that his party made "very serious mistakes" in failing to deal adequately with the complaints of sexual harassment. "It is crucial that you treat people with respect and dignity in everything you do – and that is what I expect of people in the organisation I lead," Mr Clegg said.
"That, clearly, did not happen here, to put it mildly."
Timeline of denial: Clegg's contradictions
22 February
"Nick Clegg was not aware of these allegations until the party was contacted by Channel 4." (Lib Dem spokesman)
24 February
"When indirect and non-specific concerns about Chris Rennard's conduct reached my office in 2008, we acted to deal with them." (Nick Clegg)
"[Lord Rennard] resigned as chief executive on health grounds." (Nick Clegg)
25 February
"Until last week no specific allegations were put to me." (Nick Clegg)
27 February
"[Rennard] left on health grounds but the issues of his inappropriate behaviour were in the background, of course they were." (Nick Clegg)
"There was this sort of general concern … [Danny Alexander] meets Rennard, says, 'If you're doing this kind of thing you must stop now.' He vociferously denied it all." (Nick Clegg)
Register for free to continue reading
Registration is a free and easy way to support our truly independent journalism
By registering, you will also enjoy limited access to Premium articles, exclusive newsletters, commenting, and virtual events with our leading journalists
Already have an account? sign in
Register for free to continue reading
Registration is a free and easy way to support our truly independent journalism
By registering, you will also enjoy limited access to Premium articles, exclusive newsletters, commenting, and virtual events with our leading journalists
Already have an account? sign in
Join our new commenting forum
Join thought-provoking conversations, follow other Independent readers and see their replies