Lib Dems hit back as David Cameron pours scorn on their opposition to £25bn plan to renew Trident nuclear weapons system
Andrew Grice
Friday 05 April 2013 10:24 Comments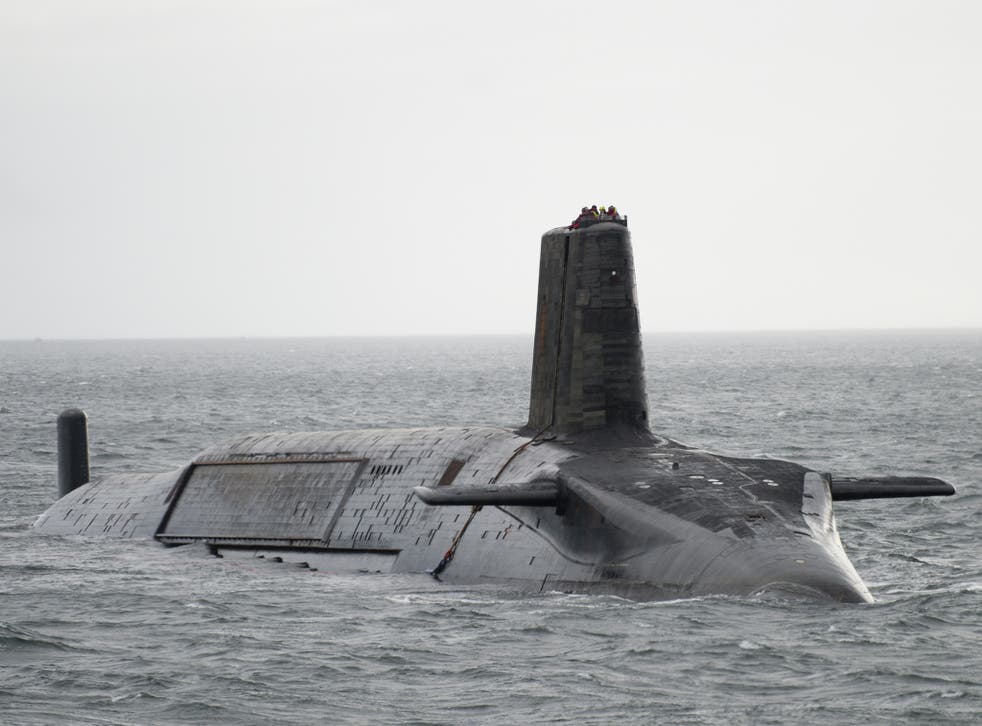 The Liberal Democrats hit back at David Cameron today after he poured scorn on their opposition to the £25bn plan to renew Britain's Trident nuclear weapons system.
The Prime Minister, who is visiting Scotland where the UK's four Vanguard submarines are based, said it would be "foolish" to consider scrapping the system when Britain may be in range of ballistic missiles fired by the "highly unpredictable and aggressive regime" in North Korea. His warning came as the United States announced it is moving a missile defence battery to the Pacific island of Guam after North Korea stepped up its rhetoric against South Korea and its American ally.
In a sideswipe at the Conservatives' coalition partners, Mr Cameron questioned how anyone can "seriously argue" that now is the right time to surrender our deterrent, when the threat is "evolving".
A Lib Dem spokesman said: "We do not believe there should be a like-for-like replacement and we will continue to make the case for an alternative." Danny Alexander, the Lib Dem Chief Treasury Secretary, who is heading the party's review of Trident, is expected to recommend an alternative proposal this summer.
Sir Malcolm Bruce, a senior Lib Dem MP, said: "We do accept the case for a nuclear deterrent and we are not in favour of unilateral disarmament. We are saying we shouldn't replace Trident on a like-for-like basis but we are looking at alternative nuclear deterrents once Trident has passed its sell-by date.
"But we also recognise that the cost of a nuclear deterrent is extremely high and there are many people inside the Ministry Of Defence and the armed forces who desperately want to ensure that we have the latest and most up-to-date conventional equipment and would be extremely concerned if that was prejudiced by a very heavy commitment to a budget for replacement of a nuclear deterrent which by definition is not used, as opposed to weaponry which they need. If that's compromised then other defence commitments would be undermined."
Mr Cameron is using his visit to Scotland to warn about the threat to defence-related jobs north of the border if the country votes for independence in next year's referendum. The Scottish National Party has vowed to rid the country of nuclear weapons if it opts to leave the Union.
Labour is awaiting the Lib Dem-led review before deciding whether to support a full replacement for Trident. Kevan Jones, a Labour defence spokesman, said: "It is absolutely right and necessary that the UK retains an independent nuclear deterrent. World events demonstrate that in an unpredictable era our country needs the ultimate security guarantee. The precise nature of the deterrent must be judged on meeting military capability requirements and cost."
He added:"Royal Navy orders keep Scottish ship yards afloat and demonstrate the importance of the Union, which would be jeopardised by SNP plans for separation. David Cameron champions his defence record but this Government has overseen cuts to capabilities that could undermine our ability to achieve our nation's global ambitions."
Register for free to continue reading
Registration is a free and easy way to support our truly independent journalism
By registering, you will also enjoy limited access to Premium articles, exclusive newsletters, commenting, and virtual events with our leading journalists
Already have an account? sign in
Join our new commenting forum
Join thought-provoking conversations, follow other Independent readers and see their replies