Liberal Democrat Manifesto Launch: Tim Farron promised a Brighter Future then the sky turned from grey to black
Who's going to stand up for your children, my children and Malcolm's grandchildren? Tim Farron, that's who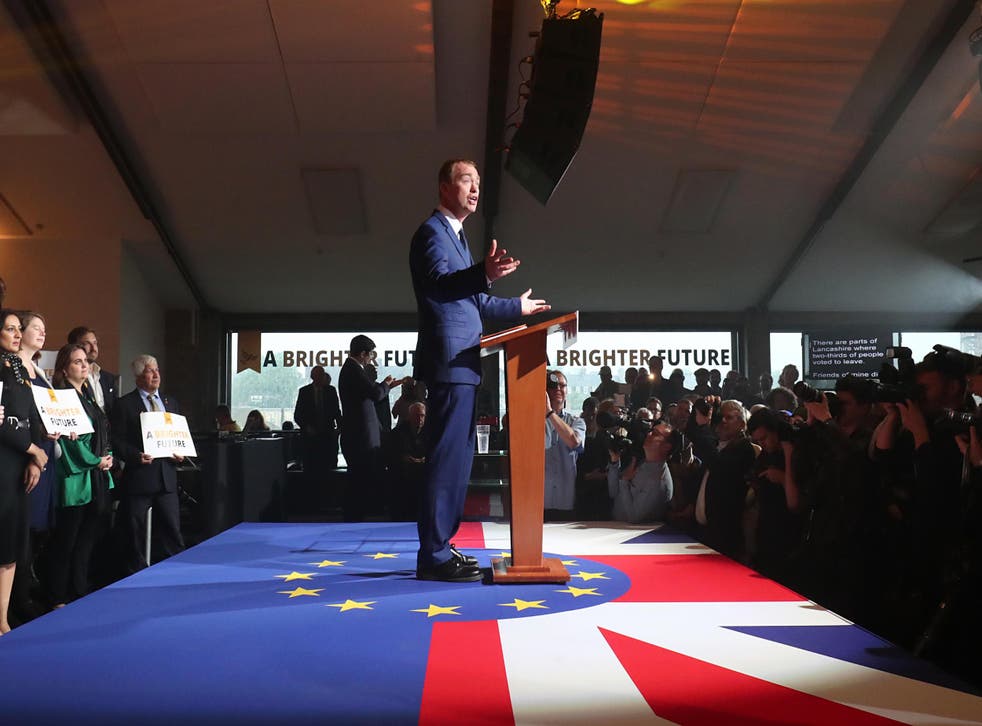 It would be both irrelevant and unkind to mention that before Tim Farron, the most recent person I happened to see bound on to this particular stage in east London was my cousin Joe, a month shy of his wedding day, waving a £9 glass of super strength craft beer, and dressed as an inflatable cock. It would be mere seconds before he was forcibly ejected for being sick directly on to his inflatable balls.
Now that I do appear to have mentioned it, we shall move on quickly, but we will have to pause again, briefly, to pity the Lib Dem volunteer who diligently spent the afternoon stencilling A BRIGHTER FUTURE on to all the windows of the Lib Dem Manifesto Launch at the Oval Space in Hackney, only for those words to frame a perfectly unfortunate tableau of driving rain over a disused gas works.
Customarily, the overstated industrial chic in this corner of east London lends an air of cool to its hipster clientele. It can even just about do so, in my experience, to a paralytic landscape gardener caged inside a polyvinyl chloride phallus.
But the massed ranks of Lib Dems would always be a sterner test. They did their very very best to be cool, amid the disco lights and the pumping music (The Hollies, of course), their placards raised, the stage lights whirring against the ceiling. There were 300 of them at least.
No shortage of semi-big deal bands have played the Oval Space on their way to the small-to-medium time, even if have none have done so on a stage carpeted with a curious EU/Union Jack mashup flag.
But Farron was not to be upstaged, and to make certain of the fact, he had chosen as his support act the Lib Dem Prospective Parliamentary Candidate for St Albans, whose solitary joke was about the man who usually tin shakes outside Lib Dem Conference, which she was then forced to explain, "You would only get if you go to Lib Dem Conference."
Why hadn't any of these people been to Lib Dem Conference? What else are they doing with their lives?
When Tim Farron eventually emerged, he spoke with his feet in the centre a full circumference of yellow EU stars on a blue background, itself inside a hollowed out hemisphere of Union Jack. It is arguably insensitive to say such things in these rarefied days, but I do honestly believe, had Bill Cash been here to witness this singular act of vexillological heresy, he would have shot Farron dead.
He was promising a second referendum on the terms of the Brexit deal, that's the big thing on the Lib Dem table, which would include, yes, the option of staying in the European Union. It's not immediately clear whether the EU would even have us back at such a point. These are highly technical matters, but if an interim arrangement is needed, well, it'll certainly have a flag, the Lib Dems have got that bit sorted.
Farron spoke powerfully enough. "Nigel Farage and Theresa May's mean-spirited Britain is not the Britain I love," he told them as they went very politely wild.
"Someone has to stand up to them! Someone has to take the fight to them!"
That chap called Malcolm, who you might recall called him an idiot in a street in Oxfordshire three weeks ago was name-checked four times.
"Someone has to stand up for my children!" he said at one point. "For your children! for Malcolm's grandchildren!"
The crowd were not the first to be drawn to this particular place to indulge a passion for a niche act. Arguably they liked it all the more for it having not gone mainstream. A top gig, no doubt about it. But the evidence, at last if the polling people are to be believed, it will be some time yet before the Lib Dem faithful will be able to boast of knowing Farron before he hit the big time.
Register for free to continue reading
Registration is a free and easy way to support our truly independent journalism
By registering, you will also enjoy limited access to Premium articles, exclusive newsletters, commenting, and virtual events with our leading journalists
Already have an account? sign in
Register for free to continue reading
Registration is a free and easy way to support our truly independent journalism
By registering, you will also enjoy limited access to Premium articles, exclusive newsletters, commenting, and virtual events with our leading journalists
Already have an account? sign in
Join our new commenting forum
Join thought-provoking conversations, follow other Independent readers and see their replies