Liberal Democrats plan to woo 'soft conservatives' repulsed by 'thuggish' Johnson Tories
New deputy leader outlines target-seat plan to lift party from electoral trough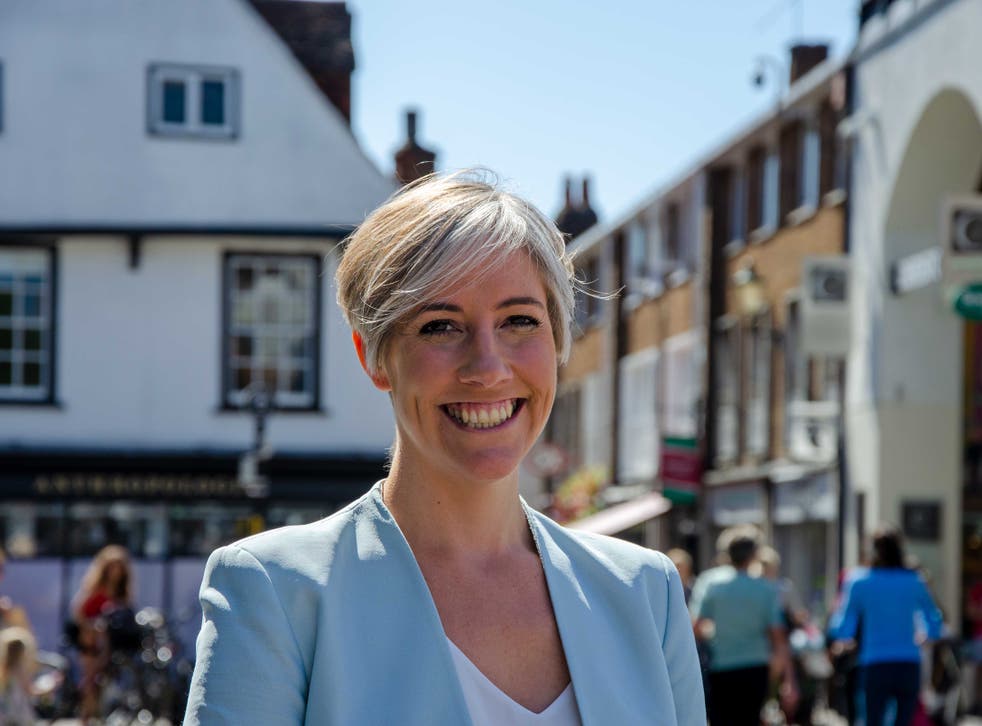 Liberal Democrats are planning a four-year drive to woo "soft conservatives" repulsed by the "thuggish" values of the Tories under Boris Johnson and Dominic Cummings, the party's new campaigning chief has revealed.
Speaking to The Independent in an interview to announce her election as deputy to leader Sir Ed Davey, Daisy Cooper said that the route out of the Lib Dems' current electoral trough could be found through appealing to voters who had always thought of themselves as conservatives but found the current government at odds with their values of competent governance, respect for the law, international alliances, civil liberties and protection of the environment.
Mr Johnson's current threat to breach Britain's obligations under international treaty law in his row with the EU was the latest in a chain of shocking acts which showed his party no longer represented the values of moderate voters, she said.
In a sharp change of tactics from former leader Jo Swinson's approach in last December's election – when she flopped after declaring herself a potential prime minister looking to win seats across the country – Ms Cooper made clear she will be tightly focusing on winnable Tory-held seats where she can deploy an army of activists in a long-term war of attrition.
Under the first-past-the-post system, she calculates that concentrating energy and resources on well-chosen target constituencies can deliver "a good number" of seats in parliament, while increasing the Lib Dems' support generally across the country would not – even if they were able to lift themselves from their current position of 6 per cent in the polls to the heights of 23-24 per cent seen briefly under Sir Vince Cable.
It is a strategy based on her experience in St Albans, where she provided the only point of light for the party on a dismal election night by overturning an 11 per cent Tory lead to romp home by more than 6,000 votes in a constituency last held by Liberals in 1904.
She claimed to have had around 1,000 activists out during the time of the campaign, with a hardcore team of 300 deploying the traditional Lib Dem weapon of close attention to local community issues for years before the election was called. And she believes that performance can be replicated to make significant numbers of Tory MPs vulnerable.
She named foreign secretary Dominic Raab's seat of Esher and Walton in Surrey – which she said the party came "within a whisker" of seizing in 2019, falling short by less than 2.2 per cent as it put on more than 18,000 votes – as a key target, but said she was looking at a list of 82 constituencies where Lib Dems are running second to Tories, in order to select those with the most potential for an upset.
"I think the Tory party has been moved so far to the right that there are swathes of 'soft conservatives' in the country who don't see the current party under Boris Johnson as representing anything like their views and their values whatsoever," said Ms Cooper.
"And I don't think it's just on rule of law issues. It is this kind of thuggish behaviour around giving contracts to their mates, threatening the independence of the judiciary, the double standards emanating from Dominic Cummings, the mixed messaging, the chaos that we're getting week in week out, the staggering incompetence.
"I think many people have thought before that the Conservative Party was a party of competence and now it's anything but."
She said: "In St Albans we started early and it took us three and half years to win the seat by getting out there and talking about our values, about being an open, internationalist party which believes in environmentalism and civil liberties. We've got three and a half years now to the next election, so I think that if we start now, we've got a very good chance of winning a good number of seats."
Ms Cooper said that she was surprised by the "fury" she heard from Tory voters in her Hertfordshire seat over the prime minister's abortive attempt to shut down parliament as he struggled to force through his Brexit deal last year. "People just found it truly shocking the lengths to which he would go, his willingness to break the rules," she said.
While accepting that the 2019 trump card of stopping Brexit will not be available to Lib Dems in the election scheduled for 2024, she said the party could be buoyed by Jeremy Corbyn's departure as Labour leader, which deprives Tories of the argument that voting for Sir Ed's party risks letting in a hardline socialist government.
Sir Ed – who was a minister in the Tory-Lib Dem coalition cabinet – has made no secret of his willingness to work with Mr Corbyn's successor, Sir Keir Starmer.
And Ms Cooper said she saw Sir Keir's values as much closer than Mr Corbyn's to the Lib Dems and to mainstream voters. "I don't think people will be scared off by that argument," she said. "If anything, I think it will enable them to feel confident they can vote for Liberal Democrats in the seats where we can win without fear that we're going to end up with an extreme left or extreme right government."
Handed the education brief alongside her campaigning role by Sir Ed, Ms Cooper said she wanted to push for better support for children with special educational needs, who she said had been "neglected" by the Conservative government amid "horrible slashing of budgets" for schools.
"I've seen parents who, you can see in their faces, are living, fighting and battling a broken system," she said.
"They are prepared with every single bone in their body and every pound in their bank account to fight for their children and their children's futures, and they're being let down at every single turn.
"I want to get a much better spotlight on those children that are largely being ignored and not listened to and really struggling to have a voice.
"And I want to tackle this issue that is now coming to the front of the agenda around child poverty and the provision of free school meals. I think it is shocking that in the 21st century we have children going to school with hungry tummies. It's just absolutely scandalous and I think we've to turn the help which was given because of Covid into change for good."
Before becoming an MP, Ms Cooper studied law at university and worked on campaigns for LGBT+ rights abroad and against human rights violations in Sri Lanka and Zimbabwe as well as on the Hacked Off campaign against media intrusion.
She came from a small-L liberal background and remembers "cutting out Persil vouchers for the Greenham Common women" as a small child. But she came relatively late to party politics, joining the Lib Dems after seeing a Labour minister arguing for stop and search and 42-day detention without charge in 2008.
"It was a light-switch moment," she said. "I was just watching TV on a Sunday and I remember listening to this minister talk and feeling genuinely shocked to my core that any government of any colour could propose these measures. I thought 'I can do a better job than her'. So I got my laptop out, and I thought 'I've always voted Lib Dem, I think I'm probably a Lib Dem' and I signed up that afternoon."
That decision led to two unsuccessful bids for parliament in no-hope seats in the 2010 and 2015 elections and a second place in the 2014 election for the party presidency, before her first shot at St Albans in 2017 when she added 14 percentage points to the Lib Dem tally to take second place on the way to unseating Tory Anne Main two years later.
Register for free to continue reading
Registration is a free and easy way to support our truly independent journalism
By registering, you will also enjoy limited access to Premium articles, exclusive newsletters, commenting, and virtual events with our leading journalists
Already have an account? sign in
Register for free to continue reading
Registration is a free and easy way to support our truly independent journalism
By registering, you will also enjoy limited access to Premium articles, exclusive newsletters, commenting, and virtual events with our leading journalists
Already have an account? sign in
Join our new commenting forum
Join thought-provoking conversations, follow other Independent readers and see their replies