Lobbying scandal: Nick Clegg pledges 'head-to-toe reform' of political system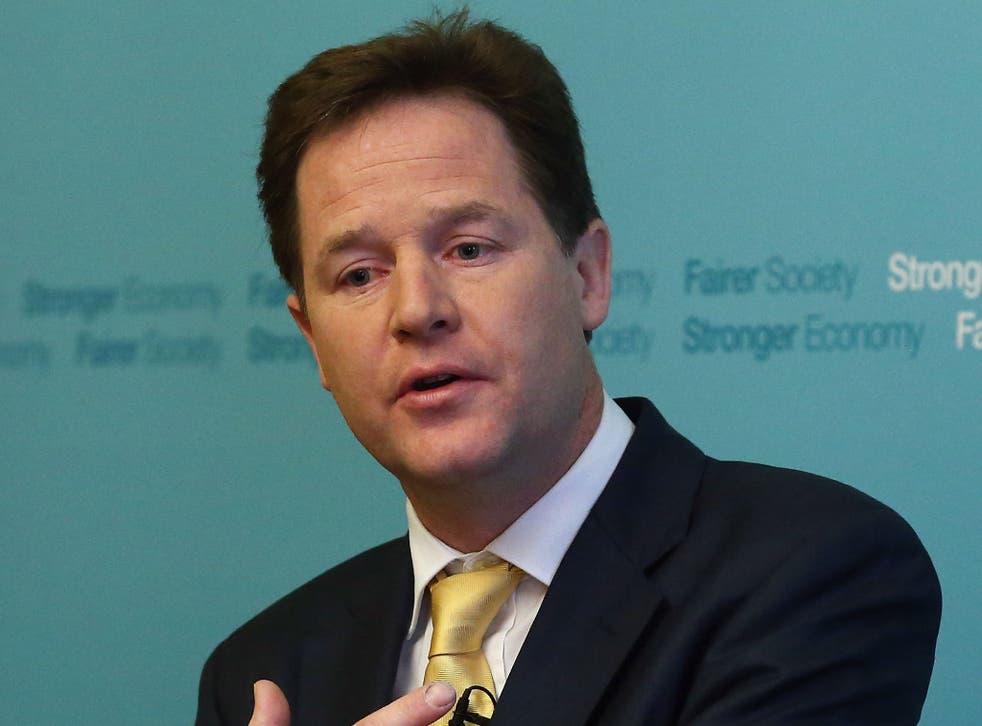 Nick Clegg committed himself today to "head-to-toe reform" of the political system as Westminster reeled from a fresh lobbying scandal.
The Deputy Prime Minister promised action after two Labour peers were suspended by their party and another quit the Ulster Unionist whip over claims they breached parliamentary rules on lobbying. The MP Patrick Mercer has also resigned the Tory whip over allegations he agreed to be paid in return for Fiji to be readmitted to the Commonwealth.
The Coalition Government has faced heavy criticism for dragging its feet over bringing in a register of lobbyists and introducing a mechanism to eject MPs accused of sleaze or breaking parliamentary rules.
Critics have accused David Cameron of delaying action on a register because of the influence of the Conservative'' electoral strategy adviser, the lobbyist Lynton Crosby.
Last week Mr Clegg complained that it was "not something that we could get agreement on across the coalition at the moment".
But in an article for the Daily Telegraph he insisted that he and Mr Cameron were "both determined that the register should go ahead".
Mr Clegg wrote: "I know that the absence of the register from last month's Queen's Speech raised some concerns. So let me be clear: it will happen. Having consulted on the proposal, the detail is being looked at thoroughly in Government."
He said: "Westminster remains a place where power is hoarded, decisions are opaque, and the people who take those decisions are not properly held to account. Our political system has long been crying out for head-to-toe reform."
But the Liberal Democrat peer Lord Oakeshott said a register would be useful "as far as it goes" and urged far wider action to "clean out the stinking swamp" in the Lords.
He told BBC Radio 4's Today programme: "I regard it a little bit like eradicating malaria in Africa, you use a bit of disinfectant on the mosquito, which a statutory register would be, but we have got to clean out the stinking swamp, which is particularly the House of Lords, where there is a very nasty whiff of dirty money the whole time."
The Labour ex-cabinet minister Lord Cunningham, party colleague Lord Mackenzie of Framwellgate and Ulster Unionist Lord Laird face inquiries into allegations they offered to exercise influence in return for cash.
The three, who all deny any wrongdoing and have referred themselves to the standards watchdog, were caught in an undercover sting by Sunday Times reporters posing as lobbyists working for a fake energy firm.
In what one shadow cabinet minister called "a new low for British politics" that would "sicken" voters, the release of video footage of the exchanges further fuelled a Westminster controversy ignited by similar accusations against MP Patrick Mercer on Friday.
Announcing the suspension of Lords Cunningham and Mackenzie pending the results of a probe, a Labour spokesman said it expected "the highest standards of its representatives and believes that they have a duty to be transparent and accountable at all times".
Lord Laird resigned the Ulster Unionist whip following a conversation with party leader Mike Nesbitt, who said it expected members to respect the rules "in spirit as well as in letter".
The House of Lords code of conduct says peers must not act as paid advocates and "must not seek to profit from membership of the House by accepting or agreeing to accept payment for providing parliamentary advice or services".
The Northern Irish peer is also alleged to have discussed a £2,000 a month deal with a separate set of undercover reporters, this time from the BBC's Panorama and the Telegraph posing as lobbyists seeking the end of Fiji's suspension from the Commonwealth.
That is the same sting which led to Mr Mercer dramatically quitting the Tory whip, referring himself to the Commons sleaze watchdog and announcing he would quit the Commons in 2015.
It is claimed the Newark MP was paid £4,000 by the bogus lobbying firm and tabled parliamentary questions and a motion, offered a security pass and set up an all-party parliamentary group on Fiji.
Mr Mercer has referred his case to the Parliamentary Commissioner for Standards and is taking legal advice.
As calls mounted for a clampdown, Cabinet Office minister Francis Maude said he would be "astonished" if the register and recall powers were not in place by 2015.
Tory backbenchers said however they feared a "stitch up" putting recall powers in the hands of Westminster elites not ordinary constituents.
Mr Clegg said the latest revelations were an "unsettling but not surprising" symptom of a political system "long crying out for head-to-toe reform".
"It's the political equivalent of Groundhog Day: MPs accused of abusing their position; businesses of getting too close," he wrote.
A register would not be a "magical protection against an individual politician determined to behave unethically or inappropriately" and the overwhelming majority of lobbying was legitimate and served the public interest, Mr Clegg said.
"But clearly there are instances where access is abused - further undermining the already weak public trust in our institutions - and greater transparency is a key part of the antidote."
He cautioned that there was a need to "tread carefully" in creating a right to "recall" MPs guilty of serious misconduct to avoid creating a "kangaroo court" system open to political abuse.
"But, done right, recall will reaffirm the principle that MPs serve the people, and the latter are in charge."
Some Tory backbench campaigners for recall fear ministers will produce a "stitch up" however which leaves control in the hands of a Westminster elite and not constituents.
Senior Lib Dem sources also said Mr Clegg was prepared to look at moves to expel peers sentenced to 12 months or more in jail.
The Deputy Prime Minister would however still prefer the changes to be made as part of a wider reform to make it an elected chamber, they said.
Shadow defence secretary Jim Murphy said: "The public, who have looked on with a sense of astonishment and with a sense that there is one rule for those who govern and another set of rules for those who are governed, will just be utterly sickened by it, and they are right to be sickened.
"I think the public probably thought things couldn't get any worse. This is a new low for British politics," he told Sky News.
Cabinet Minister Francis Maude has said there is a "proper place" for lobbying in Government, but admitted there is a "serious view" that money should not be exchanged.
He told Daybreak: "There's a perfectly proper role for lobbying, which is actually explaining a need for a change in the law or for something particular to be done and people with real expertise who will want to put that case in front of law makers and there's nothing at all in proper about that, what's improper is if the cause is concealed.
"There is now a really serious view that in parliament, actually, you should not take money to act as an advocate for a cause, even if its declared in parliament, because you're there as a law maker in your own right.
"The statutory register of lobbyists would have made no difference in this case at all, because what is alleged to have happened would have been against the parliamentary rules in any event."
PA
Register for free to continue reading
Registration is a free and easy way to support our truly independent journalism
By registering, you will also enjoy limited access to Premium articles, exclusive newsletters, commenting, and virtual events with our leading journalists
Already have an account? sign in
Register for free to continue reading
Registration is a free and easy way to support our truly independent journalism
By registering, you will also enjoy limited access to Premium articles, exclusive newsletters, commenting, and virtual events with our leading journalists
Already have an account? sign in
Join our new commenting forum
Join thought-provoking conversations, follow other Independent readers and see their replies