Vince Cable admits he knew about polling used to undermine Nick Clegg
Oliver Wright
Thursday 29 May 2014 11:32 Comments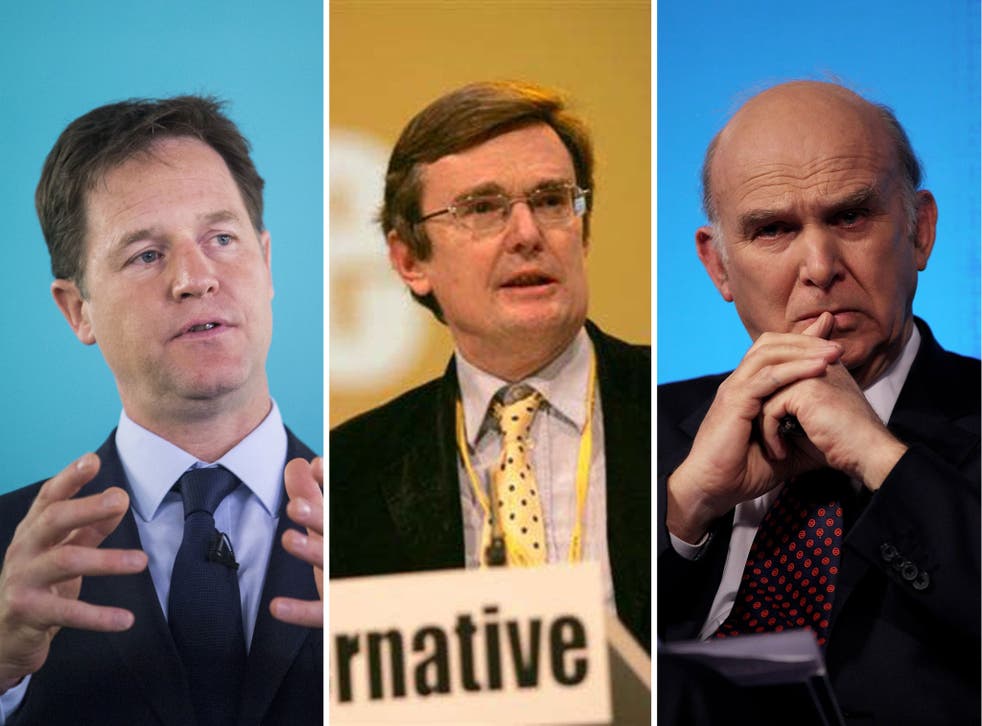 The Business Secretary Vince Cable was forced to admit on Wednesday night that he knew about secret polling used in an attempt to oust the Liberal Democrat leader Nick Clegg.
In a damaging and embarrassing admission, Mr Cable confirmed that he been told by his erstwhile friend and confidant Lord Oakeshott that he had commissioned polling in marginal seats that included questions about how the party would fare under a different leader. He also confirmed that he had been made aware in "general terms" what the findings were.
Just the day before, Mr Cable had appeared to deny any knowledge of the polling at all. He described it as "inexcusable and unacceptable", adding that commissioning opinion surveys without the consent of the sitting MP was "utterly reprehensible".
But he was forced to change tack after Lord Oakeshott issued an angry public statement implicating Mr Cable and resigning his membership of the party.
The admission will damage Mr Cable's position within the party and harm any chance he has of succeeding Mr Clegg if he stands down after the next election.
Last night a senior Liberal Democrat source described the botched putsch as the most "ham-fisted attempt at a coup since Mark Thatcher".
Mr Cable was forced to make his admission after Lord Oakeshott, with whom he had been on skiing holiday just three months earlier, put out a statement implicating him in the plot.
"Several months ago a close colleague, concerned about voting intentions in Twickenham [Mr Cable's seat], asked me if I would arrange and pay for a poll to show us Vince's current position and how best to get him re-elected," he said. "I was happy to help, and Vince amended and approved the questionnaire but at his request I excluded a question on voting intentions with a change of leader.
"That poll worried me so much that I commissioned four more in different types of constituency all over the country and added back the change-of-leadership question. Several weeks ago, I told Vince the results of those four polls, too."
In pointed remarks he added that he was "sorry" to have "upset and embarrassed" his "old friend" and he regretted that Mr Cable had not talked to him before he issued his original statement appearing to deny knowledge of the polling.
In a hastily arranged interview from China, where he is on a business trip, Mr Cable admitted he had been aware of the polling but insisted he did not know it had been carried out in the constituencies held by Mr Clegg and Danny Alexander.
"I very much regret that we've finished up in this way and I regret the fact that he needs to leave the party. I've given a very full and complete explanation of what I knew about these polls and I think the explanation is straightforward."
Last night the Liberal Democrat leadership held back from criticising Mr Cable and said they believed that he did not know in advance that the polling would be "leaked" to The Guardian newspaper in an attempt to foment a rebellion against Mr Clegg. But they turned on Lord Oakeshott, describing him as a "malign" figure in the party.
Register for free to continue reading
Registration is a free and easy way to support our truly independent journalism
By registering, you will also enjoy limited access to Premium articles, exclusive newsletters, commenting, and virtual events with our leading journalists
Already have an account? sign in
Join our new commenting forum
Join thought-provoking conversations, follow other Independent readers and see their replies