Majority of Britons opposed to bombing Isis in Iraq and Syria but David Cameron leaves the door to action open
Poll shows British public's support for military action is weak but Prime Minister will not rule out supporting US
Andrew Grice
,
Nigel Morris
Tuesday 02 September 2014 16:14 Comments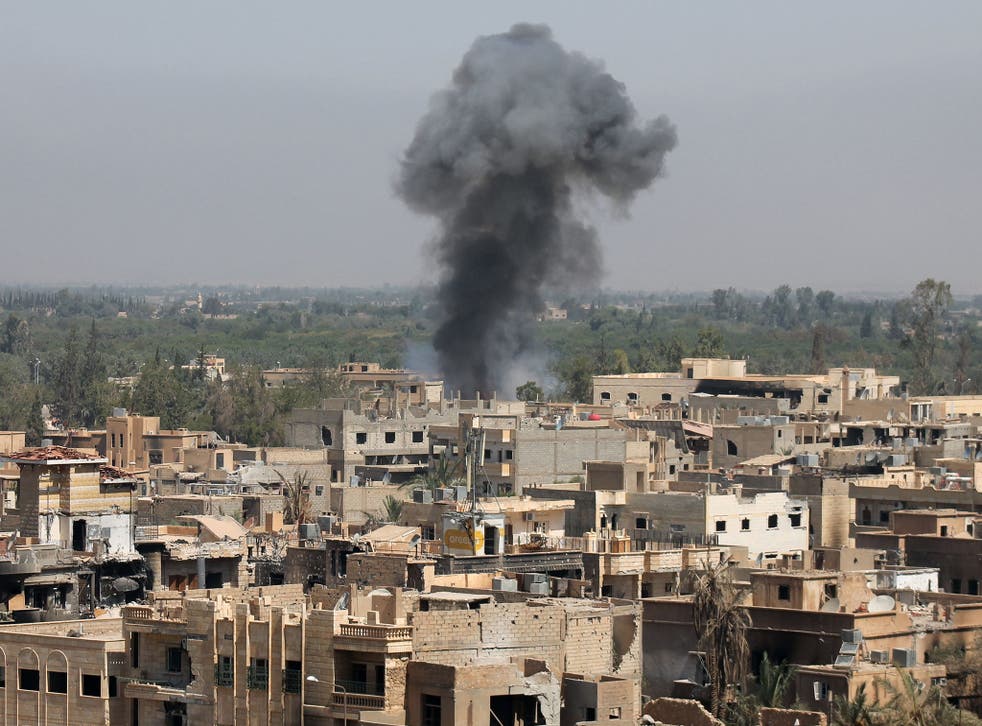 Only one in three people supports Britain launching air strikes against Isis in Iraq and Syria, according to a survey for The Independent.
David Cameron yesterday left the door open to Britain joining the United States, which has already bombed Isis targets in Iraq. But the ComRes poll found that the Prime Minister would face strong public opposition if he decided to join the US bombing campaign.
Only 35 per cent of people agree that Britain should take part in air strikes, while 50 per cent disagree and 15 per cent are "don't knows". Men (42 per cent) are much more likely to support air strikes than women (28 per cent).
There is even stronger opposition to sending ground forces, which Mr Cameron has ruled out. Only 20 per cent of the public agree that the UK should send armed forces on the ground, and 69 per cent disagree.
Although no formal request for British air strikes has been received, the Obama administration is informally sounding out potential allies, including the UK, about an international effort.
In a Commons statement, Mr Cameron outlined plans to give police and the security services extra powers against suspected British terrorists. They included moves to confiscate temporarily the passports of potential jihadists heading to join militant groups and to force all airlines to supply fuller details of passengers' passports at an earlier stage.
But critics said the statement failed to live up to Mr Cameron's rhetoric on Friday when he promised a crackdown. The Prime Minister promised to toughen the much-criticised regime of terrorism prevention and investigation measures (Tpims). One possibility is to give the Home Secretary the power to order suspects to move to a different part of the country.
That move prompted Labour accusations that the Government was returning to the "control order" system it scrapped after the election. Ed Miliband said the move to get rid of "internal exile" powers to relocate suspects had been a mistake and welcomed their potential reinstatement.
But the Prime Minister retreated from an expected pledge to close the borders to British nationals returning from conflict zones. He has been warned that the move could breach international law by rendering people stateless.
That proposal ran into resistance among senior Liberal Democrats, while the former Attorney General Dominic Grieve said the Government would have a "very considerable problem" pushing the measure through.
The measures, which follow the disclosure that at least 500 Britons had joined Islamic State forces in Syria and northern Iraq, were finalised after talks between Mr Cameron and the Deputy Prime Minister, Nick Clegg.
In pictures: The rise of Isis

Show all 74
A senior Lib Dem source said: "We have not definitively signed up to introducing relocation powers." The Lib Dems may insist on "exclusion zones", a less draconian proposal under which suspects are barred from certain areas but allowed to remain at home.
Shami Chakrabarti, the director of Liberty, said: "This is tough talk and headline-grabbing stuff. We have been listening to it for over a decade. It doesn't replace charges, evidence, proof and prison."
According to ComRes, a majority of people agree that the Government should take away the passports and citizenship of Britons suspected of joining Isis. That is supported by 61 per cent and opposed by 29 per cent, suggesting that the public would go further than ministers.
But a majority oppose the proposal by Boris Johnson that Britons travelling to Iraq and Syria without telling the authorities should be presumed to be terrorists until they are proved innocent. Some 52 per cent agree with the Mayor of London's call and 39 per cent disagree.
According to ComRes, Labour has increased its lead over the Conservatives from six to seven points in the past month. Labour is now on 35 per cent (up two points); the Conservatives on 28 per cent (up one point); Ukip on 17 per cent (no change); the Lib Dems on 9 per cent (up one point); and other parties on 11 per cent (down four points). Such figures would give Mr Miliband an overall majority of 86 at a general election.
ComRes interviewed 1,001 GB adults by telephone from 29 to 31 August.
Terror laws: The proposals
Stop terror suspects travelling
What is proposed? Giving police the power to seize passports of suspected terrorists before they fly out. The Home Secretary already has that authority under the Royal Prerogative. Extending it should prevent more jihadists from heading to war zones.
How it would work? Police could only confiscate passports temporarily while they investigate an individual's background.
Will it happen? The move is supported across parties and legislation is planned in case an ongoing legal challenge succeeds.
Prevent jihadists coming back
What is proposed? A "targeted, discretionary" power to stop British nationals suspected of involvement in terrorism from returning to the UK.
How it would work? Mr Cameron was extremely vague on any details, simply saying: "We will work up proposals on this basis with our agencies."
Will it happen? Unlikely, given the weight of practical problems. The move would potentially make people stateless which is forbidden under a United Nations convention.
Beefing up terrorism prevention and investigation measures (Tpims)
What is proposed? Imposing new constraints on terror suspects who cannot be brought to court. They could be forced to relocate to another part of the country.
How will it work? Tpims replaced the control order regime, giving the Home Secretary fewer powers against suspects. Now the Government wants to strengthen Tpims, possibly by requiring suspects to stay away from certain areas ("exclusion zones") or ordering them to move home ("relocation orders").
Will it happen? Some revision of the Tpims system looks certain, although some Lib Dems fear relocation orders – forcing someone never found guilty of a criminal offence to leave his family – could be too draconian.
Tightening aviation security
What is proposed? Forcing all airlines to hand over information about passengers arriving from conflict zones.
How will it work? If they fail to submit passenger lists, complete with details of travellers' passports, flights would not be allowed to land.
Will it happen? Almost certainly. It builds on existing powers and other countries, including the US, already demand passenger lists in advance.
Nigel Morris
Register for free to continue reading
Registration is a free and easy way to support our truly independent journalism
By registering, you will also enjoy limited access to Premium articles, exclusive newsletters, commenting, and virtual events with our leading journalists
Already have an account? sign in
Join our new commenting forum
Join thought-provoking conversations, follow other Independent readers and see their replies